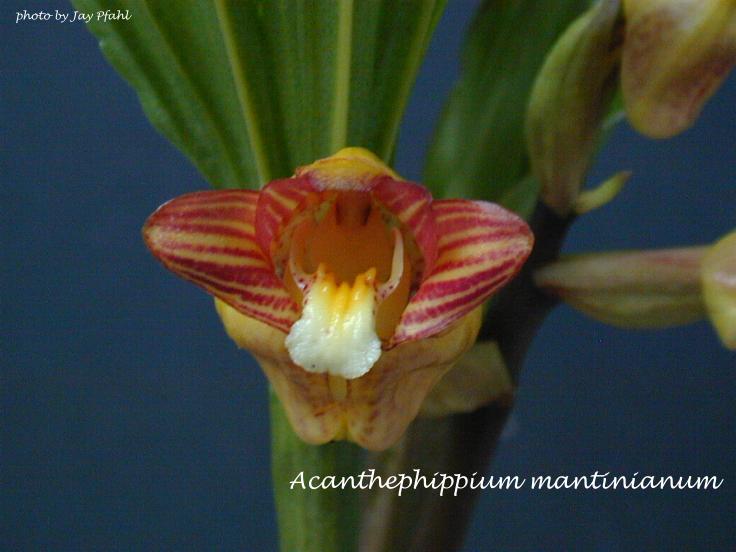 Acanthophippium mantinianum Linden & Cogn. 1896 Photo by Jay Pfahl.
Flower Closeup Photos by © Eric Hunt and His Orchid Website
Inflorescence and Plant Photo courtesy of Dale and Deni Borders.




Common Name Mantin's Acanthophippium [Belgian Orchid Enthusiast 1800's]
Flower Size 2" [5 cm]
A Philippine, terrestrial species that is found from 500 to 1500 meters in shaded, mountainous regions with dark purple to dark green, transluscent, ovoid tapering towards the apex pseudobulbs carrying 3, plicate, fleshy, elliptic to oblong-lanceolate, deciduous, tapering to a stalk leaves and blooms in the summer on a to 10" [25 cm] long, lateral raceme arising with a new growth and carrying up to 5, fleshy, highly fragrant flowers.
Synonyms
References W3 Tropicos, Kew Monocot list , IPNI ; Orchidiana Philippiniana Vol1 Valmayor 1984; AOS Bulletin Vol 62 No 11 1993 drawing; Manual of Orchids Stewart 1995; Encylopedia of Cultivated Orchids Hawkes 1965; The Complete Writings on Philippine Orchids Vol 2 Quisumbing 1981 photo ok; Die Orchideen Band 3 Sonderabdruck aus Schlechter Brieger, Maatsch and Senghas Liferung #14 820 - 880 1984; AOS Bulletin Vol 55 No 10 1986 photo fide; The Illustrated Encyclopedia of Orchds Pridgeon 1992; AOS Bulletin Vol 62 # 11 1993 drawing fide; AOS Bulletin Vol 66 No 2 1997; Orchid Australia Vol 11 No 6 1999 photo; Orchid Digest Vol 63 #3 1999 photo fide; The Orchids of the Philippines Cootes 1999 photo fide; Flora Malesiana Orchids of the Philippines Vol I Agoo, Shuiteman and de Vogel 2003; Flora's Orchids, Nash and La Croix 2005; Orchid Digest Vol 76 #3 2012 photo fide; AOS Bulletin Vol 86 #6 2017 photo fide;
----------------------------------------------------------------------------------------------------------