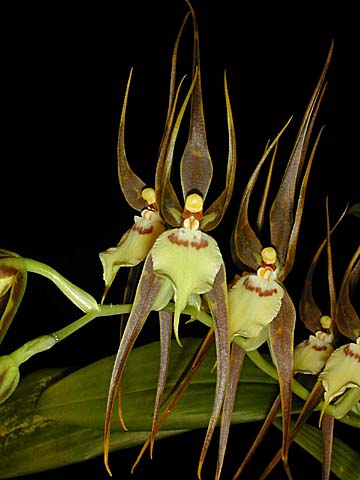 Ada allenii (L.O. Williams ex C. Schweinf.) N.H. Williams 1972
Photo courtesy of Andy's Orchids Copyright © 2002 All rights reserved.
Photo by © Jay Pfahl



to


Common Name or Meaning Allen's Ada [American Botanist in Central America 1900's]
Flower Size 2 1/2" [6 cm]
Found in Panama and Colombia occuring in montane and rain forests on the Atlantic eastern slopes as a medium sized, warm to cool growing epiphyte at elevations of 400 to 1000 meters and has a fan-shape of 8 to 14, subcoriaceous, linear-ligulate to lanceolate, acuminate leaves with conduplicate bases and without a psueudobulb that blooms in the spring on an erect to arching, 8 3/4" [22 cm] long, shorter than the leaves, few to several flowered inflorescence that carries 5 to 8, fragrant flowers.
Synonyms *Brassia allenii L.O. Williams ex C. Schweinf. 1948; Brassiopsis allenii (L.O.Williams ex C.Schweinf.) Szlach. & Górniak 2006
References W3 Tropicos, Kew Monocot list , IPNI ; The Orchids of Panama L.O. Williams & P Allen 1946 as Brassia allenii drawing fide; AOS Bulletin Vol 27 No 6 1958 as Brassia allenii; Encylopedia of Cultivated Orchids Hawkes 1965 as Brassia allenii photo fide; AOS Bulletin Vol 39 No 1 1970 photo as Brassia allenii; Orchid Digest Vol 42 No 5 1978 as Brassia allenii photo ok; The Orchids Of Panama by Williams 1980 as Brassia allenii; Orchids Travel By Air A Pictoral Safari Mulder, Mulder-Roelfsema and Schuiteman 1990 photo fide; The Feild Guide to the Orchids of Costa Rica and Panama Dressler 1993; Rudolf Schlechter Die Orchideen Band 1C lieferung 33 - 36 2057 - 2308 Brieger 1997 as Brassia allenii; Orchid Species Culture: Oncidium, Bakers 2006; Botanica's Orchids Laurel Glenn 2002; Orquideas de la SerraOrchids, A Colombian Treasure Vol 1 Ortiz & Uribe 2014 drawing fide nia del Baudo Misas Urreta 2006 drawing/photo fide;
--------------------------------------------------------------------------------------------------------------------------