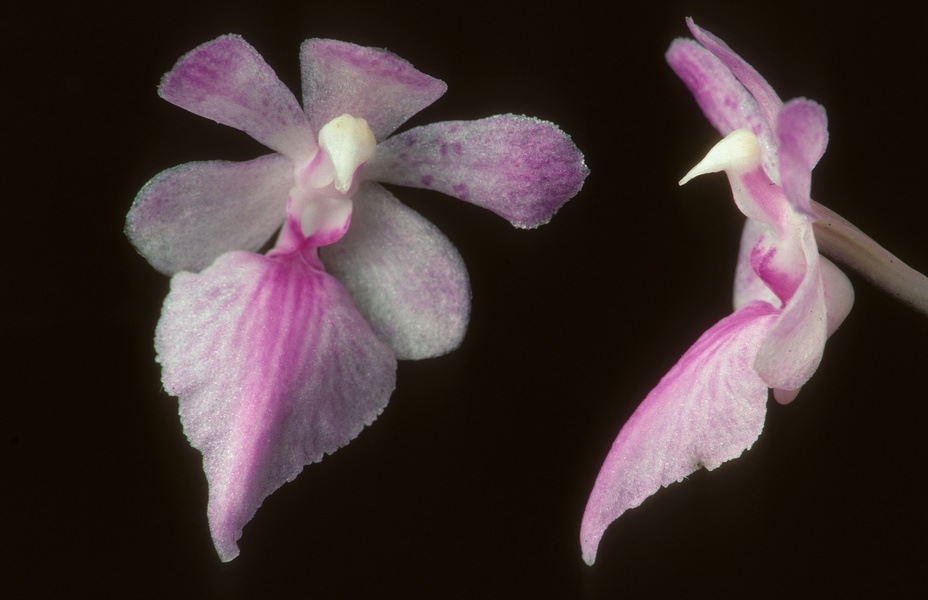 Aerides rosea Loddiges ex Lindl. & Paxt. 1851 SECTION Fieldingia Photo by The Beast and the Russian Orchid Page.
Photo courtesy of Nik Fahmi and his Vortex Orchid Page.





and

Common Name The Rose Colored Aerides - In China Duo Hua Zhi Jia Lan
Flower Size 1 to 1 1/2" [2.5 to 3.75 cm]
This is a medium to large sized, hot to cool growing, monopodial epiphyte or lithophyte with clumping pendulous stems carrying several ligulate leaves that blooms on a racemose or rarely branched, 2' [60 cm] long, densly many [20 to 25] flowered inflorescence with fragrant, waxy flowers occuring in the spring and summer from Vietnam, Thailand, Sikkim, Bhutan and Assam on open rocks and bluffs in evergreen and semideciduous forests at elevations of 300 to 1700 meters and needs to be watered and fertilized regularly and kept humid, with frequent mistings through the hot summer months. They do best tied into a wood slat basket with little to no medium.
CAUTION Although there are many photos of this species available none seem to be a great match to the references so please use with caution
Synonyms Aerides affine var. roseum (Lodd. ex Lindl. & Paxton) C.S.P.Parish 1883; Aerides fieldingi Lodd. ex E. Morren 1876; Aerides fieldingii Jenn. ?; Aerides fieldingii var. album L.Linden 1897; Aerides fieldingii var. williamsii (R.Warner) H.J.Veitch 1891; Aerides roseum f. album (L.Linden) Christenson 1994; Aerides williamsii Warner 1862
References W3 Tropicos, Kew Monocot list , IPNI ; Bonplandia Rchb.f 1856; Die Orchideen Schlechter 1915; Atlas des Orchidees Cultivees Constantin 1920 as A fieldingii drawing good; Encylopedia of Cultivated Orchids Hawkes 1965 as Aerides fieldingii; Simon & Schuster's Guide to Orchids Fanfani & Rossi 1988; Die Orchideen lieferung 19/20 Schlechter/Brieger 1988 as A fieldingii drawing/photo fide ; Manual of Cultivated Orchids Bechtel, Cribb, Laurent 1992; The Illustrated Encyclopedia of Orchds Pridgeon 1992; Thai Orchid Species Rakpaibulsombat 1992 photo ok; AOS Bulletin Vol 62 No 6 1993 photo; Manual of Orchids Stewart 1995; Wild Orchids of China Tsi, Chen Mori 1997; AOS Bulletin Vol 69 No 2 2000 photo; Lindleyana Vol 14 No 4 2000; A Field Guide to the Wild Orchids Of Thailand Vaddhanaphuti 2001 photo ok; The Orchids of the Philippines Cootes 2001; Australian Orchid Review Vol 67 No 6 2002/3 photo; A to Z of SE Asian Orchids O'Byrne 2002; Botanica's Orchids Laurel Glenn 2002; Orchids of Bhutan Pearce & Cribb 2002; Flora's Orchids Nash and La Croix 2005; A field Guide to the Wild Orchids of Thailand Vaddhanaphuti 2005 photo ok; Wild Orchids in Myanamar Vol 3 Tanaka 2007; Miniature Orchids Frownie 2007 as Aerides fieldingii; Native Orchids of China in Colour Singchi, Zhanhuo and Yibo 1999 photo fide; Orchids of India A Glimpse Misra 2007; A Field Guide to the Orchids of China Singchi, Zhongjian, Yibo, Xiaohua and Zhanhuo 2009 photo fide; Flora of China Vol 25 Zhengyi, Raven & Deyuan 2009; Flora of China Vol 25 Illustrations Zhengyi, Raven & Deyuan 2010 drawing hmm; The Wild Orchids in Yunnan Xu Xiang Ye & Liu 2010 photos fide;
--------------------------------------------------------------------------------------------------------------------------
------------------------------------------------------------------------------------------------------