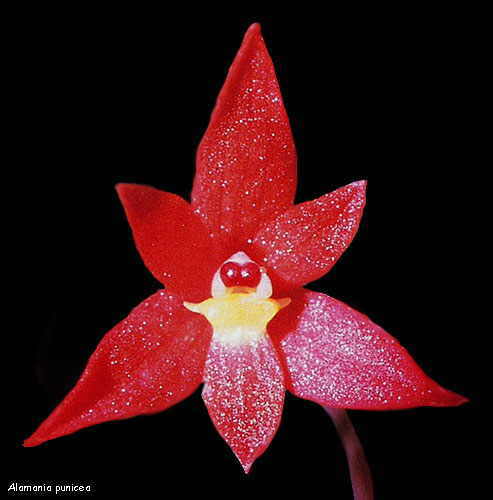 !Alamania punicea La Llave & Lex. 1825 Photo by © Weyman Bussey.
Another plant and Flowers Photo courtesy of Dale Borders.
Flowering plant on branch in Mexico Photo courtesy of Weyman Bussey.
Photo of flowering collected plant Photo courtesy of Carl Withner



to EARLY

Flower Size 3/4" [1.2 cm]
Common Name Crimson Alamania
This dwarf epiphytic orchid is found only in Mexico at elevations of 1500 to 2700 meters and is a miniature sized, cool growing species, in pastures and open woodlands, lava flows and attached to large oaks or on rocks beneath them with clustered, ovoid pseudobulbs with 2 to 3, coriaceous, oblong-elliptic, obtuse, slightly conduplicate, articulate basally, broad leaves and blooms in the spring and early summer on an erect, terminal, racemose, 1 to 5 flowered inflorescence that arises on a leafless pseudobulb that develops that way and is equal to or slightly shorter than the leaves.
This species requires an autumn and winter rest with no water and fertilizer but the humidity and cool nights and should be resumed when the new growth appears in the early spring.
Synonyms Alamania punicea subsp. greenwoodiana Soto Arenas & R.Jiménez 2002 publ. 2003; Epidendrum puniceum Rchb.f 1862
References W3 Tropicos, Kew Monocot list , IPNI ; Encylopedia of Cultivated Orchids Hawkes 1965; Die Orchideen 3 Auflage Bd 1 Sonderabdruck aus Schlechter Lieferung 8 449 - 512 Brieger, Maatsch and Senghas 1976; Orchid Digest Vol 46 No 4 1982 photo fide; Flora Novo-Galaciana Vol 16 McVaugh 1985; An Introduction to the Orchids Of Mexico Wiard 1987 photo fide; Miniature Orchids Northern 1988; Manual of Cultivated Orchids Bechtel, Cribb, Laurent 1992 photo fide; The Illustrated Encyclopedia of Orchds Pridgeon 1992; The Cattleyas and Their Relatives Volume 5 Withner 1998 photo fide; Rudolf Schlechter Die Orchideen Band 1C lieferung 42 - 43 pg 2626 - 2762 Brieger 2001 photo fide; Icones Orchidacearum 5 & 6 Orchids Of Mexico Parts 2 & 3 Plate 516 Hagsater, Soto 2003 drawing fide; A Compendium of Miniature Orchid Species Parsons & Garritsen 2013 photos fide; A Compendium of Miniature Orchid Species Parsons & Gerritsen 2013 as Alamania punicea subsp. greenwoodiana photos fide
--------------------------------------------------------------------------------------------------------------------------