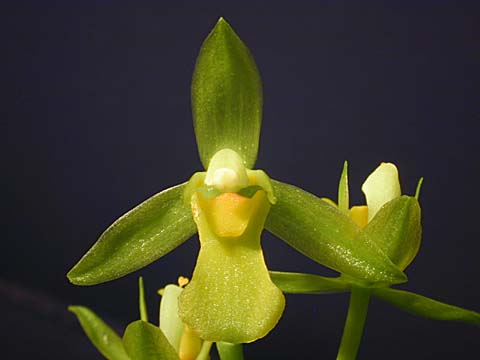 Rossioglossum beloglossum (Rchb.f.) J.M.H.Shaw 2014
Photo by Andy's Orchids Copyright © 2002 All rights reserved.



To


To

Common Name or Meaning The Beautiful Lip Amparoa
Flower Size 1" [2 cm]
Found from Mexico, Belize, Guatemala, Honduras, El Salvador, Nicaragua and Costa Rica as a small to just medium sized, warm to cool growing epiphyte in oak-pine forests at elevations of 700 to 2100 meters with laterally compressed, ancipitous pseudobulbs partially enveloped by several, disitchous leaf sheaths with the uppermost being leaf-bearing and carrying a single, apical, thin, narrowly elliptical, acute, dorsaly carinate, basally conduplicate into the petiolate base leaf that blooms in the spring and summer on an axillary, to 12" [30 cm] long, 4 to 5 flowered inflorescnece with various, tight, ovate bracts and fragrant flowers.
Synonyms Amparoa beloglossa (Rchb. f.) Schltr. 1923; Amparoa costaricensis Schltr. 1923; Amparoa helleri Hamer 1982; *Odontoglossum beloglossum Rchb. f. 1868; Rhynchostele beloglossa [Rchb.f] Dressler & Williams 2002;
References W3 Tropicos, Kew Monocot list , IPNI ; Lankester's Epidendra Website CR; Xenia Orchid. 2: 149, t. 158. 1870 as Odontoglossum beloglossum; Repert. Sp. Nov. Regni. Veg. Beih. 19: 65. Costa Rica Schlechter 1923 as A costaricensis; Encylopedia of Cultivated Orchids Hawkes 1965 genus only; Las Orquideas de El Salvador Vol 3 Hamer 1981 as Amparoa costaricensis drawing fide; ORQUIDEA (Méx . ) 8(2) MARZO 1982 as Amparoa costaricensis drawing fide; ORQUIDEA (Méx . ) 8(2) MARZO 1982 as Amparoa beloglossa drawing/photo fide; Icones Planetarum Tropicarum Plate 601 Hamer 1982 as Amparoa costaricensis drawing fide; Las Orquedias de El Salvador Vol 3 Hamer 1981; Selbyana Vol 10 Orchids of Central America Hamer 1988 drawing fide; Field Guide to the Orchids of Costa Rica and Panama Dressler 1993 as Amparoa costaricensis; Guatemala Y Sus Orquideas Behar & Tinschert 1998 as Amporoa costaricensis ology, Flora Costa Ricensis Family # 39 Orchidaceae, subtribes Maxillariinae and Oncidiinae Atwood & Mora 1999 as Amparoana costaricensis drawing fide; Rudolf Schlechter Die Orchideen Band 1C lieferung 33 - 36 2057 - 2308 Brieger 1997;Rudolf Schlechter Die Orchideen Band 1C lieferung 33 - 36 2057 - 2308 Brieger 1997 as A costaricensis photo fide; The Pictoral Encyclopedia of Oncidium Zelenko 2002; Vanishing Beauty Costa Rican Orchids Pupulin 2005 as Amparoa costaricensis; AOS Bulletin Vol 75 No 1 2006 as Amporoa costaricensis photo fide; Orchid Species Culture: Oncidium, Bakers 2006; Icones Orchidacearum 5-6 Plate 1076 Hagsater & Soto 2002 as Rhynchostele beloglossa drawing fide; Guia de Orquideas de Chiapas Carlos Rommel Beutelspacher Baigts 2013 as Rhynchostele beloglossa photo fide; Orchid Genera and Species in Guatemala Archila, Szlachchetko, Chiron, Lipinska, Mystkowska and Bertolini 2018 photo fide
--------------------------------------------------------------------------------------------------------------------------