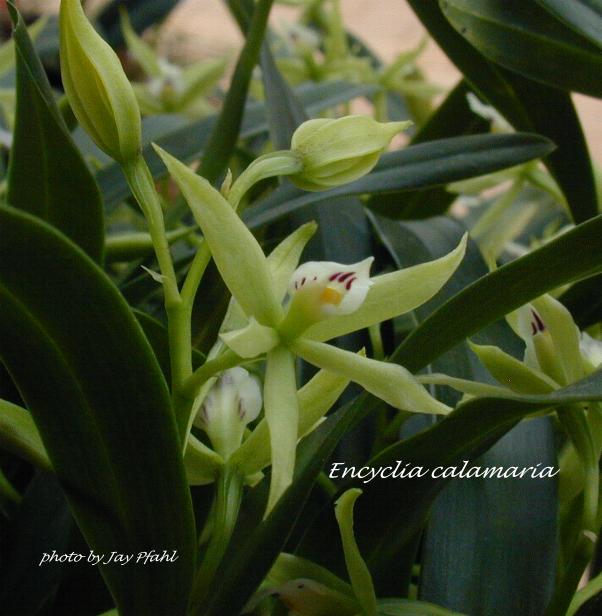 Anacheilium calamarium (Lindl.) Pabst, Moutinho & A.V. Pinto 1981
Photo by Jay Pfahl.




Common Name The Reed-Like Anacheilium
Flower Size 1 1/5" [3 cm]
Found in Colombia, Venezuela, Brazil and Bolivia as a small sized, hot to cool growing, cockleshell, matforming epiphyte on thick branches or main trunks of trees in rainforests at elevations of 220 to 1400 meters with fusiform to spindle shaped, slightly compressed, glossy green pseudobulbs that has 2 to 3 towards the apex, ligulate to narrowly oblanceolate, obtuse or subacute leaves and blooms in the Brazilian fall on a terminal, .8 to 1.6" [2 to 4 cm] long, racemose, densly few flowered inflorescence arising on a mature pseudobulb carrying the 4 to 7, non-resupinate flowers close to the leaves.
The epiteths A pipio and A punctiferum are still often used and describe more trowel-shaped, pointed lips and in the case of A pipio only 2 to 3 flowers and A punctiferum has a 1.2 to 3.2" [3 to 8] cm long inflorescence with much larger flowers than the typical A calamaria.
This species is similar to Anacheilium abbreviatum but differs in being a smaller plant and smaller in flower size.
Synonyms Anacheilium punctiferum [Rchb.f] Barros 1983; Encyclia calamaria (Lindl.) Pabst 1972; Encyclia organense [Rolfe] Pabst 1967; Encyclia pipio {Rchb.f] Pabst 1967; Encyclia punctifera [Rchb.f] Pabst 1967; *Epidendrum calamarium Lindley 1838; Epidendrum calamarium var brevifolium Cogn. 1898; Epidendrum calamarium var latifolium Cogn. 1898; Epidendrum calamarium var longifolium Cogn. 1898; Epidendrum organense Rolfe 1898; Epidendrum pipio Rchb.f 1856; Epidendrum punctiferum Rchb.f 1881; Epidendrum tripunctatum Lindl. 1853; Hormidium calamarium [Lindl.] Breiger 1961; Prosthechea calamaria [Lindl.] Higgins 1997; Prosthechea pipio [Rchb.f] Higgins 1997; Prosthechea punctifera [Rchb.f] Higgins 1997
References W3 Tropicos, Kew Monocot list , IPNI ; Orchidaceae Brasilensis Pabst & Dungs 1972 as Epidendrum calamarium; Venezuelan Orchids Illustrated Vol 6 Dunsterville & Garay 1976 as Epidendrum calamarium drawing fide; Orchids of Venezuela ; An Illustrated Field Guide Vol 1 Dunsterville & Garay 1979 as Epidendrum calamarium drawing fide; The Orchids of Surinam Werkhoven 1986 as Encyclia calamaria photo fide; The Manual Of Cultivated Orchid Species Bechtel, Cribb & Launert 1992 as Encyclia calamaria drawing/photo fide; Manual of Orchids Stewart 1995 as Encyclia calamaria; Manual of Cultivated Orchids Bechtel, Cribb, Laurent 1992; Orchids of the High Mountain Atlantic Rainforest in SE Brazil Warren & Miller 1994 as Encyclia calamaria; Orchids of Venezuela [An illustrated field guide] Vol. 3 Ramiro and Carnevali 2000 as Prosthechea calamaria drawing fide; Flora of the Venezuelan Guayana Vol 7 Steyermark, Berry, Yatskievych and Holst 2003 as Prosthechea calamaria; The Cattleyas and Their Relatives, the Debateable Epidendrum Withner and Harding 2004 photo fide; Orchids of Bolivia Vol 2 Laelinae Vasquez and Ibisch 2004 as Prothechea calamarium photo fide; Orchidees Du Bresil As Orchideas da Serra Do Castello Vol 3 Chiron & Bolsanello 2013 as Prosthechea calamaria drawing/photo fide; AOS Bulletin Vol 83 #6 2014 as Prosthechea calamaria photo fide;
--------------------------------------------------------------------------------------