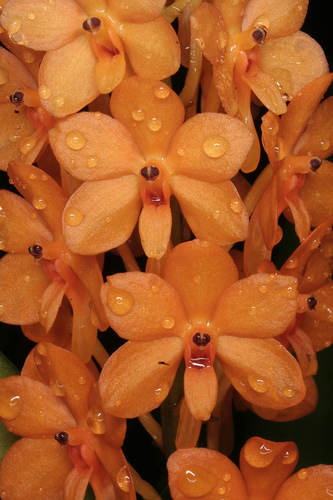 Ascocentrum garayi E.A.Christenson 1992
Photo by © Lourens Grobler


to

MOSTLY

Common Name Garay's Ascocentrum [Hungarian Born American Taxomonist and former Oakes Ames Orchid Herbarium at Harvard University Died 2016] - In Thailand - Phum suwan - Khem saet
Flower Size 1/2" [2cm]
Found in Thailand, Cambodia and Vietnam on trees in semi-deciduous and deciduous dry lowland forests at elevations of sealevel to 1000 meters as a small sized, hot to warm growing epiphyte with an erect, stout stem enveloped by many persistent, distichous, leaf bases carrying distichous, ligulate, conduplicate leaves that are toothed apically and having an erect, conical, 4 to 10" [10 to 24 cm] long, densely many flowered inflorescence that blooms mostly in the spring.
Needs high humidity and wood slat basket culture with hot to warm temperatures and bright indirect light.
This species and A miniatum are very similar and more often than not this species is sold as A miniatum. The two differ in that this species has flowers with deep solid orange color and very elliptical petals and sepals as well as a straight lip, A miniatum on the other hand has clearer, more transparent orange flowers with more noticeable veining and the sepals and petals are much narrower and the lip is recurved.
Synonyms Ascocentrum miniatum var. garayi (Christenson) M.Wolff & O.Gruss 2007; Vanda garayi ( Christenson ) L.M.Gardiner 2012
References W3 Tropicos, Kew Monocot list , IPNI ; AOS Bulletin Vol 26 #4 1957 as A miniatum photo fide; The Orchids of Thailand Seidenfaden & Smitinand 1965 corrections; AOS Bulletin Vol 37 # 6 1968 as A miniatum photo fide; AOS Bulletin Vol 37 No 11 1968 as A miniatum photo ok; Beautiful Thai Orchid Species Kamemoto & Sagarik 1975 photo ok; AOS Bulletin Vol 48 No 5 1979 as A miniatum photo fide; AOS Bulletin Vol 53 No 6 1984 photo; AOS Bulletin Vol 55 No 2 1986 photo as A miniatum photo good; Orchid Digest Vol 51 No 4 1987 as A miniatum photo fide; Opera Botanica #95 Seidenfaden 1988 as A miniatum drawing/photo fide; Rudolf Schlechter Die Orchideen Band 1B lieferung 19/20 1129 - 1264 Brieger 1988 as A miniatum not = A garayii drawing/photos fide; Miniature Orchids Northern 1988; The Orchids of Penninsular Malaysia and Singapore Wood & Seidenfaden 1992 as A miniatum drawing fide; Illustrated Encyclopedia of Orchids Pridgeon 1992; The Manual of Cultivated Orchids Bechtel, Cribb, Laurent 1992 as A miniatum photo fide; Thai Orchid Species Rakpaibulsombat 1992 as A miniatum photo fide; Manual of Orchids Stewart 1995; AOS Bulletin Vol 66 No 1 1997 as A miniatum photo fide; AOS Bulletin Vol 69 No 6 2000 as a miniatum photo fide; A Field Guide to the Wild Orchids of Thailand Vaddhanaphuti 2001 as Ascocentrum miniatum photo ok; Rudolf Schlechter Die Orchideen Band 1C lieferung 42 - 43 pg 2626 - 2762 Brieger 2001; Orchids of Sumatra Comber 2001 as A miniatum photo fide AOS Bulletin Vol 71 No 3 2002 as A miniatum photo fide; Botanica's Orchids Laurel Glen 2002; AOS Bulletin Vol 72 No 1 2003 as A miniatum photo fide; AOS Bulletin Vol 72 No 11 2003 photo fide; AOS Bulletin Vol 74 No 1 2005 photo fide; Flora's Orchid Nash & La Croix 2005; The World's Most Beautiful Orchids Allikas & Nash 2005 photo fide; A field Guide to the Wild Orchids of Thailand Vaddhanaphuti 2005 as A miniatum photo ok; AOS Bulletin Vol 76 No 4 2007 photo fide; Miniature Orchids Frownie 2007; Mille et Une Mini Orchideees Roguenant 2009 photo ok; AOS Bulletin Vol 80 #3 2011 photo fide; AOS Bulletin Vol 81 #2 2012 photo fide; AOS Bulletin Vol 81 #11 2012 photo fide AOS Bulletin Vol 84 #1 2015 photo fide;
---------------------------------------------------------------------------------------------------------------