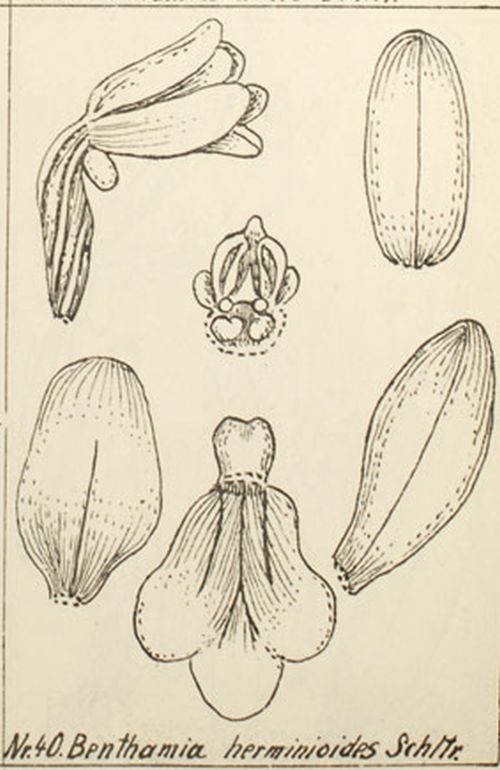 Benthamia herminioides Schltr. 1924
Drawing by © Perrier


MID

Common Name The Herminium Like? [Soldier Like?] Benthamia
Flower Size .12" [3 mm]
Found in northern Madagascar on rocks at elevations 1000 to 2000 meters as a small sized, cool growing terrestrial that is blackish when dried, with an erect stem carrying 3, in the lower half, elliptical-lanceolate to lanceolate, shortly acuminate, slightly attenuate towards the base leaves that blooms in the mid summer on a loose, 2 to 3.2" [5 to 8 cm] long, 15 to 20 flowered inflorescence with lanceolate-acuminate floral bracts and carrying white flowers.
The subspecies arcuata differs from the type in the greenish plant when dried, has shorter bracts that equal the pedicel in length at the mast, sepals slightly obovate, and more rounded apically, petals much more rounded apically, and are longer than the sepals, the lateral lobes of the lip are narrow and acute, the anther has a tall apicule, the median lobe of the rostellum totally rounded, the pedicel is heavily arched-deflexed.
The Subspecies intermedia differs in the palnt being green when dried, smaller flowers .08"[2 mm], the lateral sepals are 2/3's the length of the median, the petals are shorter than the median sepal, the lateral lobes of the lip are shorter and obtuse, half the length of the median, the rostellum has a narrow meian tooth that is narrow and obtuse and the much more arched pedicel is longer to .16" [4 mm].
The subspecies angustifolia differs from the pervious subspecies in the general aspect of the plant with the shorter linear-acute leaves, the plants do not turn black when dried, the bracts are equal to the pedicel to slightly shorter, the small .08" [2mm] wide flowers and the sepals almost wider than long,single veined, the petals are widely oval and are 3/4's the length of the sepals, the small lip, the lobes much reduced to 3 teeth, rounded and equal, the dorsal sepalslightly thicker than teh lateral, the apiculate-obtuse anther, the very short, shorter than 1/4 the length of the anther, a thin, more tricrenate than trilobed, a distinct, well developed, thick, porrect-claviform, an elongated slightly arched and reflexed stigma,
Synonyms Benthamia herminioides subsp. angustifolia H.Perrier 1934; Benthamia herminioides subsp. arcuata H.Perrier 1934; Benthamia herminioides subsp. arcuata H.Perrier 1934; Benthamia herminioides subsp. intermedia H.Perrier 1934; Benthamia herminioides subsp. typica H.Perrier 1934
References W3 Tropicos, Kew Monocot list , IPNI ; Flora of Madagascar Perrier 1939/81 drawing fide; A la Recherche des Orchidees de Madagascar Hervouet 2018 photo fide;
--------------------------------------------------------------------------------------------------------------------------