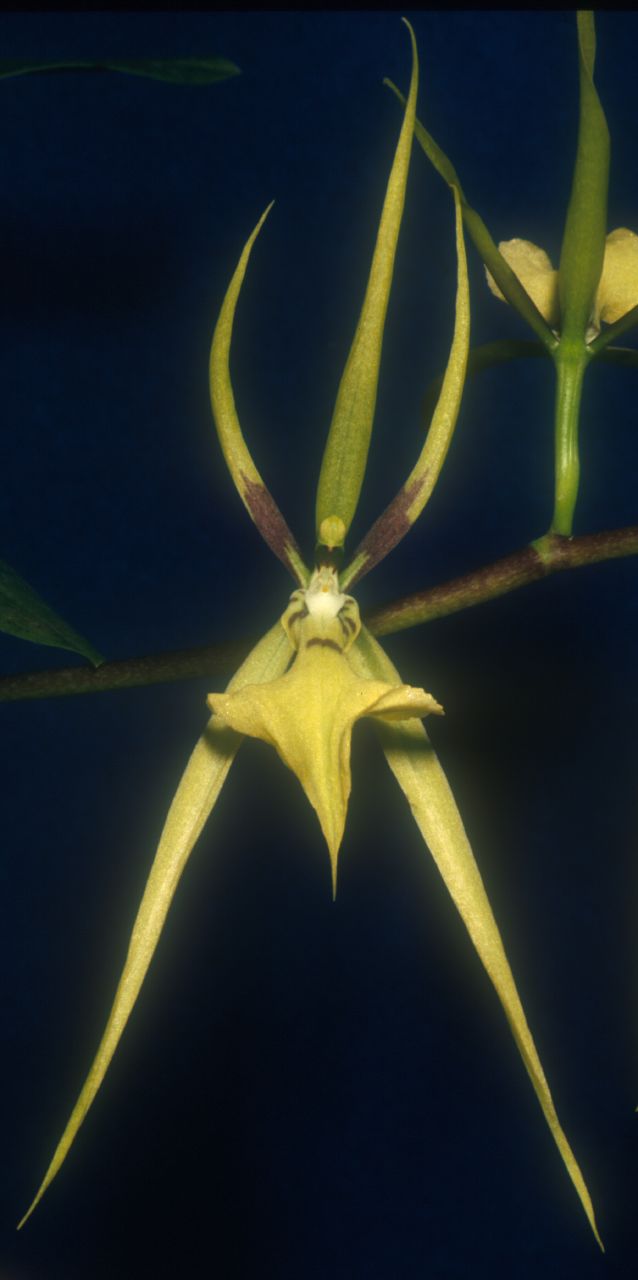 Brassia wageneri Rchb. f. 1845
Photo by © Lourens Grobler.


to




Common Name Wagner's Brassia [Germna Orchid Collector in Venezuela 1800's]
Flower Size 3 to 4" [12 cm]
Found in Venezuela, Colombia, Peru and Ecuador in cool, wet montane forests at elevations of 480 to 1800 meters as a bifoliate, small to medium sized, warm to cool growing, epiphytic species with elongate, tapered, strongly compressed, smooth, light green pseudobulbs subtended by a basal leafless sheath and an upper leaf bearing sheath and carrying 2 apical, lanceolate, acuminate conduplicate towards the base leaves that blooms in the spring, summer and fall on a basal, through a leaf sheath, to 8" [20 cm] long, suberect to arching, terete, green, several [8 to 15] flowered, racemose inflorescence that is shorter than the leaves and arises on a mature pseudobulb.
Synonyms Brassia bicolor Rolfe 1892; *Oncidium wageneri (Rchb. f.) Rchb. f. 1866; Brassia cryptophthalma Rchb. f. 1879
References W3 Tropicos, Kew Monocot list , IPNI ; Bonplandia Rchb.f 1854; AOS Bulletin Vol 26 No 10 1957 as B bicolor drawing ok; Venezuelan Orchids Illustrated Vol 1 Dunsterville & Garay 1959 drawing ok; AOS Bulletin Vol 36 # 9 1967; Flora de Venezuela Volumen XV Part 5 Foldats 1970 drawing good; Orchids of Venezuela ; An Illustrated Field Guide Vol 1 Dunsterville & Garay 1979 drawing ok; AOS Bulletin Vol 49 No 12 1980 photo fide; Icones Planetarum Tropicarum Series II Orchids of Peru Plate 0015 Dodson & Bennett 1989 drawing ok; Icones Orchidacearum Peruviarum plate 215 Bennet & Christenson 1995 OK; Rudolf Schlechter Die Orchideen Band 1C lieferung 33 - 36 2057 - 2308 Brieger 1997 as B bicolor; Rudolf Schlechter Die Orchideen Band 1C lieferung 33 - 36 2057 - 2308 Brieger 1997; Orchids of Venezuela [An illustrated field guide] Vol. 1 Ramiro and Carnevali 2000 drawing ok; Orquideas del Tachira Fernandez 2003 photo ok; Orchid Species Culture: Oncidium, Bakers 2006; Orchid Species of Peru Zelenko Bermudez 2009 photo fide; Orquideas del Peru Freuler 2010 photo fide; Orchids, A Colombian Treasure Vol 1 Ortiz & Uribe 2014 drawing/photo fide
--------------------------------------------------------------------------------------