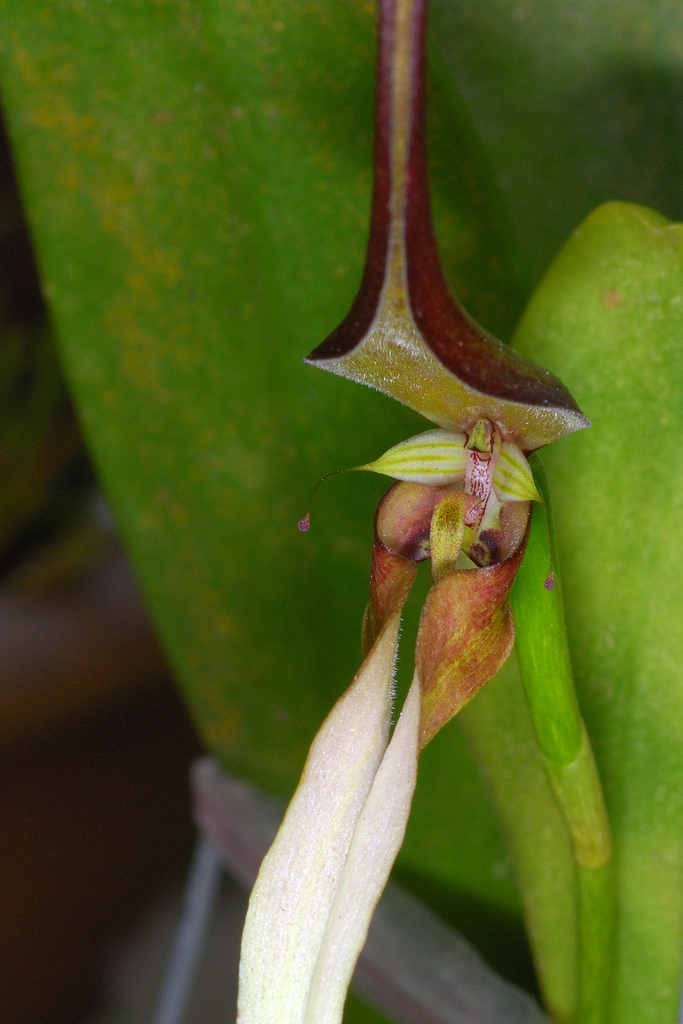 Bulbophyllum antenniferum [Lindley] Rchb. f. 1861 SECTION Hyalosema Schlechter 1911
Photos by © Eric Hunt
Photos by Charles Nishihira Copyright © and The Dr Leslie Garay Archives
Photos by David Jubineau and His Bulbophyllum & Co. WebsiteCopyright ©
Photos by Jo Levy Copyright ©, Leslie Garay Archives
Photos by Bob Fallon Copyright ©, and the Dr Leslie Garay Archives


to





Common Name The Antenna Bulbophyllum [refers to the apice of the petals]
Flower Size 4 3/4" x 1 3/4" [12 x 2 cm]
Found in Thailand, penninsular Malaysia, Java, Sabah Borneo, New Guinea [most likely], Sulawesi and the Philippines in lowland, hill and lower montane primary forests as a miniature to small sized, hot to cool growing epiphyte on tree trunks or on the rocks below in dappled light at elevations of 300 to 1500 meters with .6" [1.5 cm] between each obtuse angled, ovoid pseudobulb carrying a single, flat, rigid, thick, lanceolate, coriaceous, petiolate leaf that blooms on a 6 3/4" [18 cm] long, erect, single flowered inflorescence enveloped by a basal sheathing bract.
This species requires hot to cool temperatures, light shade and moist humid conditions.
CAUTION!!!!This species has included both B leysianum and B ornithorhynchum as synonyms but they are separate with B ornithorhynchum being a synonym of B leysianum
J J Vermeulen states that this species is separate from B leysianum. There has been much confusion over these two species but the most distinctive separation is B antenniferum has an ovate-triangular lip that is .088 to .089" [2.2 to 2.9mm] wide and is slightly constricted approx half way along its length and is adaxially minutely hirsute in the center and glabrous to minutely hirsute towards the apex. B leysianum has an oblong, hardly widening towards its base lip that is adaxially coarsly hirsute in the midle half of its length and then grading to finely hirsute towards the base and the apex. The lip is .048 to .078" [1.2 to 1.9mm wide].
Synonyms Bulbophyllum elbertii J.J.Sm. 1914; *Cirrhopetalum antenniferum Lindley 1843; Hyalosema antenniferum (Lindl.) Rysy 2002; Hyalosema elbertii (J.J.Sm.) Rolfe 1919; Phyllorchis antennifera (Rchb. f.) Kuntze 1891
References W3 Tropicos, Kew Monocot list , IPNI ; Orchidaceae of German New Guinea Schlechter 1913; Notes on Cirrhopetalum Seidenfaden 1973 drawing fide; The Complete Writings on Philippine Orchids Vol 1 Quisumbing 1981 drawing fide; Die Orchideen lieferung 13 753 - 816 Bulbophyllinae Brieger 1983 as Cirrhopetalum antenniferum; Orchidiana Philipiniana Vol 1 Valmayor 1984 drawing fide; Orchids of Java Comber 1990 photo fide; The Orchids of the Solomon Islands and Bougainville Lewis & Cribb 1991; The Plants of Mount Kinabalu Vol 2 Orchids Wood Beaman & Beaman 1993; A Checklist of the Orchids of Borneo Wood & Cribb 1994; Manual of Orchids Stewart 1995; Bulbophyllums and Their Allies Seigerist 2001; Orchids of the Philippines Cootes 2001 photo fide; Flora Malesiana Orchids of the Philippines Vol I Agoo, Shuiteman and de Vogel 2003; A field Guide to the Wild Orchids of Thailand Vaddhanaphuti 2005 photo ok; The Orchids of Mount Kinabalu Vol 2 Wood, Beaman, Lamb, Chu Lun and Beaman 2011 photo fide; Philippine Native Orchid Species Cootes 2011 photo fide; Bulbophyllum of Sulawesi Verm. & O'Byrne 2011 drawing/photo fide; A to Z of South East Asian Orchid Species Vol 2 O'Byrne 2011 photo fide; Bulbophyllum of Borneo J J Verm, P O'Byrne and Lamb 2015 photos/drawing fide;
----------------------------------------------------------------------------------------------------------
-------------------------------------------------------------------------------------------------------------------------------