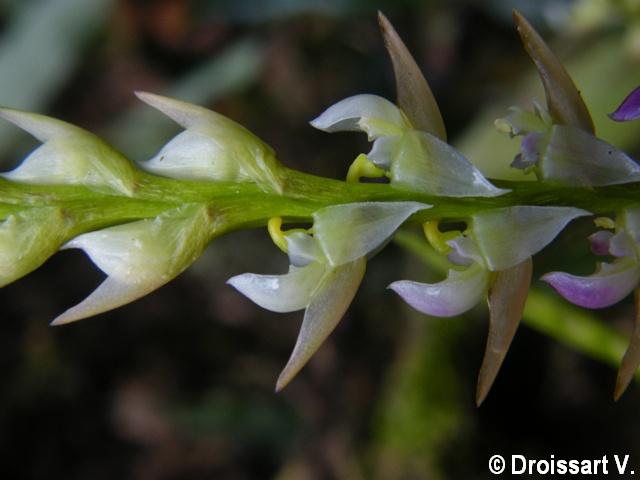 Bulbophyllum bifarium Hook.f. 1864 SECTION Bifarium G A Fischer & J J Verm in prep.
TYPE for the section
Photos by © Vincent Droissart and The Orchidaceae of Central Africa Website
Photos by © Hendrik Venter




Common Name The Two-Sided Bulbophyllum [An Illusion to the compressed inflorescence]
Flower Size .4" [1 cm]
Found in Cameroon, Kenya and Angola in montane forests at elevations around 1600 to 2100 meters as a medium sized, cool to cold growing epipyhte and occasional lithophyte with a creeping rhizome giving rise to ovoid to narrowly conic, ridged pseudobulbs carrying 2 apical, erect, coriaceous, suberect, linear-elliptic, rounded apically leaves that blooms in the spring on an erect, to 6.4" [16 cm] long, many flowered inflorescence enveloped by up to 12 acute bracts and chartaceous, distichous, spreading lanceolate, acute floral bracts.
Text by H Venter. This species is very vigorous, and the flower spikes are attractive and extremely long-lasting. The flowers open successively over about 6 to 10 weeks. It does best mounted, and I grow it in our hothouse which ranges from 10C to 25C in winter, and 18C-40C in summer. It receives about 60-70% shade, and is watered every single day of the year.
Synonyms Bulbophyllum pallescens Kraenzl. 1914; Phyllorchis bifaria (Lindl.) Kuntze 1891
References W3 Tropicos, Kew Monocot list , IPNI ; The Flora of Tropical East Africa Orchidaceae Part 2 Cribb 1984; Orchid Monographs Vol 2 - A Taxonomic Revision of the Continental African Bulbophyllinae Vermeullen 1987 drawing fide; Orchids of Kenya Stewart & Campbell 1996; Bulbophyllums and Their Allies Seigerist 2001; Genera Orchidacearum Vol 6 Epidendroideae Pt 3 Pridgeon, Cribb Chase & Ramussen 2014; Orchidaceae Of West Central Africa Vol 2 Szlachetko, Ejsmont, Baranow, Grochocka, Nowak, Margonska and Naczk 2015 drawing ok
----------------------------------------------------------------------------------------------------------