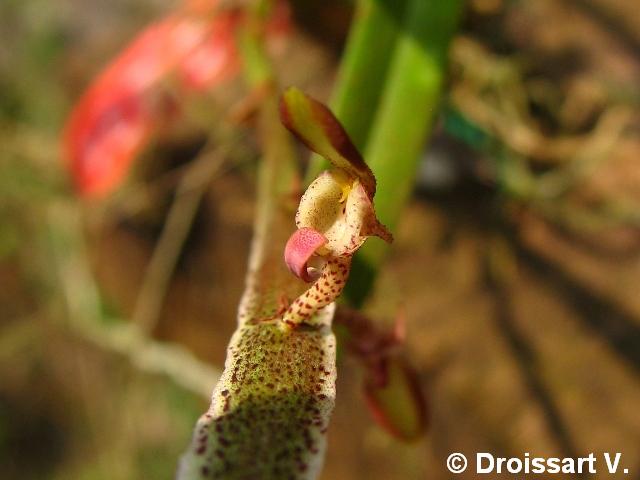 Bulbophyllum calyptratum Kraenzl. 1895 SECTION Megaclinium G A Fischer & J J Verm in prep.
Photos by Vincent Droissart and His Orchidaceae of Central Africa WebsiteCopyright ©
Photo by © Lourens Grobler


to

Common Name The Hooded Bulbophyllum
Flower Size 2/5" [1 cm]
Found in Ghana, Guinea, Ivory Coast, Liberia, Nigeria, Sierra Leone, Togo, Cameroon, Congo, Equatorial Guinea, Gabon and Zaire at lower elevations to 1000 meters as a small to medium sized, hot to warm growing medium sized epiphyte with angled, somewhat compressed pseudobulbs carrying 2, apical, erect, coriaceous, narrow linear-lanceolate to narrowly linear, obtuse, emarginate, oblique leaves and blooms on an erect, spreading, wide, flat, 3' [90 cm] long, many flowered inflorescence with small, distichous flowers appearing on either side of the flattened rachis
The type variety is distinguished from the others by the flower only turned towards the blade of the rhachis when first opening then going erect to reflexed after maturation.
Synonyms Bulbophyllum buchenauianum (Kraenzl.) De Wild. 1921; Bulbophyllum calyptratum var. graminifolium (Summerh.) J.J.Verm. 1986; Bulbophyllum calyptratum var. lucifugum (Summerh.) J.J.Verm. 1987; Bulbophyllum graminifolium Summerh. 1957; Bulbophyllum intermedium De Wild. 1916; Bulbophyllum lindleyi [Rolfe] Schlechter 1914; *Bulbophyllum lucifugum Summerh. 1957; Megaclinium buchenauianum Kraenzl. 1905; Megaclinium intermedium De Wild. 1916; Megaclinium lepturum Kraenzl. 1916; Megaclinium lindleyi Rolfe 1897; Megaclinium maximum Lindl. 1837
References W3 Tropicos, Kew Monocot list , IPNI ; Die Orchideen Schlechter 1915 as B lindleyi; AOS Bulletin Vol 32 # 10 1963 as B lindleyi; Encyclopedia of C Cultivated Orchids Hawkews 1965 as B lindleyi; Orchid Monographs Vol 2 - A Taxonomic Revision of the Continental African Bulbophyllinae Vermeullen 1987 photo/drawing fide; Bulbophyllums and Their Allies Seigerist 2001; Genera Orchidaceaerum Vol 6 Epidendrodeae Part 3 Pridgeon, Cribb, Chase and Rasmussen 2014 drawing fide; Orchidaceae Of West Central Africa Vol 2 Szlachetko, Ejsmont, Baranow, Grochocka, Nowak, Margonska and Naczk 2015 drawing/photo fide
Bulbophyllum calyptratum var. graminifolium (Summerh.) J.J.Verm. 1986
Photo by © Bernard Macdonald and Orchids Online Australia Website
This variety is separated most by the terete, erect to arching inflorescence
ReferencesW3 Tropicos, Kew Monocot list , IPNI ; Orchid Monographs Vol 2 - A Taxonomic Revision of the Continental African Bulbophyllinae Vermeullen 1987 photo/drawing fide; Les Orchidees de Cote d'Ivorie Perez-Vera 2003 photo/drawing fide;
Bulbophyllum calyptratum var. lucifugum (Summerh.) J.J.Verm. 1987
Bulbophyllum calyptratum var. lucifugum (Summerh.) J.J.Verm. 1987
Photos by © Karl Senghas and The Swiss Orchid Foundation a the Jany Renz Herbaria Website
This variety is separated by the pendulous, blade like apex inflorescence that often flowers below the substrate of the plat and the flowers turned downwards towards the blade all the time
ReferencesW3 Tropicos, Kew Monocot list , IPNI ; Orchid Monographs Vol 2 - A Taxonomic Revision of the Continental African Bulbophyllinae Vermeullen 1987 photo/drawing fide; Les Orchidees de Cote d'Ivorie Perez-Vera 2003 as B lucifugum photo/drawing fide; Orchidaceae Of West Central Africa Vol 2 Szlachetko, Ejsmont, Baranow, Grochocka, Nowak, Margonska and Naczk 2015
----------------------------------------------------------------------------------------------------------