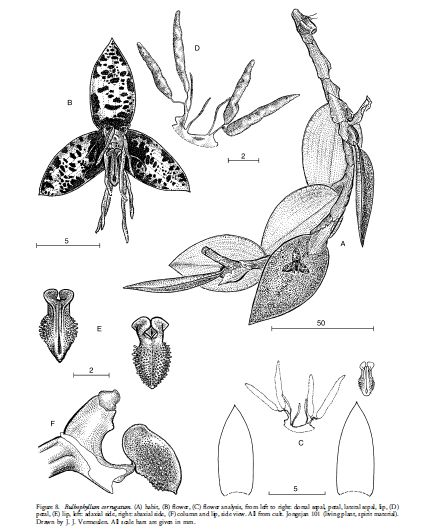 Bulbophyllum corrugatum J.J.Verm. 2008 SECTION Epicranthes (Bl.) Hook.f.
TYPE Drawing by © J J Vermeulen and the Research Gate Website

Common Name The Rough Bulbophyllum [refers to the abaxial side of the leaves]
Flower Size 1/2" [1.25 cm]
Found in the Bismark Archipelago in unknown elevations as a mini-miniature sized epiphyte with a patent to pendulous rhizome with persistent bracts and .4 to .64" [1 to 1.6 cm] between each ellipsoid pseudobulb carrying a single, apical, ovate, acute, abaxial surface dark purple and finely and densely corugated, dark green adaxially, petiolate base leaf that blooms on an porrect, .8" [2 cm] long, 1 bracted, single flowered inflorescence with a tubular, acute floral bract.
According to J J Vermuellen - "Bulbophyllum corrugatum is similar to B. hexarhopalos Schltr. in the sense that it has three much smaller petal appendages in between two groups of large ones. Bulbophyllum corrugatum differs in the roughly corrugated abaxial leaf surface, and in having a smaller number of large petal appendages (6 to 7 large appendages in B. hexarhopalos)."
Synonyms Bulbophyllum hexarhopalos auct. non Schltr., J. J. Verm. 1982, p. 22
References W3 Tropicos, Kew Monocot list , IPNI ; *Nordic Journal of Botany 26: 129195, 2008; New species of Bulbophyllum from eastern Malesia (Orchidaceae) J J Verm 2008 drawing fide
----------------------------------------------------------------------------------------------------------