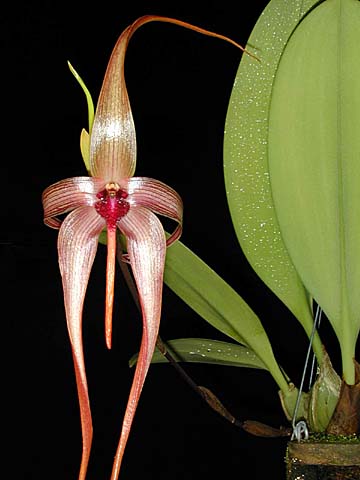 Bulbophyllum echinolabium J.J. Sm. 1934 SECTION Lepidorhiza Schlechter 1911
Photo by Peter O'Byrne



to


and

Singapore cultivation

Common Name The Bulbophyllum with the Hedge-Hog Shaped Lip
Flower Size 16" [40 cm]
This unifoliate, medium sized, epiphytic species is found in Sulawesi and Borneo in riverine to primary forests at elevations of 600 to 1200 meters with .72 to 1.4" [1.8 to 3.5 cm] between each ovoid, non-angular pseudobulb and carrying a single, apical, elliptic to obovate, rounded, gradually narrowing below into the elongate petiolate base leaf that blooms on a basal, 28" [70 cm] long, successively, single flowered inflorescence that slowly extends with up to 10, unpleasant smelling flowers, occuring in the spring and summer.
Best given hot to warm temperatures, good air circulation, high humidity, frequent waterings and can be grown in pots or wooded baskets with a loose open medium.
This species has the largest flower within the Bulbophyllinae and has a moveable warty lip.
References W3 Tropicos, Kew Monocot list , IPNI ; Australian Orchid Review Vol 65 No 6 2000 photo; AOS Bulletin Vol 69 No 12 2000; Bulbophyllum and Their Allies Seigerist 2001; A to Z of SE Asian Orchids O'Byrne 2001 photo fide; Lindleyana Vol 17 No 1 2002; Australian Orchid Review Vol 68 No 1 2003 photo; AOS Bulletin Vol 73 No 3 2004 photo fide; The World's Most Beautiful Orchids Allikas & Nash 2005 photo fide; AOS Bulletin Vol 75 No 6 2006 photo fide; Orchid Digest Vol 71 No 1 2007 photo fide; AOS Bulletin Vol 77 No 11 2008 photo fide; Malesian Orchid Journal Vol 2 2008 drawing fide; Orchid Digest Vol 73 #3 2009 photo fide; AOS Bulletin vol 78 No 11 2009 photo fide; Bulbophyllum: the incomplete Guide From A to why? Bill Thoms 2009 photo fide; AOS Bulletin Vol 79 #6 2010 photo fide; Bulbophyllum of Sulawesi Vermeullen & O'Byrne 2011 drawing/photo fide; Orchid Digest Vol 80 #1 2016 photo fide; Orchid Digest Vol 80 #2 2016; AOS Bulletin Vol 86 #2 2017 photo fide; AOS Bulletin Vol 88 #6 2019 photo fide; AOS Bulletin Vol 87 #10 2018 photo fide;
----------------------------------------------------------------------------------------------------------