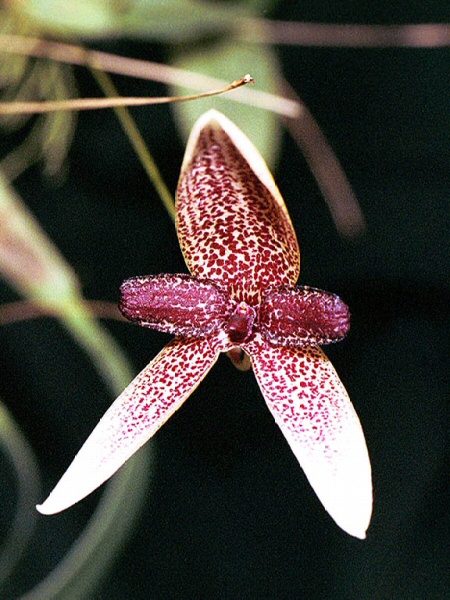 Bulbophyllum elassoglossum Siegerist 1991 SECTION Polymeres Verm & O'Byrne 2008
Photo by Eric Hunt
Photo courtesy of Patricia Harding
Photo courtesy of Marius Wasbauer


to

Common Name The Small Lipped Bulbophyllum [the specific name refers to the small labellum]
Flower Size 1.2 to 1.4" [3 to 3.5 cm] long
Found in the Philippines on horizontal mossy branches and trunks in hill forests and montane forests as a miniature sized, hot to cool growing, unifoliate epiphyte with ovoid, more or less tetragonal pseudobulbs carrying a single, apical, erect, elliptic to narrowly elliptic to oblong, acute to obtuse subsessile base leaf that blooms in the fall on a basal, erect, pubescent, 4 1/4" [11 cm] long, thin, single flowered inflorescence carrying a large flower just beyond the leaf.
This orchid needs plenty of moisture, shade and an open media to be grown well.
The flowers last 7 to 10 days and open early but close each day by 10:30 in the morning.
References W3 Tropicos, Kew Monocot list , IPNI ; Bulbophyllum and Their Allies Seigerist 2001; The Orchids of the Philippines Cootes 2001 photo fide; Flora Malesiana Orchids of the Philippines Vol I Agoo, Shuiteman and de Vogel 2003; New species of Bulbophyllum from eastern Malesia (Orchidaceae) Nordic Journal of Botany 26: 129195, Vermuellen 2008; Philippine Native Orchid Species Cootes 2011 photo fide; A Compendium of Miniature Orchid Species Gerritsen and Parsons 2013 photo fide; Orchid Digest Vol 78 #1 2014 photo fide; Bulbophyllum of Borneo J J Verm, P O'Byrne and Lamb 2015;
----------------------------------------------------------------------------------------------------------