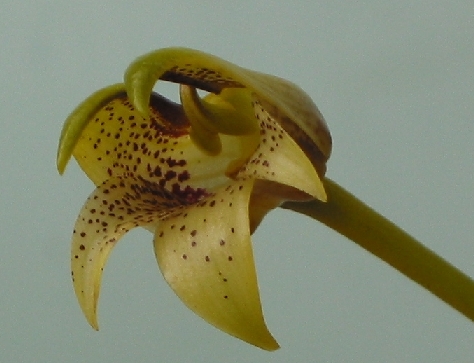 Bulbophyllum emiliorum Ames & Quisumb. 1931 SECTION Sestochilus [Breda]Benth & Hkr.f 1883
Photo courtesy of David Morris and Clackamas Orchids Home Page
Photos by © Art Vogel
SENT IN AS Bulbophyllum kutubuense Garay, Hamer, Siegerist ?
Photo by © Anton Seider and their Orchids of New Guinea Website
Lip Detail sent in as B kutubuense
Photo by © Jo Levy and their Orchids of New Guinea Website
Photos by Wolfgang Bandisch © and the Orchids of New Guinea Website




Common Name Emilio's Bulbophyllum [Emilio Quisumbing, a Philippine civil engineer and orchid collector]
Flower Size 1 3/8" [3.5 cm]
Found in Papua and New Guinea and the Philippines on tree trunks in dense forests at elevations of 100 to 400 meters as a small sized, hot growing, unifoliate epiphyte with [8 to 10 cm] between each, globose pseudobulb and carrying a single, apical, elliptic-oblong, rigid leaf that blooms in the spring on an erect, slender, 1 5/8" to 2 3/4" [4 to 7 cm] long inflorescence with 3 yellow sheathing bracts, giving rise to a single, fragrant [sweet], non-resupinate, waxy flower.
Needs a large slab, hot temperatures, deep shade and regular waterings to grow well.
References W3 Tropicos, Kew Monocot list , IPNI ; The Complete Writings on Philippine Orchids Vol 1 Quisumbing 1981 drawing fide; Orchidiana Philipiniana Vol 1 Valmayor 1984 drawing fide; Lowland Orchids of Papua New Guinea O'Byrne 1994 drawing/photo fide; Bulbophyllum and Their Allies Seigerist 2001; Orchids of the Philippines Cootes 2001 photo wrong in book shows B macranthum; Flora Malesiana Orchids of the Philippines Vol I Agoo, Shuiteman and de Vogel 2003
----------------------------------------------------------------------------------------------------------