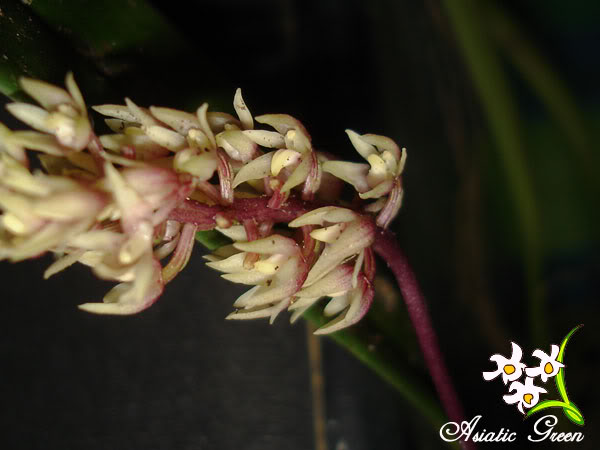 Bulbophyllum foetidolens Carr 1930 SECTION Beccariana Pfitz. 1889
Photo by © Amos Tan , and the Asiatic Green Orchid Website
Photo courtesy of Bob Fallon Copyright © , and the Dr Leslie Garay Archives



Common Name The Rotten Smelling Bulbophyllum
Flower Size 3/8" [1 cm]
Found in penninsular Malaysia and Borneo in mixed hill forests, lower montane or riverine forests or on sandstone and other boulders at elevations around 500 to 1500 meters as a small sized, warm to cool growing epiphyte or occasional lithophyte with a sheathed rhizome carrying 2 1/8' separated, slightly flattened pseudobulbs carrying a single apical, petiolate leaf that is narrowed equally to the base and the apex blooming on a dark red-purple, erect, 5 1/8" [13cm] long, drooping, many closely set flowered inflorescence.
The anther cap of the flower in the species is remarkable because of the conical, papillose projection at the front near the apex.
CAUTION Many references now assign this species to be a synonym of B mahakamense, I still feel that they can be maintined separately.
References W3 Tropicos, Kew Monocot list , IPNI ; Orchids of Malaya Holtum 1953; Orchids of Penninsular Malaysia and Singapore Seidenfaden & Wood 1992 drawing fide; Orchids of Malaya Segerback 1992 photo good; The Plants of Mount Kinabalu Vol 2 Orchids Wood Beaman & Beaman 1993 photo fide; A Checklist of the Orchids of Borneo Wood & Cribb 1994; Orchids of Sarawak Beeman & Wood Beaman etal 2001; The Orchids of Mount Kinabalu Vol 2 Wood, Beaman, Lamb, Chu Lun and Beaman 2011 photo fide; Bulbophyllum of Borneo J J Verm, P O'Byrne and Lamb 2015 as syn of B mahakamense;
----------------------------------------------------------------------------------------------------------