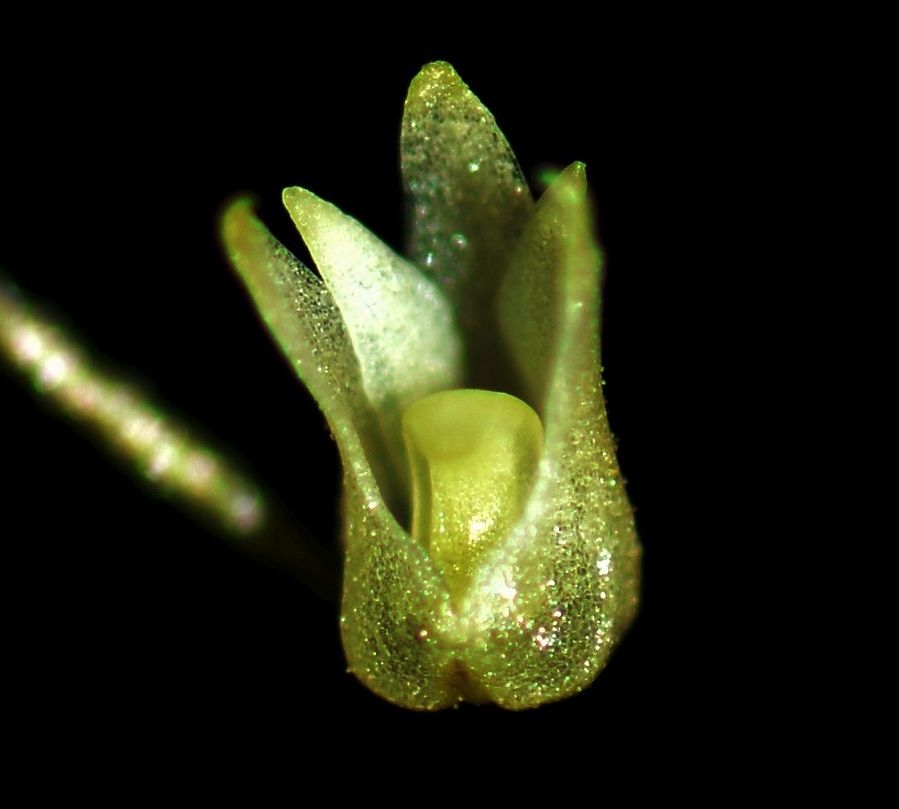 Bulbophyllum globuliforme Nichols 1938 SECTION Minutissima Pfitzer 1888
Photos by © Bernard Mcdonald
Photo by © John Varigos and His Orchid webpage



Common Name The Globe Shaped Bulbophyllum [refers to the pseudobulb shape] - In Australia The Green Bead Orchid
Flower Size 1/8" [3 mm]
Found in Queensland and New South Wales Australia at elevations of 100 to 900 meters in rainforests on larger branches and upper trunks of Hoop Pine as a mini-miniature sized, hot to warm growing epiphyte from with tiny, globose, pale green to reddish pseudobulbs and a single, apical, short, linear-subulate leaf a slender, petite, 3/8" [1 to 1.5 cm] long, single flowered inflorescence occuring in the spring holding the flower well above the leaves.
This species holds the distinction of being the smallest of all the Bulbophyllum and may well be the smallest in the Orchidaceae.
This species can be put in small pots or on cork with hot temperatures, partial shade and ample waterings.
Synonyms Oncophyllum globuliforme (Nicholls) D.L.Jones & M.A.Clem. 2001
References W3 Tropicos, Kew Monocot list , IPNI ; AOS Bulletin Vol 35 No 4 1966; The Orchids of New South Wales Rupp 1969; Orchids of Australia Nicholls 1969 drawing fide; Miniature Orchids Northen 1980; Australian Orchid Review Vol 66 No 6 2001 photo; Botanica's Orchids Laurel Glen 2001; Bulbophyllums and Their Allies Seigerist 2001; Australian Orchid Review Vol 68 No 2 2003 photo; Flora's Orchids Nash & La Croix 2005; Australian Orchid Review Vol 71 No 5 2006 photo; Native Orchids of Australia Jones 2006 as Oncophyllum globuliforme photo fide; A Compendium of Miniature Orchid Species Gerritsen and Parsons 2013 photo fide
--------------------------------------------------------------------------------------------------------------------------