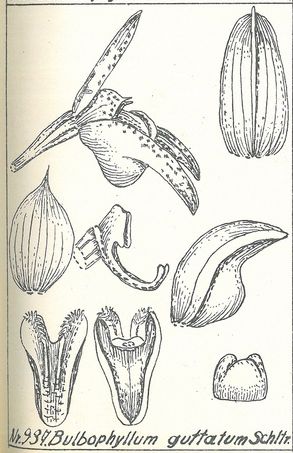 Bulbophyllum guttatum Schltr. 1913 SECTION Beccariana Pfitz. 1889
Drawing by Schlechter And The Swiss Orchid Foundation at the Jany Renz Herbaria Website





Common Name The Spotted Bulbophyllum
Flower Size
Found in New Guinea on trees in range forests at elevations around 210 to 1300 meters as a small sized, hot to cool growing epiphyte with 6.4 to 8" [16 to 20 cm] between each cylindrical pseudobulb carrying a single, apical, erect, elliptic-ligulate, dark green to olive green. narrowing below into the petioalte base leaf that blooms in the late winter and early spring on a wiry, short to .24" to .4" [.6 to 1 cm] long, single flowered inflorescence with ovate, acute, shorter than the ovary floral bracts and carrying resupinate flowers with yellowish green, green, or olive green petals and sepals with reddish purple spots and, sometimes, veins, a purplish red or whitish lip densely spotted with purplish red except abaxially near the base and a yellowish green column withthe foot pale purple with a few darker spots.
Schlechter states that the plant is the most slender within the section and the flowers are of a very thin texture and the lip is broader with 2 papillary bands.
Bulbophyllum guttatum Schltr and B. nabawanense J.J. Wood, 1994, from Borneo are similar . B hoyifolium but it differs from both in having a very slender growth habit, as well as in having a tooth along the lower margin of the lateral sepals.
Synonyms
References W3 Tropicos, Kew Monocot list , IPNI ; *Orchidaceae of German New Guinea Schlechter 1913/85 drawing fide
----------------------------------------------------------------------------------------------------------