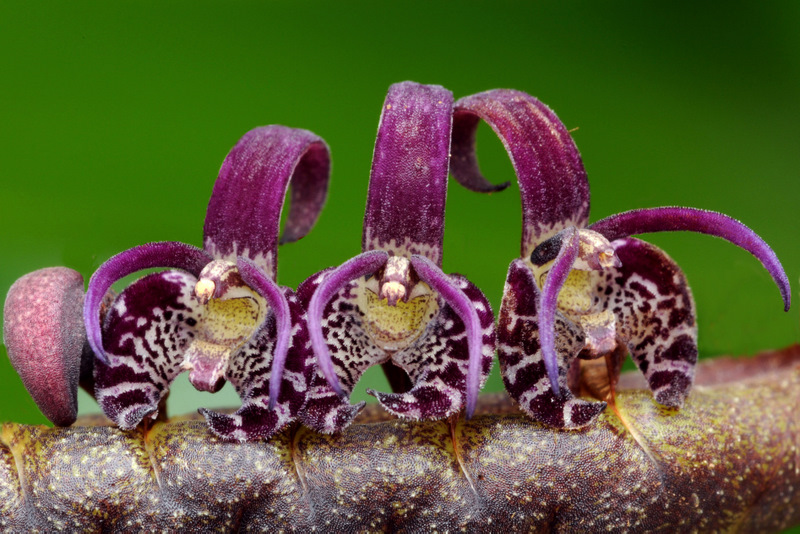 Bulbophyllum imbricatum Lindl. 1841 SECTION Megaclinium G A Fischer & J J Verm in prep.
Photo by © Art Vogel
Photo courtesy of Guy Ramette Vovan and his Gabon Orchids Website


to

Common Name The Imbricate Bulbophyllum [refers to the imbricate or overlapping margins of the inflorescence]
Flower Size 1/4" [.6cm]
Found from Sierra Leone, Ivory Coast, Liberia, Nigeria, Guinea, Equatorial Guinea, Gulf of Guinea Islands, Gabon, Cameroon, Central African Republic, Congo and Zaire at elevations of sea level to 1000 meters in lowland forests as a hot to warm growing epiphyte with narrowly ovoid or ovoid, slightly compressed, 3 to 4 angled, green pseudobulbs carrying 1 to 3, apical, linear or lanceolate, thick, fleshy leaves that blooms on a flattened and swollen, imbricate, brown to black, many flowered, erect to arching, 2' [60 cm] long, inflorescence with the flowers appearing out of each side of the rachis at 1/4" [6mm] intervals.
Synonyms Bulbophyllum gilletii (De Wild.) De Wild. 1921; Bulbophyllum laurentianum Kranzl 1899; Bulbophyllum ledermannii (Kraenzl.) De Wild. 1921; Bulbophyllum stenorhachis Kraenzl. 1895; Bulbophyllum strobilliferum Kranzl 1889; Bulbophyllum triste (Rolfe) Schltr. 1904; Megaclinium congolense De Wild. 1903; Megaclinium gilletii De Wild. 1903; Megaclinium gillianum De Wild. 1903; Megaclinium hebetatum Kraenzl. 1923; Megaclinium imbricatum (Lindl.] Rolfe 1897; Megaclinium laurentianum (Kraenzl. ex De Wild. & T.Durand) De Wild. 1903; Megaclinium ledermannii Kraenzl. 1912; Megaclinium leucorhachis Rolfe 1891; Megaclinium strobiliferum (Kraenzl.) Rolfe 1897 ; Megaclinium triste Rolfe 1894; Phyllorchis imbricata (Lindl.) Kuntze 1891
References W3 Tropicos, Kew Monocot list , IPNI ; Die Orchideen Schlechter 1915 as B leucorhachis; AOS Bulletin Vol 32 # 10 1963; AOS Bulletin Vol 32 # 10 1963 as B leucorrhachis; Encyclopedia of Cultivated Orchids Hawkes 1965 as B leucorhachis; Illustrated Encyclopedia of Orchids Pridgeon 1982 photo good; Orchid Monographs Vol 2 - A Taxonomic Revision of the Continental African Bulbophyllinae Vermeullen 1987 photo/drawing fide; African Orchids in the Wild and Cultivation La Croix 1997; Bulbophyllums and Their Allies Seigerist 2001; Les Orchidees de Cote d'Ivorie Perez-Vera 2003 photo/drawing fide;
Bulbophyllum imbricatum Lindl. 1841 var alba
Photo by © Art Vogel
A color less form of the previous species.
----------------------------------------------------------------------------------------------------------