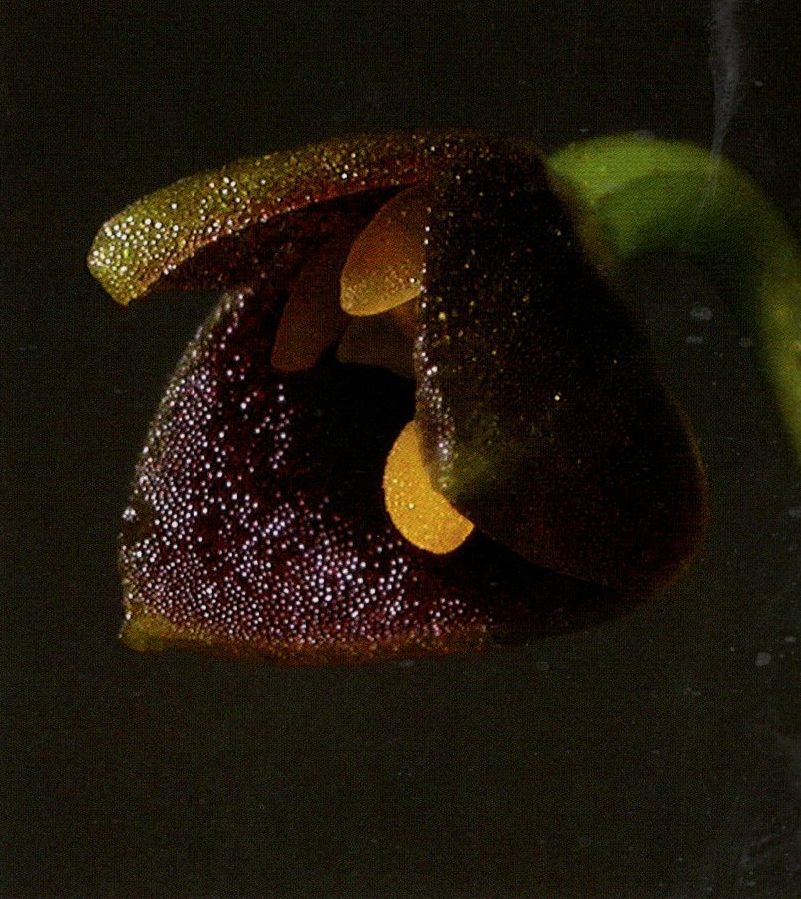 Bulbophyllum insipidum J.J.Verm. & P.O'Byrne 2008 SECTION Monanthaparva Ridl. 1896
Photo/TYPE Drawing by © J J Vermeulen




Common Name The Insipid Bulbophyllum
Flower Size
Found in Sulawesi in secondary forest near streams elevations around 1450 meters as a mini-miniature sized, cool growing epiphyte with a creeping rhizome with .12 to .2" [.3 to .5 cm] between each, ellipsoid to ovoid pseudobulbs carrying a single, apical, erect, elliptic to ovate, acute, narrowing below into the petiolate base leaf that blooms in the fall and winter on a patent, peduncle .6 to .68" [1.5 to 1.7 cm] long, provided with 3 bracts, the longest ca .14" [3.5 mm] long, raceme .88 to 1.4" [2.2 to 3.5 cm] long overall, single flowered inflorescence with a tubular, acute, shorter than the ovary floral bract and carrying flowers that hardly open with whitish sepals, stained with pale pinkish red, yellowish towards the tip.
"B perparvulum, from Sarawak, grows in similar tufts, but is a much smaller plant of slightly over .4" [1 cm] high, with acute-acuminate sepals and petals and an acute lip. B. keekee Halle, from New Caledonia, has similarly shaped flowers, but with a suborbicular lip with a small callus near the tip." J.J.Verm. & P.O'Byrne 2008
"The stelida projecting well beyond the stelida make this speies as better fit within SECTION Monanthaparva Ridl. 1896" Vermeulen 2011.
Synonyms
References W3 Tropicos, Kew Monocot list , IPNI ; * Gard. Bull. Singapore 60:111 fig 16 J.J.Verm. & P.O'Byrne 2008 drawing fide; Bulbophyllum of Sulawesi Vermeullen & O'Byrne 2011 drawing/photo fide
----------------------------------------------------------------------------------------------------------