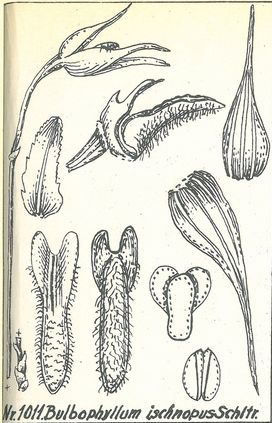 Bulbophyllum ischnopus Schltr. 1905 SECTION Polymeres Verm & O'Byrne 2008
TYPE Drawing by Schlechter And The Swiss Orchid Foundation at the Jany Renz Herbaria Website



LATE

EARLY

Common Name The Slim Column Foot Bulbophyllum
Flower Size
Found in the New Guinea on trees in range mist forests at elevations around 800 to 1100 meters as a warm to cool growing epiphyte that blooms in the late winter and early spring.
Schlechter states that this species is readily distinguished by its narrow leaves and dainty growth and the flowers are dark violet red or yellowish with a violet red base.
Schlechter states that the flowers are similar to and as large as Bulbophyllum bismarkense Schltr.
CAUTION I feel that Kew may be wrong in their applying Bulbophyllum rhodoneuron as a synonym of this species so I have left them both separate. The confusion seems to start with Schlechter's use of Bulbophyllum ischnopus var rhodoneuron Schltr. 1913 which Kew did not list [now has IT RIGHT]and is in the same publication as Bulbophyllum rhodoneuron.
Synonyms Bulbophyllum ischnopus var rhodoneuron Schltr. 1913;
References W3 Tropicos, Kew Monocot list , IPNI ; *Orchidaceae of German New Guinea Schlechter 1913/85 drawing fide; Orchidaceae of German New Guinea Schlechter 1913/85 drawing fide
----------------------------------------------------------------------------------------------------------