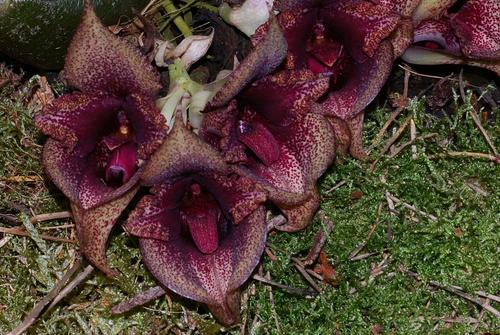 Bulbophyllum macrobulbum J.J. Sm. 1910 SECTION Beccariana Pfitz. 1889
Photo by © Lourens Grobler
Photo courtesy of Scot
Photo courtesy of Jay Pfahl



LATER

Common Name Large-Bulbed Bulbophyllum
Flower Size 4" [10 cm]
Found in New Guinea on moss covered trees or rocks at elevations of 300 to 400 meters as a hot growing epiphyte or lithophyte with huge, dull olive-green, ovoid, clustered pseudobulbs carrying a single, apical, oblong, thick, long, tinged with purple leaf that blooms in the later spring on a short, basal, 3 to 5 flowered inflorescence with broadly ovate, acutely acuminate, concave, c. 13 nerved, membranous, shorter than the ovary f;loral bracts and carrying large, foul smelling flowers.
These plants have tremendously long leaves and they must hang free without laying on benches which promotes rot so use hanging pots or baskets, hot tempratures, high humidity and partial shade aid in keeping this species well grown.
Schlechter states that the flowers are yellow green, spotted and dotted inside with violet. The lip is violet as well.
Synonyms Bulbophyllum balfourianum auct. 1915
References W3 Tropicos, Kew Monocot list , IPNI ; The Orchidaceae of German New Guinea Schlechter 1913/85 drawing good; Orchid Australia Vol 11 No 2 1999 photo; Bulbophyllums and Their Allies Seigerist 2001; Manual of Orchids Stewart 1995; Flora's Orchids Nash & La Croix 2005; Australian Orchid Review Vol 73 No 2 2008 photo; Bulbophyllum: the incomplete Guide From A to why? Bill Thoms 2009 photo fide; Orchid Digest Vol 74 #1 2010 photo fide; AOS Bulletin Vol 82 #12 2013 photo fide;
----------------------------------------------------------------------------------------------------------