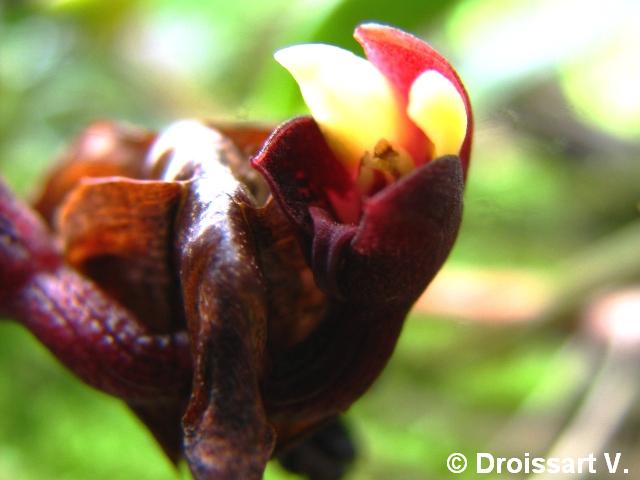 Bulbophyllum magnibracteatum Summerh. 1935 SECTION Megaclinium G A Fischer & J J Verm in prep.
Photos by Vincent Droissart and His Orchidaceae of Central Africa Website Copyright ©


to





Common Name The Large Bracted Bulbophyllum
Flower Size .16" [.4 cm]
Found in Ghana, Ivory Coast, Liberia, Nigeria, Equatorial Guinea, Gabon and Zaire in lowland and hill forests at elevations up to 800 meters as a small sized, hot to warm growing epiphyte with .6 to 1.8" [1.5 to 4.5 cm] between each, ovoid to ellipsoid, hardly to moderately flattened, obtusely 3 to 4 angled pseudobulbs carrying 1, coriaceous, thick, lanceolate to broadly linear-lanceolate, obtuse, oblique, midrib slightly prominent abaxially, narrowing below into the shortly petiolate base leaf that blooms at any time of the year on an erect to slightly arching, becoming flattened and swollen towards the apex, glabrous to papillose, edges sharp to obtuse, straight to slightly undulate, 2.1 to 12" [5.5 to 30 cm] long, 4 to 60 flowered inflorescence with 6 to 10, tubular, rounded to acute, membraneous, not to hardly keeled and glabrous abaxially bracts and recurved to reflexed, ovate, acute, membraneous, nerved and not keeled and glabrous abaxially floral bracts and carrying distichous flowers with several open at any one time.
Synonyms
References W3 Tropicos, Kew Monocot list , IPNI ; Orchid Monographs Vol 2 - A Taxonomic Revision of the Continental African Bulbophyllinae Vermeullen 1987 drawing/photo fide; Les Orchidees de Cote d'Ivorie Perez-Vera 2003 photo/drawing fide; Orchidaceae Of West Central Africa Vol 2 Szlachetko, Ejsmont, Baranow, Grochocka, Nowak, Margonska and Naczk 2015 drawing fide
--------------------------------------------------------------------------------------------------------------------------