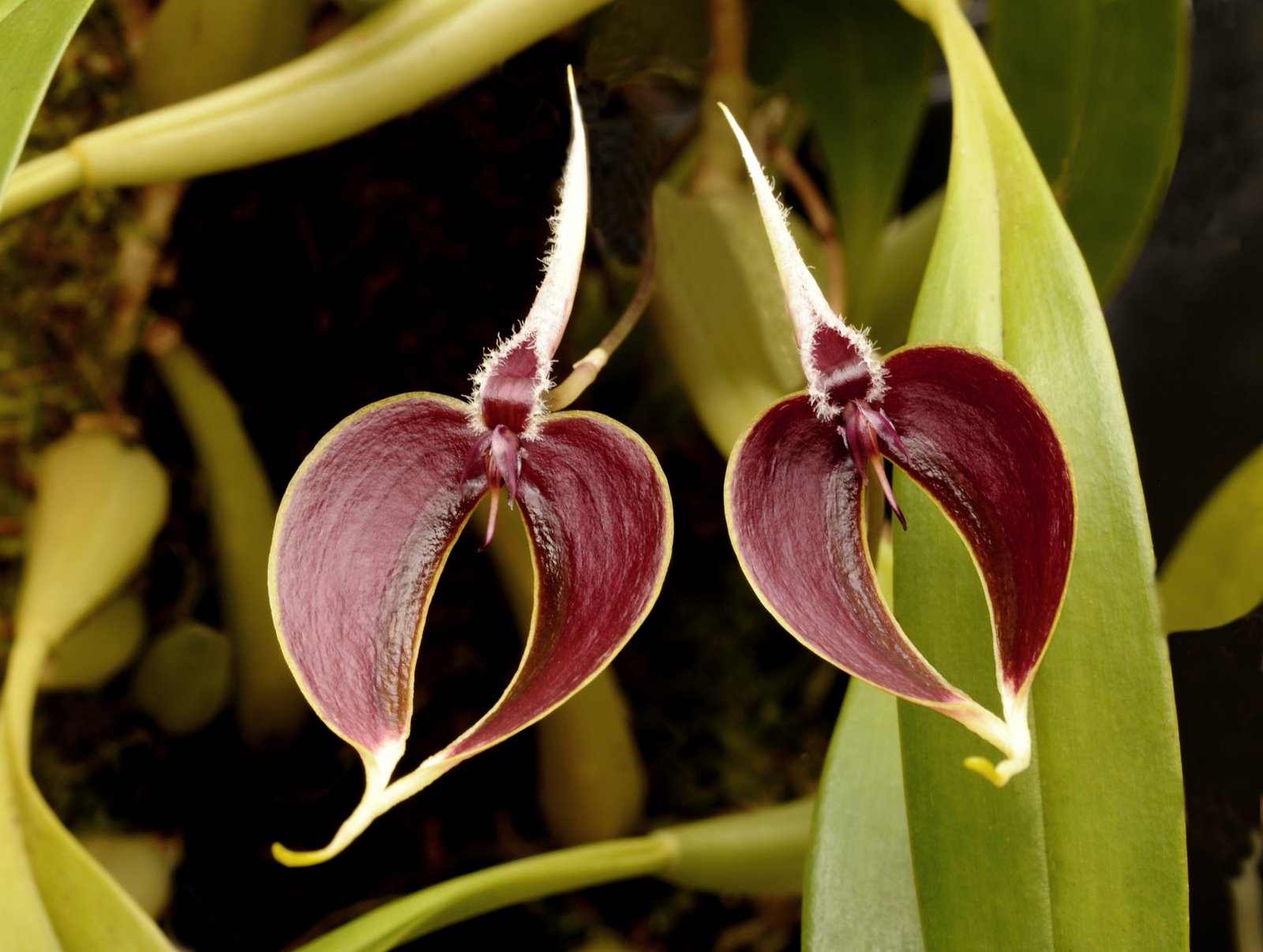 Bulbophyllum maxillare [Lindley]Rchb.f 1861 SECTION Polymeres Verm & O'Byrne 2008
Photo by © Art Vogel
Photos by Bob Fallon Copyright ©, and the Dr Leslie Garay Archives
What has been known as B masdevalliceum
Flower Closeup of what has been known as B masdevalliceum
Photos by Jo Levy Copyright ©, Leslie Garay Archives
Super detail showing hirsute lip sides of what has been known as B masdevalliceum
Photo by Rich Ashby Copyright ©, and his Flickr Photo Website
What has been know as B blumei
Bulbophyllum blumei [Lindley]J.J. Sm. 1905 SECTION Stenochilus J.J. Sm. 1914
Photo by Jay Pfahl. Copyright © 2006 All rights reserved.
Super detail of lip showing glaborous sides of the lip on what has been know as B blumei
Photo by Copyright © The French Orchid Society Nord website




to

Common Name The Chinbone Bulbophyllum - In Australia The Red Horntail Orchid
Flower Size 1 to 2 1/2" [2.5 to 6 cm]
Found in penninsular Malayasia, Sumatra, Java, Borneo, the Sulawesi, New Guinea, the Philippines, the Solomon Islands and Australia as a small sized, hot growing epiphyte on tree trunks at elevations of sealevel to 800 meters in stunted woodlands and has tapered, unifoliate pseudobulbs with an ovate to elliptic, leathery leaf and blooms on an erect, single flowered, 6" [15 cm] long inflorescence that holds the leaf just below or at leaf height.
CAUTION This species, B blumei and B masdevalliaceum have all been as separate species by most authors, Verm, O'Byrne and Lamb 2015 have put them all together and I agree as there are so few differences that need major magnification to even be aware of.
Synonyms Bulbophyllum blumei [Lindley]J.J. Sm. 1905; Bulbophyllum cuspidilingue Rchb.f 1861; Bulbphyllum epiphippium Rdl. 1921; Bulbophyllum masdevalliaceum Kraenzl. 1904; Cirrhopetalum blumei Lindl. 1830; *Cirrhopetalum maxillare Lindley 1843; Epiphippium ciliatum Bl. 1825; Ephippium masdevalliaceum (Kraenzl.) M.A.Clem. & D.L.Jones 2002; Phyllorkis blumei [Lindl.]Ktze. 1891; Phyllorkis maxillaris (Lindl.) Kuntze 1891
References W3 Tropicos, Kew Monocot list , IPNI ; Die Orchideen Von Java J.J.Sm. 1905 as B blumei; Die Orchideen Von Java Figuren Atlas J.J.Smith 1908 as B blumei drawing fide; Orchidaceae of German New Guinea Schlechter 1914/85 as B masdevallicum drawing fide; Orchids of Malaya Holtum 1953 as B blumei; Orchids of Malaya Holtum 1953; Notes on Cirrhopetalum Seidenfadden 1973 as B blumei; The Orchids of Papua New Guinea An Introduction Millar 1978 as B cheiri photo fide; Orchidaceae of German New Guinea Schlechter 1982 as B blumei; Orchids of Java Comber 1990 as B blumei photo fide; The Orchids of the Solomon Islands and Bougainville Lewis & Cribb 1991 as B blumei photo fide; Orchids of Borneo Vol 2 Vermeullen 1991 as B blumei drawing/photo fide; Orchids of Penninsular Malaysia and Singapore Seidenfadden and Wood 1992 as B blumei drawing fide; Orchids of Penninsular Malaysia and Singapore Seidenfadden and Wood 1992 drawing fide; A Checklist of the Orchids of Borneo Wood & Cribb 1994 as B blumei; Orchids of Papua New Guinea Millar 1999 as B blumei photo fide; Orchids of Borneo Vol 2 Vermeullen 1991 as Bulbophyllum blumei drawing fide; Bulbophyllums and Their Allies Seigerist 2001 as B cuspidlingue; Bulbophyllum and Their Allies Siegerist 2001 as B madevalliacium photo fide; Bulbophyllum and Their Allies Siegerist 2001; A to Z of SE Asian Orchids O'Byrne 2001 as B blumei photo fide; Orchids of Sumatra Comber 2001 as B blumei; Australian Orchid Review Vol 66 No 3 as B masdevallicum 2001 photo; Australian Orchid Review Vol 66 No 6 2001 as B masdevallicum photo; Bulbophyllums and Their Allies Seigerist 2001 as B masdevallicum; Bulbophyllums and Their Allies Seigerist 2001; Orchids of the Philippines Cootes 2001 photo fide; AOS Bulletin Vol 71 No 7 2002 as B blumei photo fide; AOS Bulletin Vol 71 No 12 2002 as B blumei photo fide; Orchids of Borneo Vol 2 Vermeullen 1991 as Bulbophyllum blumei; Flora Malesiana Orchids of the Philippines Vol I Agoo, Shuiteman and de Vogel 2003; A field Guide to the Wild Orchids of Thailand Vaddhanaphuti 2005 as B blumei photo good; Native Orchids of Australia Jones 2006 as Ephippium masdevalliaceum photo fide; New species of Bulbophyllum from eastern Malesia (Orchidaceae) Nordic Journal of Botany 26: 129195, 2008 Vermuellen; Wild Orchids of Penninsular Malaysia Ong, O'Byrne, Yong & Saw 2011 photo fide; Bulbophyllum of Sulawesi Vermeullen & O'Byrne 2011 drawing/photo fide; Philippine Native Orchid Species Cootes 2011 photo fide; Orchid Digest Vol 78 #1 2014 photo fide; Bulbophyllum of Borneo J J Verm, P O'Byrne and Lamb 2015 photos/drawing fide;
----------------------------------------------------------------------------------------------------------