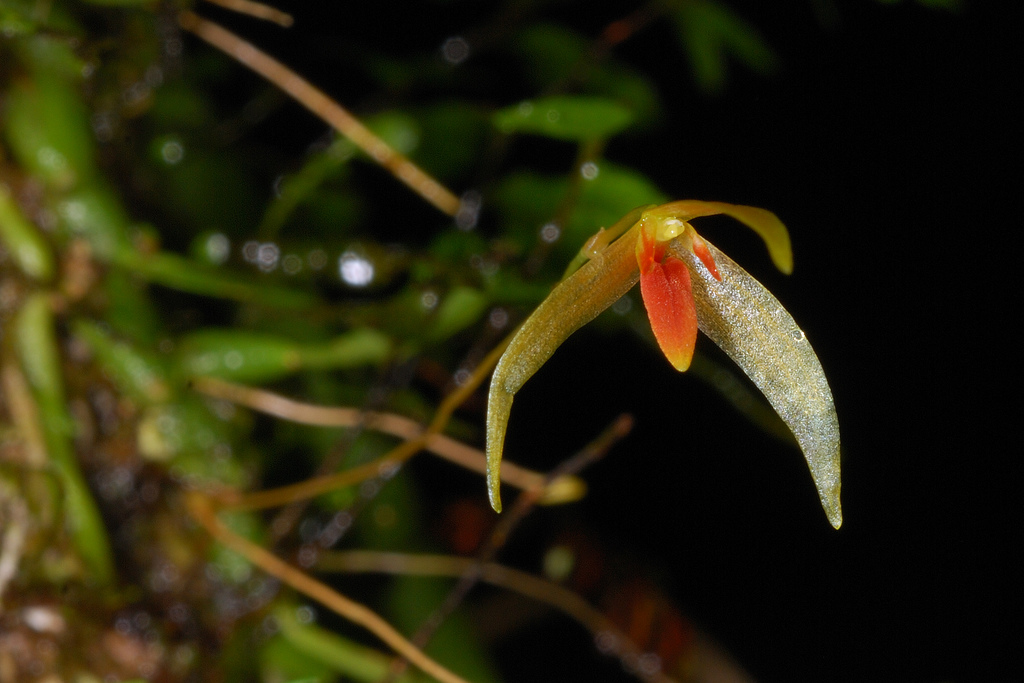 Bulbophyllum minutulum Ridl. ex Burkill & Holttum 1923 SECTION Macrocaulia (Bl.) Aver 1994
Photo by © Eric Hunt.
Photo by © Jon Wagner.
Photos by © Art Vogel






Common Name The Extremely Tiny Bulbophyllum
Flower Size 1/4" [6mm]
Found in penninsular Malaysia and Borneo in lower montane forests at elevations of 700 to 1900 meters as a mini-miniature sized, hot to warm growing epiphyte on trunks and branches often in mosses with a creeping rhizome with .1" [.15 to .25 cm] beteen each, ovoid to ellipsoid, flattened pseudobulbs carrying a single, apical, erect, coriaceous, thin, elliptic, petiolate base leaf that blooms in the spring summer and fall on a basal, 1 to 1.2" [2.2 to 3 cm] long, single flowered inflorescence with tubular floral bracts.
Synonyms
References W3 Tropicos, Kew Monocot list , IPNI ; Orchids of Malaya Holtum 1953; Orchids of Borneo Vol 2 Vermeullen 1991 drawing/photo fide; The Orchids of Penninsular Malaysia Seidenfaden & Woods 1992 drawing good; The Plants of Mount Kinabalu Vol 2 Orchids Wood Beaman & Beaman 1993; A Checklist of the Orchids of Borneo Wood & Cribb 1994; Bulbophyllum and Their Allies Siegerist 2001; Orchids of Sarawak Beeman & Wood Beaman etal 2001; The Orchids of Mount Kinabalu Vol 2 Wood, Beaman, Lamb, Chu Lun and Beaman 2011 drawing/photo fide; Malesian Orchid Journal Vol 13 O'Byrne & Ong 2013 photo fide; Bulbophyllum of Borneo J J Verm, P O'Byrne and Lamb 2015 photos/drawing fide;
----------------------------------------------------------------------------------------------------------