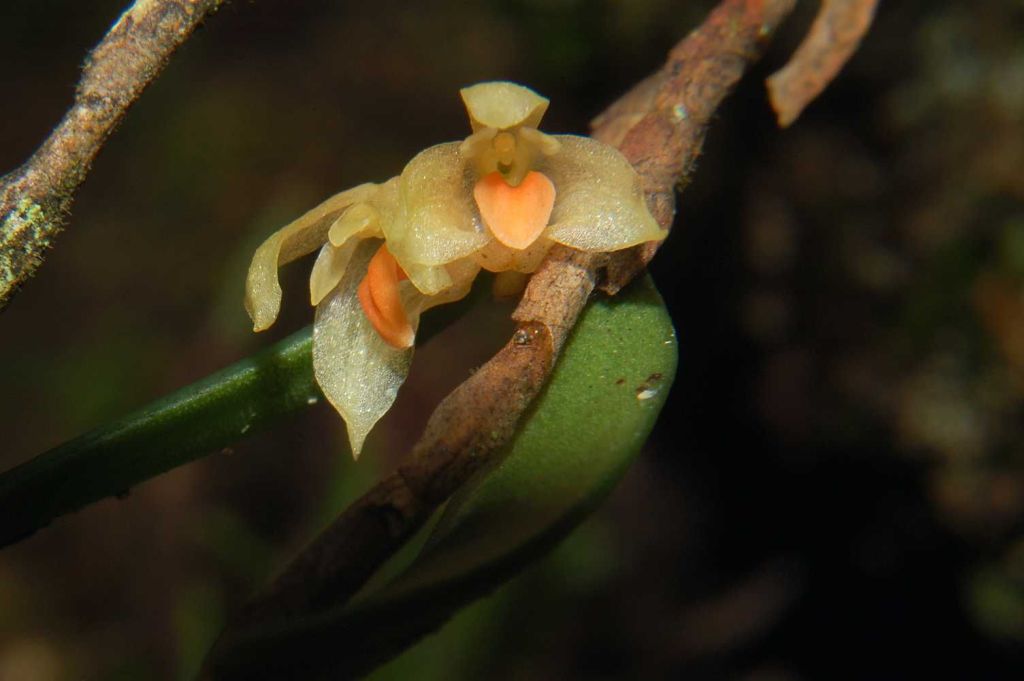 Bulbophyllum mutabile [Bl.] Lindl. 1830 SECTION Stachysanthes (Bl.) J.J. Verm. & P. O'Byrne 2008
Plant and Flowers in situ Cameron Highlands
Photos by © David Kuehn
Photo by André Schuiteman, courtesy of Dr. E.F. de Vogel and Jaap Vermeulen and Their Netherlands National Herbarium Website



Common Name or Meaning The Variable Bulbophyllum
Flower Size .4" [1 cm]
Found in Thailand, penninsular Malaysia, Borneo, Java, the Philippines, Bali and Celebes in montane forests at elevations of 1100 to 2700 meters as a miniature sized, cool to cold growing epiphyte with .4 to .8" [1 to 2 cm] between each very small, adnate to the rhizome, somewhat terete, basally truncate pseudobulb carrying a single, apical, erect, coriaceous, oblong, obtuse, somewhat fleshy, abruptly narrowing basally into the elongate petiolate base leaf that blooms on a very short to .2" [5 mm] long, 2 flowered inflorescence.
This species is very variable in plant size and leaf shape as well as variable in flower shape.
The 1st and 2nd photos are of B mutabile var obesum with a short, repent plant form and the 3rd photo is B mutabile var mutabile with the larger taller more erect plant form.
Synonyms Bulbophyllum altispex Ridl. 1894; Bulbophyllum ceratostyloides (Schltr.) Schltr. 1925; Bulbophyllum mutabile var. ceratostyloides Schltr. 1911; Bulbophyllum mutabile var. mutabile.; Bulbophyllum mutabile var. obesum J.J.Sm. 1991; Bulbophyllum pokapindjangense J.J.Sm. 1933; Bulbophyllum semipellucidum J.J.Sm. 1928; *Diphyes mutabilis Bl. 1825; Phyllorhis mutabilis (Blume) Kuntze 1891
References W3 Tropicos, Kew Monocot list , IPNI ; Die Orchideen Von Java J.J.Sm. 1905; Die Orchideen Von Java Figuren Atlas J.J.Smith 1908 drawing hmmm; Flora of Malaya Vol 1 Holttum 1957; The Orchids of Thailand Seidenfaden & Smitinand 1961 drawing ok; Dansk Botanisk Arkiv Bind 33 #3 Orchid Genera in Thailand VIII Bulbophyllum Thou Seidenfaden 1979 drawing fide; Orchids of Java Comber 1990; Orchids of Borneo Vol 2 Vermuellen 1991 drawing/photo fide; Philippine Native Orchid Species Cootes 2011 as B mutabile var obesum photo fide; The Orchids of Penninsular Malaysia and Singapore Wood & Seidenfaden 1992 drawing fide; Orchids of Malaya Segerback 1992 photo fide; The Plants of Mount Kinabalu Vol 2 Orchids Wood Beaman & Beaman 1993 ; The Plants of Mount Kinabalu Vol 2 Orchids Wood Beaman & Beaman 1993 as B mutabile var obesum photo fide; A Checklist of the Orchids of Borneo Wood & Cribb 1994; A Checklist of the Orchids of Borneo J J Wood & P J Cribb 1994 as B mutabile var obesum; Orchids of Sumatra Comber 2001; Orchids of Sarawak Beaman, Wood & Beaman etal 2001; Lindleyana Vol 17 No 1 2002; Flora Malesiana Orchids of the Philippines Vol I Agoo, Shuiteman and de Vogel 2003; Wild Orchids of the Cameron Highlands REACH 2009 photo fide; Malesian Orchid Journal Vol 7 2011 drawing/photo fide; The Orchids of Mount Kinabalu Vol 2 Wood, Beaman, Lamb, Chu Lun and Beaman 2011 drawing/photo fide; The Orchids of Mount Kinabalu Vol 2 Wood, Beaman, Lamb, Chu Lun and Beaman 2011 as B mutabile var obesum drawing/photo fide; Philippine Native Orchid Species Cootes 2011 photo fide; Wild Orchids of Penninsular Malaysia Ong, O'Byrne, Yong & Saw 2011 photo fide; Bulbophyllum of Sulawesi Vermeullen & O'Byrne 2011 drawing hmm; A Guide to the Orchids of Kinabalu Wood 2013 photo fide; Bulbophyllum of Borneo J J Verm, P O'Byrne and Lamb 2015 photos/drawing fide;
----------------------------------------------------------------------------------------------------------