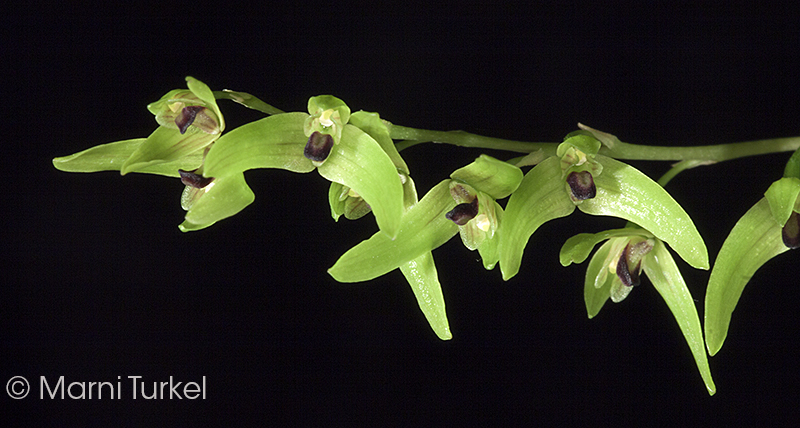 Bulbophyllum elisae F. Mueller 1868 SECTION Adelopetalum [Fitz] J.J. Verm. 1993
Photo by © Marni Turkel.
Photo by © Eric Hunt
Photos by Dale Borders
Photo by Greg and Kerri Steenbeeke


to


THROUGH

Common Name Elisa's Bulbophyllum [Elisa Kearn Australian 1800's] - In Australia The Pineapple Orchid
Flower Size 1" [1.5cm]
An Australian species from the Blue Mtns. of New South Wales to southeastern Queensland on rainforest trees or occasionally rocks in moist mountain gullies with lichens and epiphytic ferns at elevations of 600 to 1300 meters as a small sized, warm to cool growing lithophyte or occasional epiphyte , requiring bright light with rugose, warty, ovoid pseudobulbs carrying a single, apical, erect, linear,obtuse, conduplicate below into the petiolate base leaf and blooms in the summer through winter on a basal, erect to arching, 3 to 8" [8 to 20 cm] long, longer than the leaf, raceme of 5 to 12 flowers.
Synonyms Adelopetalum elisae (F.Muell.) D.L.Jones & M.A.Clem. 2002; Cirrhopetalum elisae F. Muell. 1868; Phyllorchis elisae (F. Muell.) Kuntze 1891
References W3 Tropicos, Kew Monocot list , IPNI ; AOS Bulletin Vol 35 No 4 1966; The Orchids of New South Wales Rupp 1969; Notes on Cirrhopetalum Seidenfadden 1973; The Orchids of Papua New Guinea An Introduction Millar 1978 photo ok; Miniature Orchids McQueen 1992; Orchid Monographs Vol 7 Vermeullen 1993 drawing fide; Australian Orchid Review Vol 66 No 6 2001 photo; Bulbophyllum and Their Allies Seigerist 2001; Orchids of Australia Riley & Banks 2002; Australian Orchid Review Vol 70 No 5 2005; Australian Orchid Review Vol 71 No 5 2006 photo; Native Orchids of Australia Jones 2006 as Adelopetalum elisae photo fide; A Compendium of Miniature Orchid Species Gerritsen and Parsons 2013 photo fide
--------------------------------------------------------------------------------------------------------------------------