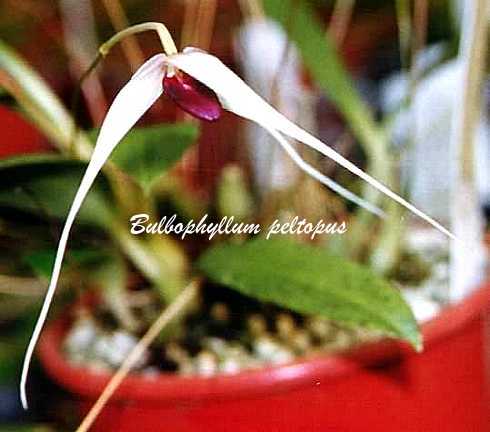 Bulbophyllum peltopus Schltr. 1913 SECTION Peltopus Schlechter 1913
TYPE for the section
Photo courtesy of Wolfgang H. Bandisch, Copyright © 1998, 1999 All rights reserved. And his Papua & New Guinea Orchid Species site


to





Common Name The Scientific name refers to the column foot which is sheild shaped
Flower Size 2" [5 cm]
Found in Papua New Guinea at elevations around 1300 meters on trees as a miniature to small sized, cool to warm growing epiphyte with 5/8" to 1" spacing between each narrowly conical pseudobulbs carrying a single, apical, erect, oblong-ligulate, apiculate and acute apically, short into the attenuate petiolate base leaf and blooms at most any time of the year on a basal, a wiry, bracteate, 4 to 6" [10 to 15 cm] long, single flowered inflorescence held above the leaves.
The difference between this and the synonym B planilabre is the smaller flowers of this species, broader petals, a lip that is not constricted laterally in a lobe-shaped manner and a broader stellida.
Similar to B ankylochele , B rhodoleucum, B alveatum and B brassii.
Synonyms Bulbophyllum planilabre Schltr. 1913; Peltopus greuterianus Szlach. & Marg. 2001; Peltopus planilabris (Schltr.) Szlach. & Marg. 2001
References W3 Tropicos, Kew Monocot list , IPNI ; Orchidaceae of German New Guinea Schlechter 1913 as B planilabre drawing fide; *Orchidaceae of German New Guinea Schlechter 1913 drawing fide; Orchid Monographs Vol 7 Vermuellen 1993 Drawing fide; Bulbophyllums and Their Allies Seigerist 2001; Genera Orchidacearum Vol 6 Epidendroideae Pt 3 Pridgeon, Cribb Chase & Ramussen 2014;
----------------------------------------------------------------------------------------------------------