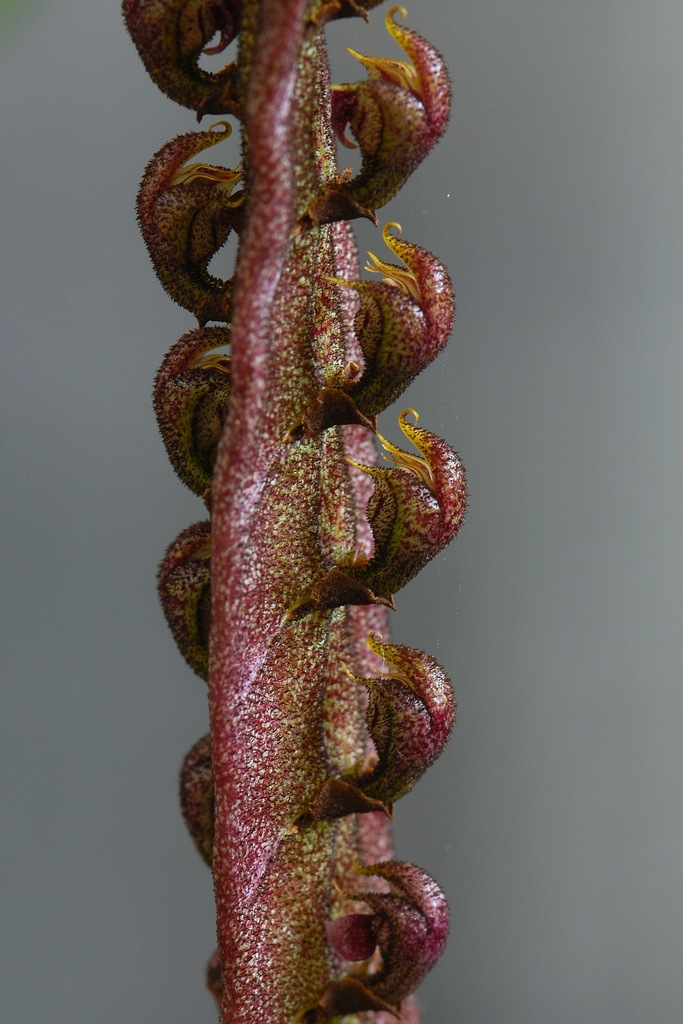 Bulbophyllum purpureorhachis (De Wild.) Schltr 1914 SECTION Megaclinium G A Fischer & J J Verm in prep.
Photo by © Eric Hunt
Photo by © Lourens Grobler
Photos By Dalton Holland Baptista



and

Common Name The Purple Inflorescence Bulbophyllum
Flower Size About 1/2" long [about 1.25 cm]
Found in the Congo, Cameroon, Gabon, Ivory Coast and Zaire in lowland forests as a medium sized, hot growing epiphyte, with ovoid to rectangular, flattened, 2 to 3 angled pseudobulbs carrying two apical, lanceolate, thick and coriaceous, narrowing below into the shortly petiolate base leaves that blooms in the fall and winter on an arching, to 38" [95 cm] long, flattened purple, rachis with the flowers in a longitudinal row on the flat sides.
Best grown in a large shallow pot, with regular fertilizing, hot to warm humid conditions, good air circulation and no direct sunlight.
Synonyms *Megaclinium purpureorhachis De Wild. 1902
References W3 Tropicos, Kew Monocot list , IPNI ; Die Orchideen Schlechter 1915; Encyclopedia of Cultivated Orchids Hawkes 1965 photo ok; AOS Bulletin Vol 37 No 10 1968 as B spphoto fide; Botanisk Tidsskrift Bind 64 hefte 2-3 Notes on the Genus Ione Seidenfaden 1969 as Ione palacea; Botanisk Tidsskrift Bind 64 hefte 2-3 Notes on the Genus Ione Seidenfaden 1969 as Ione cirrhata; Botanisk Tidsskrift Bind 64 hefte 2-3 Notes on the Genus Ione Seidenfaden 1969 as Ione fuscopurpurea; Orchid Monographs Vol 2 - A Taxonomic Revision of the Continental African Bulbophyllinae Vermeullen 1987 photo/drawing fide; Orchids Travel By Air A Pictoral Safari Mulder, Mulder-Roelfsema and Schuiteman 1990 photo fide; Manual of Orchids Stewart 1995; Orchids of Africa in the wild and cultivation La Croix 1997; Bulbophyllums and Their Allies Seigerist 2001 photo fide; Les Orchidees de Cote d'Ivorie Perez-Vera 2003 photo/drawing fide; Bulbophyllum: the incomplete Guide From A to why? Bill Thoms 2009 photo fide; AOS Bulletin Vol 83 #6 2014 photo fide; Orchidaceae Of West Central Africa Vol 2 Szlachetko, Ejsmont, Baranow, Grochocka, Nowak, Margonska and Naczk 2015 drawing fide; AOS Bulletin Vol 86 #2 2017 photo fide;
----------------------------------------------------------------------------------------------------------