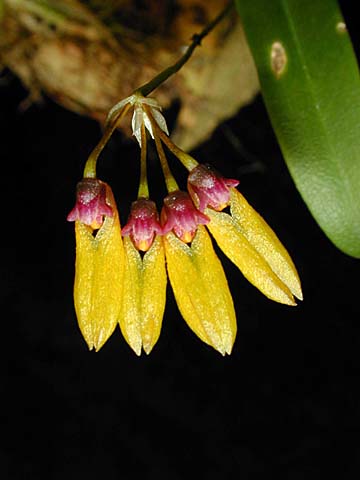 Bulbophyllum retusiusculum Rchb. f. 1869 SECTION Brachyantha Rchb.f 1861
Photo courtesy of Andy's Orchids.
Photo by David Jubineau and His Bulbophyllum Pages Copyright ©
Photo by © Karel & Alex Petrzelka and the Vietnam Orchid Website


TO


Common Name The Notched Bulbophyllum [probably refers tothe minute notch at the apex of the dorsal sepal] - In China Xian Ye Juan Ban Lan
Flower Size 5/8" to 1" [1.5 to 2.5 cm]
Found in China, Nepal, eastern Himalayas, Assam India, Bhutan, Sikkim, Myanmar, Thailand, Malaysia, Laos, Vietnam, and Taiwan in evergreen lowland forests or primary montane forests at elevations of 500 to 3000 meters as a mini-miniature to miniature sized, warm to cold growing epiphytic or occasional lithophytic species with a creeping, branching rhizome with .4 to 1.2" [1 to 3 cm] between each slender, suberect to oblique, narrowly ovate-conical, weakly falcate psuedobulb carrying a single, apical, erect to suberect, arcuate, leathery, semi flexible to rigid, linear oblong, obtuse, coriaceous, gradually narrowing below into the channeled petiolate base leaf that blooms in the summer and fall on a basal, ascending to descending, slender, 5.6" [14 cm] long, 6 to 12 flowered, umbellate inflorescence with a few distant, tubular, lanceolate bracts and narrowly lanceolate, acuminate floral bracts and carrying an apical umbel of several simultaneously opening, color variable flowers.
This species was named in the same article as *Cirrhopetalum retusiusculum Rchb. f. 1869.
Synonyms Bulbophyllum flavisepalum Hayata 1912; Bulbophyllum langbianense Seidenf. & Smitin. 1965; Bulbophyllum micholitzii (Rolfe) J.J.Sm.1912; Bulbophyllum oreogenes (W.W.Sm.) Seidenf. 1973 publ. 1974; Bulbophyllum pumilio Auct. non Par. & Rchb.f; *Bulbophyllum retusiusculum Rchb. f. 1869; Bulbophyllum retusiusculum var. oreogenes (W.W.Sm.) Z.H.Tsi 1995; Cirrhopetalum flavisepalum (Hayata) Hayata 1917; Cirrhopetalum micholitzii Rolfe 1912; Cirrhopetalum oreogenes Auct. no W.W.Sm. 1934; Cirrhopetalum retusiusculum Rchb. f. 1869; Cirrhopetalum touranense Gagnep. 1931; Phyllorchis retusiuscula (Rchb. f.) Kuntze 1891
References W3 Tropicos, Kew Monocot list , IPNI ; The Orchids of Burma Grant 1895/95; The Orchids of Sikkim-Himalaya Part 1 King & Pantling 1898 as Cirrhopetalum wallichii; The Orchids of Thailand Seidenfaden & Smitinand 1965 corrections as B langbianense; Notes on Cirrhopetalum Seidenfadden 1973 drawing fide; Notes on Cirrhopetalum Seidenfadden 1973 as B oreogynes drawing fide; Native Orchids of Taiwan Lin 1975 drawing fide/photo ok; Indian Orchids Guide to Identification and Culture Vol 2 Pradhan 1979 drawing fide; Dansk Botanisk Arkiv Bind 33 #3 Orchid Genera in Thailand VIII Bulbophyllum Thou Seidenfaden 1979 drawing fide; The Orchids of Penninsular Malaysia and Singapore Seidenfaden & Wood 1992 drawing fide; Identification of the Orchids [Orchidaceae Juss.] Vietnam Averyanov 1994; Identification of the Orchids [Orchidaceae Juss.] Vietnam Averyanov 1994 as B oreogenes; Native Orchids of China in Colour Singchi, Zhanhuo and Yibo 1999 photo fide; Lindleyana Vol 15 No 4 2000; Orchids Of India II Biodiversity & Status of Bulbophyllum Thou Augustine & Kumar 2001 as Cirrhopetalum retusiusulum; Bulbophyllum and Their Allies Seigerist 2001 as Cirrhopetalum retusiusculum; Orchids of Bhutan Pearce & Cribb 2002 drawing/photo fide; Slipper Orchids of Vietnam Averyanov, Cribb, Loc & Hiep 2003; A field Guide to the Wild Orchids of Thailand Vaddhanaphuti 2005 as Cirrhopetalum retiusculum photo fide; Turczaninowia 19 (3): 5–58 L. V. Averyanov1 , Khang Sinh Nguyen etal 2016 photo fide; Orchids of India A Glimpse Misra 2007 AS Cirrhopetalum retusiuculum Native Orchids From Gaoligongshan Mountains, China Xiaohua, Xiaodong and Xiaochun 2008 photo fide; Wild Orchids of the Cameron Highlands REACH 2009 photo not = B skeatianum; Flora of China 25: 404–440. 2009; A Field Guide to the Orchids of China Singchi, Zhongjian, Yibo, Xiaohua and Zhanhuo 2009 photo fide; Flora of China Vol 25 Zhengyi, Raven & Deyuan 2009; Mille et Une Mini Orchideees Roguenant 2009 photo good; Flora of China Vol 25 Illustrations Zhengyi, Raven & Deyuan 2010 drawing fide; The Atlas of Wild Orchids in Hainan Island, China Shenyan and Junmei 2010 photo fide; The Wild Orchids in Yunnan Xu Xiang Ye & Liu 2010 photos fide; Wild Orchids of Penninsular Malaysia Ong, O'Byrne, Yong & Saw 2011 photo fide; A Compendium of Miniature Orchid Species Gerritsen and Parsons 2013 photo fide; The Wild Orchids of Taiwan Lin & Wang 2014 photo fide; Orchid Digest Vol 83 #3 2019 photo fide; Orchid Digest Vol 83 #3 2019 as B retusiculum f flavum photo fide; Orchid Digest Vol 83 #3 2019 as B retusiculum f brunneum photo fide; Atlas of Native Orchids of China Vol 2 Jin Xiaohua, Li Jianwu and Ye Deping 2019 photo fide;
--------------------------------------------------------------------------------------------------------------------------