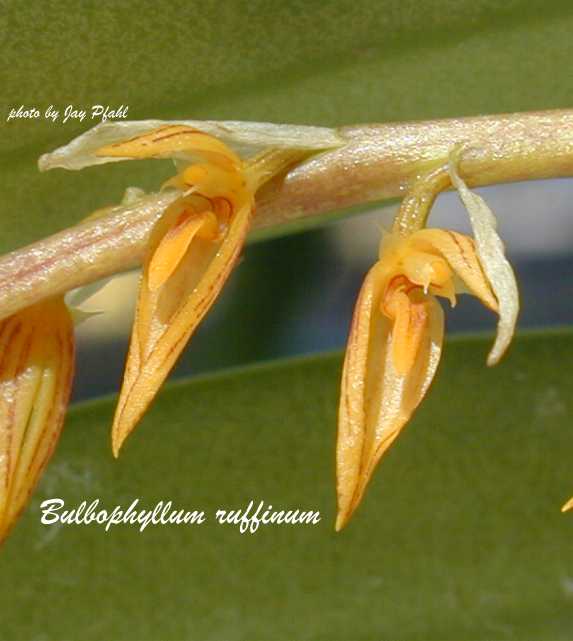 Bulbophyllum rufinum Rchb.f 1900 SECTION Racemosae Benth & Hkr 1883
Photos by Jay Pfahl.


TO


and

Common Name The Fox-Red Bulbophyllum - In China Duan Xu Shi Dou Lan
Flower Size 3/8" [1 cm]
Found in India, eastern Himalayas, Myanmar, Thailand, Cambodia, Laos, and Vietnam in dense forests on tree trunks as a small to medium sized, hot to warm growing, unifoliate epiphyte at elevations of 150 to 1000 meters in an area with a prolonged dry spell from fall till spring that has an oblong pseudobulb carrying a single, apical, oblanceolate, petiolate leaf and blooms on a basal, decurved, 6 to 16" [15 to 40 cm] long, racemose inflorescence that has 2 to 3 sheaths and many erect flowers held above the leaves occuring in the fall and winter.
I grow mine potted with a sandard bark mix and solite, high light, moderate humidity and warm to hot temperatures.
Synonyms Phyllorchis rufina (Rchb. f.) Kuntze 1891
References W3 Tropicos, Kew Monocot list , IPNI ; The Orchids of Burma Grant 1895/95; The Orchids of Thailand Seidenfaden & Smitinand 1961 drawing/photo fide; The Orchids of Thailand Seidenfaden & Smitinand 1965 corrections; Dansk Botanisk Arkiv Bind 33 #3 Orchid Genera in Thailand VIII Bulbophyllum Thou Seidenfaden 1979 drawing/photo fide; Identification of the Orchids [Orchidaceae Juss.] Vietnam Averyanov 1994; A to Z Of SE Asian Orchids O'Byrne 2001 photo fide; Bulbophyllum and Their Allies Seigerist 2001; A field Guide to the Wild Orchids of Thailand Vaddhanaphuti 2005 photo ok; Orchids Of India II Biodiversity & Status of Bulbophyllum Thou Augustine & Kumar 2001; A field Guide to the Wild Orchids of Thailand Vaddhanaphuti 2005 photo good; Orchids of India A Glimpse Misra 2007; Flora of China Vol 25 Zhengyi, Raven & Deyuan 2009; Flora of China Vol 25 Zhengyi, Raven & Deyuan 2010 drawing fide; Turczaninowia 16(4):26-46 NEW AND RARE ORCHIDS (ORCHIDACEAE) IN THE FLORA OF CAMBODIA AND LAOS Averyanov 2013 ; Wild Orchids of Myanmar Nyan Tun Taunggyi 2014 photo fide
--------------------------------------------------------------------------------------------------------------------------