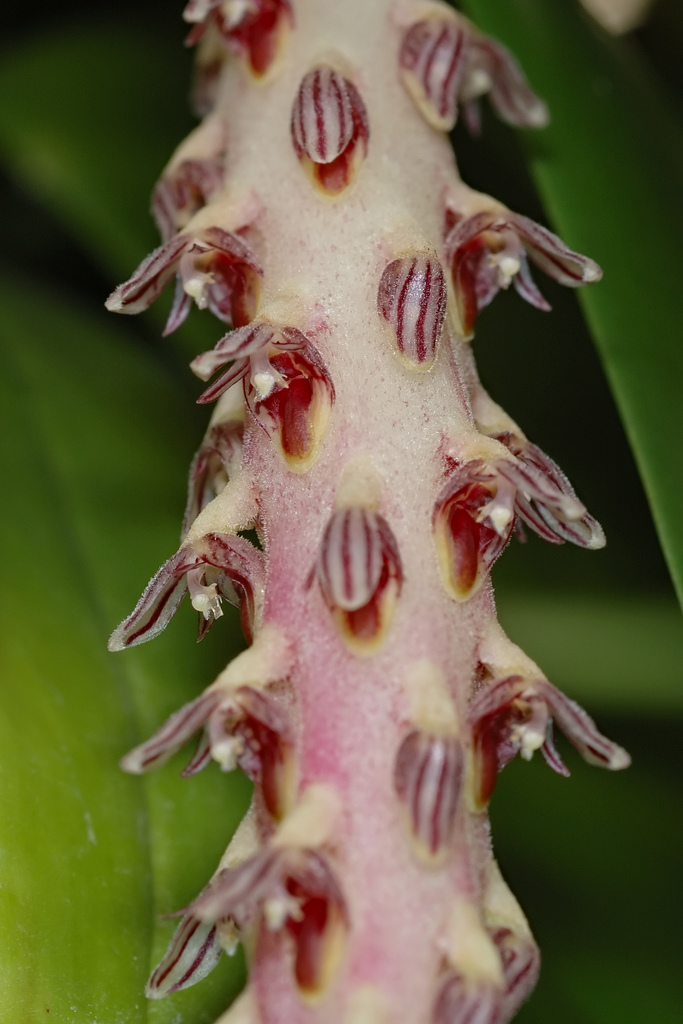 Bulbophyllum saurocephalum Rchb. f. 1886 SECTION Brachystachyae Benth. & Hook. f. 1883 Photo by © Eric Hunt and His Orchid Website.
Flower Closeup Photo by Mariusa Wasbauer
Plant and Inflorescence Photo by Dale Borders




Common Name The Lizard's Head Bulbophyllum
Flower Size .2" [4.5 to 5mm]
This is a small sized, warm growing, Philippine species found at elevations around 1000 meters and has 3/4" [2 cm] between each, 4 to 5 angled, ovoid pseduobulb enveloped by 2 brown, membraneous sheaths and carrying a single, apical, linear leaf that blooms in the spring on a basal, stout, erect to arcuate, 2 to 3.4" [5 to 8.5 cm] long, pubescent, dull red inflorescence with many [40] succesively opening, odorless flowers that barely appear out of the swollen rachis, arranged in a helix.
This species needs to be mounted on tree fern to display the inflorescence
Synonyms Bulbophyllum ebracteolatum Kraenzl. 1916;
References W3 Tropicos, Kew Monocot list , IPNI ; The Complete Writings on Philippine Orchids Vol 1 Quisumbing 1981 as B ebracteolatum drawings fide; Die Orchideen lieferung 13 753 - 816 Bulbophyllinae 1983 photo fide; Orchidiana Philipiniana Vol 1 Valmayor 1984 as B ebracteolatum; Orchidiana Philipiniana Vol 1 Valmayor 1984; Orchids of the Philippines Cootes 2000 photo fide; AOS Bulletin Vol 70 No 10 2001 photo fideBulbophyllums and Their Allies Seigerist 2001 photo fide; Flora Malesiana Orchids of the Philippines Vol I Agoo, Shuiteman and de Vogel 2003 as B ebracteolatum; Flora Malesiana Orchids of the Philippines Vol I Agoo, Shuiteman and de Vogel 2003; Thirty Two New Species of Bulbophyllum (Orchidaceae)from Sulawesi J.J. VERMEULEN 1 AND P. O'BYRNE Gard. Bulletin Singapore 60 (1): 73-153 2008; Philippine Native Orchid Species Cootes 2011 photo fide; Philippine Native Orchid Species Cootes 2011 as B saurocephalum subsp oncoglossum photo fide; Genera Orchidacearum Vol 6 Epidendroideae Pt 3 Pridgeon, Cribb Chase & Ramussen 2014 photo fide
----------------------------------------------------------------------------------------------------------