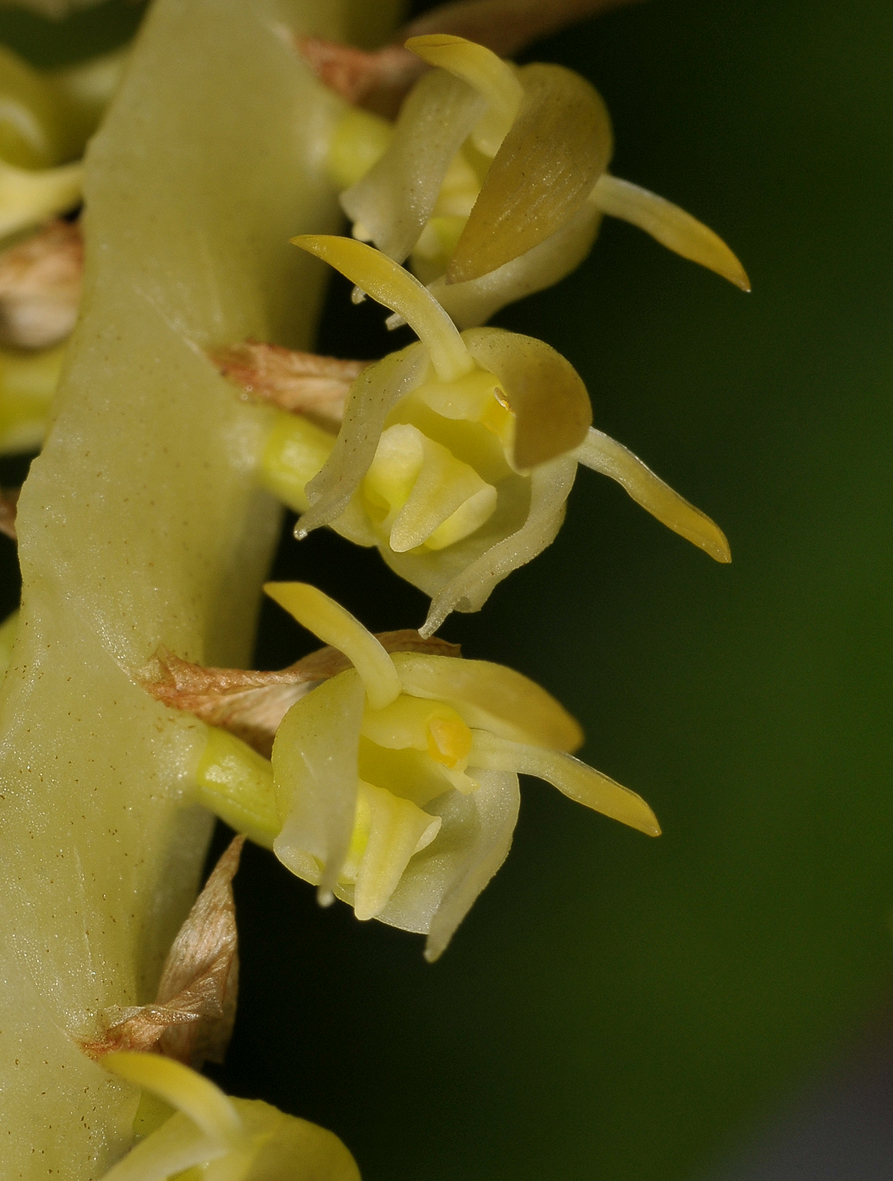 Bulbophyllum scaberulum (Rolfe) Bolus 1889 SECTION Megaclinium G A Fischer & J J Verm in prep.
Photos by Copyright © Rogier Van Vugt and His PBase Orchid Photo Website


to


Common Name The Slightly Roughened Bulbophyllum
Flower Size 1/8 to 1/4" [5 to 6 mm]
Found in Ghana, Guinea, Ivory Coast, Liberia, Nigeria, Sierra Leone, Togo, Central African Republic, Cameroon, Congo, Gabon, Gulf of Guinea Islands, Zaire, Chad, Ethiopia, Sudan, Uganda, Kenya, Tanzania, Angola, Malawi, Mozambique, Zambia, Zimbabwe, Cape Province and Natal South Africa as an epiphyte and occassional lithophyte in woodland and riverine forests at elevations of 100 to 2300 meters with a concave, square, or trapezoid pseudobulb, well spaced along the rhizome, carrying 2, apical, linear or elliptic, leathery or fleshy leaves that blooms in the fall on a 2 to 22" [5 to 55 cm] long, many flowered, fleshy, round and then flattened, undulate, bracteate, purple, sometimes hirsute rachis arising on a newly mature pseudobulb, with simultaneously opening flowers.
This species is a hot to cool growing epiphyte, best grown in pots with partial shade.
Synonyms Bulbophyllum bambiliense De Wild. 1916; Bulbophyllum chevalieri De Wild. 1921; Bulbophyllum clarkei [Rolfe] Schltr. 1906; Bulbophyllum congolanum Schlechter 1905; Bulbophyllum ealaense De Wild. 1916; Bulbophyllum eburneum (Pfitzer) De Wild. 1921; Bulbophyllum fuerstenbergianum (De Wild.) De Wild, 1921; Bulbophyllum jesperseni De Wild. 1916; Bulbophyllum pobeguinii (Finet) De Wild. 1921; Bulbophyllum scaberulum var. album Pérez-Vera 2003 ; Bulbophyllum scaberulum var. fuerstenbergianum (De Wild.) J.J.Verm. 1986; Bulbophyllum summerhayesii A.D. Hawkes 1956; Bulbophyllum zobiaense De Wild. 1916; Megaclinium bambiliense De Wild. 1916; Megaclinium chevalieri De Wild. 1921; Megaclinium clarkei Rolfe 1891; Megaclinium congolanum (Schltr.) T. Durand ex H. Durand bis 1909; Megaclinium ealaense De Wild. 1916; Megaclinium eburneum Pfitzer 1908; Megaclinium jesperseni De Wild. 1916; Megaclinium pobeguinii Finet 1910; *Megaclinium scaberulum Rolfe 1888; Megaclinium zobiaense De Wild. 1916
References W3 Tropicos, Kew Monocot list , IPNI ; Orchids of East Africa Piers 1968 as B congolanum; The Orchids of South Central Africa Williamson 1977 as B congolanum drawing/photo fide; Wild Orchids of Southern Africa Stewart, Linder, Schelpe & Hall 1982 photo fide; The Illustrated Encyclopedia of Orchids, Prigeon 1982 photo good; Malawi Orchids Vol 1 La Croix 1983 drawing fide; Flora of Tropical East Africa Orchidaceae Part 2 Cribb 1984; Orchid Monographs Vol 2 - A Taxonomic Revision of the Continental African Bulbophyllinae Vermeullen 1987 drawing fide; Manual of Orchids Stewart 1995; Flora Zambesiaca Vol 11 Orchidaceae Part 1 Pope 1995; Orchids of Kenya Stewart 1996; Orchids of Southern Africa Linder & Kurzweil 1999 photo fide; Bulbophyllums and Their Allies Seigerist 2001; African Orchids in the wild and Cultivation La Croix 1997 drawing fide; Orchids of Kenya Stewart 1999; Orchids of Malawi Vol 1 La Croix 1983 drawing; AN Illustrated Encyclopedia of Orchids Pridgeon 1982; Les Orchidees de Cote d'Ivorie Perez-Vera 2003; Les Orchidees de Cote d'Ivorie Perez-Vera 2003 as B congolanum photo/drawing fide; Les Orchidees de Cote d'Ivorie Perez-Vera 2003 as B scabertulum var album photo/drawing fide; Field Guide to the Ethiopian Orchids Demissew, Cribb & Rasmussen 2004; Orchidaceae Of West Central Africa Vol 2 Szlachetko, Ejsmont, Baranow, Grochocka, Nowak, Margonska and Naczk 2015 drawing/photo fide; AOS Bulletin Vol 86 # 7 2017 photo fide; AOS Bulletin Vol 85 #10 2016 photo fide;
Bulbophyllum scaberulum var. fuerstenbergianum (De Wild.) J.J.Verm. 1986
Photo © by Vincent Droissart and The Orchidaceae of Central Africa WebSite
Found in Nigeria, Cameroon, Equatorial Guinea, Gabon, republic of the Congo and Zaire
Synonyms Bulbophyllum fuerstenbergianum (De Wild.) De Wild, 1921; Megaclinium fuerstenbergianum De Wild. 1899;
ReferencesW3 Tropicos, Kew Monocot list , IPNI ; Orchid Monographs Vol 2 - A Taxonomic Revision of the Continental African Bulbophyllinae Vermeullen 1987 drawing fide; Orchidaceae Of West Central Africa Vol 2 Szlachetko, Ejsmont, Baranow, Grochocka, Nowak, Margonska and Naczk 2015 drawing ok

Bulbophyllum scaberulum (Rolfe) Bolus 1889 var crotalicaudatum
Photo courtesy of Guy Ramette Vovan and his Gabon Orchids Website
ReferencesW3 Tropicos, Kew Monocot list , IPNI ; Orchid Monographs Vol 2 - A Taxonomic Revision of the Continental African Bulbophyllinae Vermeullen 1987 drawing fide; Orchid Monographs Vol 2 - A Taxonomic Revision of the Continental African Bulbophyllinae Vermeullen 1987 photo/drawing fide
----------------------------------------------------------------------------------------------------------