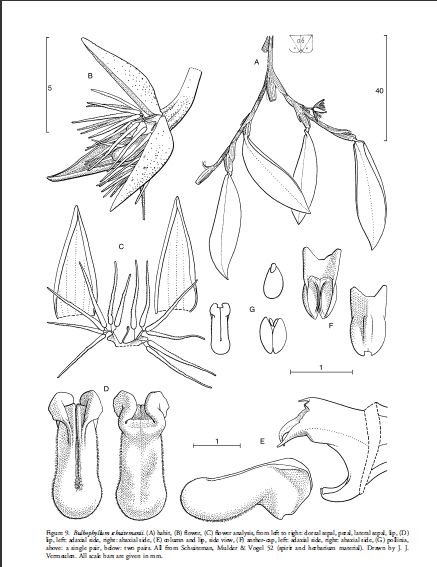 Bulbophyllum schuitemanii J.J.Verm., 2008 SECTION Epicranthes (Bl.) Hook.f.
TYPE Drawing by © J J Vermeulen and the Research Gate Website


Common Name Schuiteman's Bulbophyllum [Dutch Botanist at Kew current]
Flower Size .2" [5 mm]
Found in Papua New Guinea in disturbed rainforests at elevations around 900 meters as a mini-miniature sized, warm patent to pendulous growing epiphyte with .56 to .8" [1.4 to 2 cm] between each ovoid pseudobulb carrying a single, apical, ovate, acute, distinctly convex proximally, petiolate base leaf that blooms on a porrect, .4" [1 cm] long, 3 bracted, single flowered inflorescence with a tubular, acute floral bract.
According to J J Vermuellen - " Bulbophyllum hirudiniferum J. J. Verm. and B. phymatum J. J. Verm. have a similar configuration of the appendages along the petal margins: a single small appendage in between two groups of distinctly larger appendages. Bulbophyllum schuitemanii differs from both in having ovoidconical petal appendages (not elliptic or oblong with a rounded tip), from the first in lacking any large vesicles on the lip, and from the second in having papillose (not long-hairy) petal appendages."
Synonyms
References W3 Tropicos, Kew Monocot list , IPNI ; *Nordic Journal of Botany 26: 129 195, J J Vermeulen 2008; New species of Bulbophyllum from eastern Malesia (Orchidaceae) J J Verm 2008 drawing fide
----------------------------------------------------------------------------------------------------------