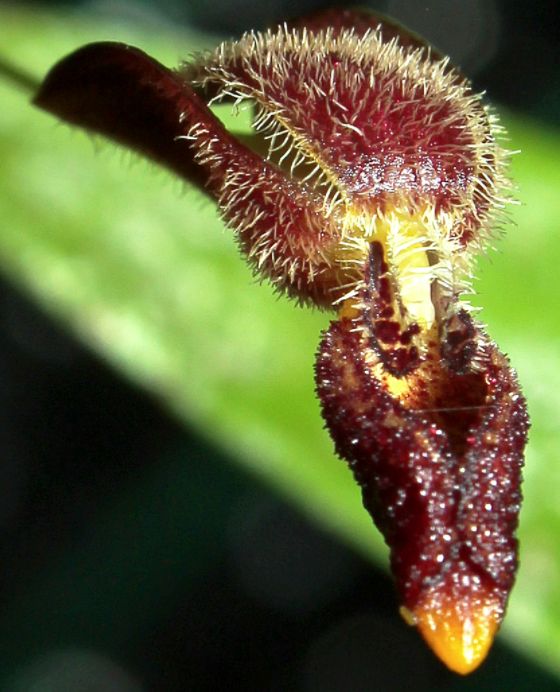 Bulbophyllum scyphochilus Schltr. 1912 SECTION Codonosiphon Schlechter 1913

Photo by © Reza Saputra and The Swiss Orchids of New Guinea Website
Type Drawing by © Schlechter and The Swiss Orchid Foundation at the Jany Renz Herbaria Website



LATER

THROUGH

Common Name The Cup-Shaped Lip Bulbophyllum
Flower Size
Found in New Guinea on trees in forests at elevations around 150 to 800 meters as a miniature sized, hot to warm growing epiphyte with a short, decumbent rhizome giving rise to close set, conical-cylindrical pseudobulbs carrying a single, apical, erect, coriaceous, elliptic-ligulate, apiculate to shortly acuminate, narrowing below into the petiolate base leaf that blooms in the later spring through fall on an erect, basal, 2 to 2.4" [5 to 6 cm] long, single flowered inflorescence with elliptic, amplexicaul floral bracts.
Schlechter states that although similar to B cuniculiforme this species has smaller violet red flowers, hairy sepals on the inside surface, ciliated, white that are spotted with red in the anterior half petals and a tapering in front, darker red lip and has a front tooth of the stelida is much longer.
It is very possible that this species and B geniculiferum J J Smith 1912 are the same species, and if so then B geniculiferum would take precedence as it was published first.
Synonyms Bulbophyllum scyphochilus var. phaeanthum Schltr. 1912; Hapalochilus scyphochilus (Schltr.) Garay & W.Kittr. 1985 publ. 1986
References W3 Tropicos, Kew Monocot list , IPNI ; *Orchidaceae of German New Guinea Schlechter 1912/85 drawing fide; Orchidaceae of German New Guinea Schlechter 1912/85 as Bulbophyllum scyphochilus var. phaeanthum; The Orchids of the High Mountains of New Guinea P Van Royen 1979
--------------------------------------------------------------------------------------------------------------------------