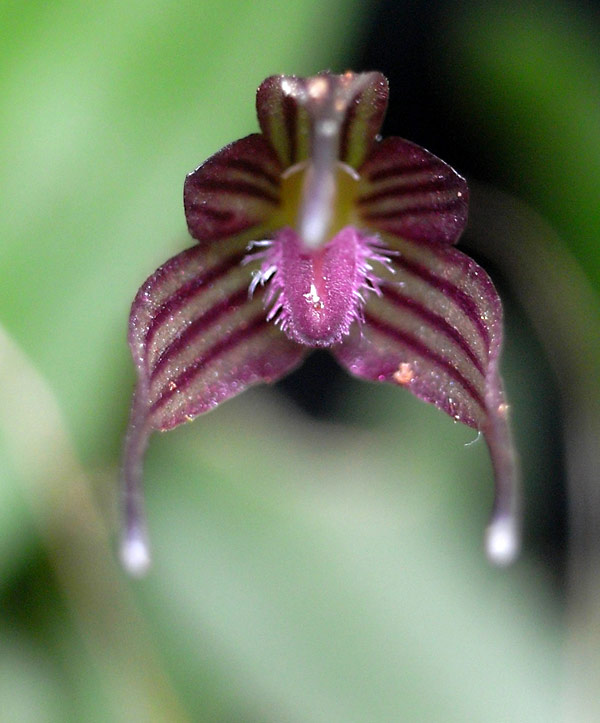 Bulbophyllum striatellum Ridl. 1890 SECTION Monanthaparva Ridl. 1896
Photo by © Peter O'Byrne and the Swiss Orchid Foundation at the Jany Renz Herbaria Website.
Photos courtesy of Woon Leng Nursery © and their Orchid Website


to

Common Name The Small Striped Bulbophyllum
Flower Size .2" [5 mm]
Found in Malaysia and Borneo in lower to upper montane mossy forests on mangroves and along rivers as a mini-miniature sized, hot to ccol growing epiphyte with .4" [1 cm] between each, upwards curving from the base, cylindric pseudobulbs carrying a single, apical, erect, evenly elliptical, shortly acute and petiolate base leaf that blooms on a [2.4" [6 cm] long, single flowered inflorescence
The first photo by Peter O'Byrne best represents the species, the other 2 photos have an elongate, apically thickened, non hairy lip which does not appear to be this species.
Synonyms Phyllorchis striatella (Ridl.) Kuntze 1891
References W3 Tropicos, Kew Monocot list , IPNI ; The Flora Of Malaya, Orchids Vol 1 Holttum 1957; The Orchids of Penninsular Malayasia and Singapore Seidenfaden & Wood 1992 drawing fide; A Checklist of the Orchids of Borneo Wood & Cribb 1994; Orchids of Sarawak Beaman & Wood 2001; Thirty Two New Species of Bulbophyllum (Orchidaceae)from Sulawesi J.J. VERMEULEN 1 AND P. O'BYRNE Gard. Bulletin Singapore 60 (1): 73-153 2008; Wild Orchids of Penninsular Malaysia Ong, O'Byrne, Yong & Saw 2011 photo fide; Bulbophyllum of Borneo J J Verm, P O'Byrne and Lamb 2015 photo/drawing fide to the 1st photo
----------------------------------------------------------------------------------------------------------