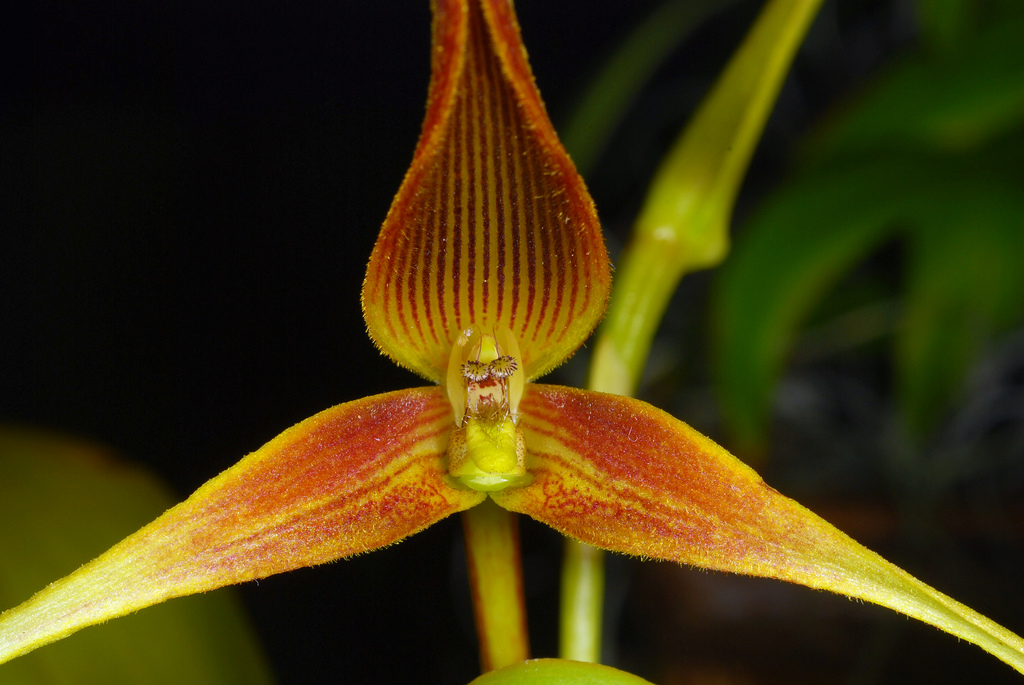 Bulbophyllum unitubum J.J. Sm. 1929 SECTION Hyalosema Schlechter 1911
Photos by Eric Hunt
Photo by © Lourens Grobler
Photos by © Art Vogel




Common Name The Single-Tubed Bulbophyllum
Flower Size 3 1/2" x 2" [9 x 5 cm]
Found in Indonesia, Papua New Guinea, and Borneo as an epiphyte at elevations of 160 to 500 meters on the lower trunks of large trees in rainforest margins and semideciduous forests as a miniature sized, hot growing epiphyte with 1 to 2" between each, cylindrical, straight then curved, elongate pseudobulbs carrying a single apical, oblong, petiolate and channeled below leaf that blooms in the spring and fall on a basal, lateral, slender, 5 1/2" [14 cm] long, single flowered inflorescence that holds the wide open flowers above the leaves.
This orchid and B kermesianum are quite close at a casual glance but a more detailed examination of the lip and column reveals that this species has very globular shaped terminations to the petals and B unitubum has tear drop shaped terminations to its petals.
This species requires a pot or basket with an open medium, hot temperatures, shady locations and ample water.
References W3 Tropicos, Kew Monocot list , IPNI ; Lowland Orchids of Papua New Guinea O'Byrne 1991 drwaing fide; Australian Orchid Review Vol 66 No 3 2001 photo; Bulbophyllum and Their Allies Seigerist 2001 photo not = B kermesianum; Flor's Orchids Nash & La Croix 2005; Australian Orchid Review Vol 71 No 4 2006 photo; Bulbophyllum: the incomplete Guide From A to why? Bill Thoms 2009 photo not = B kermsianum; Bulbophyllum: the incomplete Guide From A to why? Bill Thoms 2009 photo of B kermsianum not = B unitubum fide; AOS Bulletin Vol 80 #4 2011 photo fide;
----------------------------------------------------------------------------------------------------------