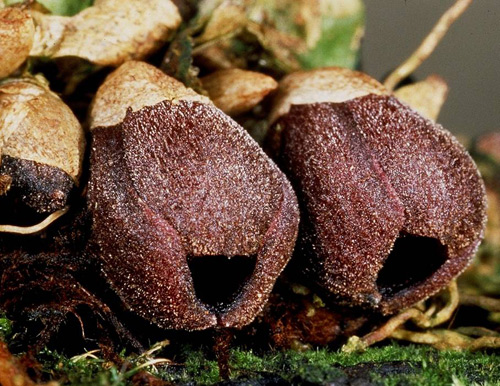 Bulbophyllum ustusfortiter J.J.Verm. 1993 SECTION Vesicisepalum
Photo by © the Orchids of New Guinea Website
Flower closeup with sepal removed
Photos by © Rogier Van Vugt and his P base Orchid Photo Website


EARLY

Common Name The Heavily Burnt Bulbophyllum [refers to the very dark flowers]
Flower Size
Found in Papua New Guinea in disturbed rain forest at elevations around 440 to 900 meters as a mini-miniature sized, warm growing epiphyte with a creeping rhizome giving rise to close set, ovoid, somewhat flattened pseudobulbs carrying a single, apical, elliptic, tip obtuse, finely cuspidate, petiolate base leaf that blooms in the summer and early fall on many together on a short sympodium, .52 to .68" [1.3 to 1.7 cm] long, peduncle .08 to .12" [.2 to .3 cm] long single flowered inflorescencen with a bract at the base and elliptic, acuminate, longer than the ovary floral bracts.
Differs from Bulbophyllum folliculiferum J.J. Smith (which occurs in the same area) in having a creeping rhizome, the lumen in the flower situated at the tip of the flower (not in between the lateral sepals) and the much shorter, triangular stelidia
Similar to B schizocodon but it differs in the median sepal adhered to the laterals for only 1/3rd the length. In contrast B ustusforiter has the median sepal adhereing to the laterals almost from base to the apex leaving only a small lumen hole at the apex.
Synonyms Vesicisepalum ustusfortiter (J.J.Verm.) Szlach.2007
References W3 Tropicos, Kew Monocot list , IPNI ; *BLUMEA 38 (1993) 145-155 J J Vermeulen 1993 drawing fide; Malesian Orchid Journal Vol 21 2018
----------------------------------------------------------------------------------------------------------