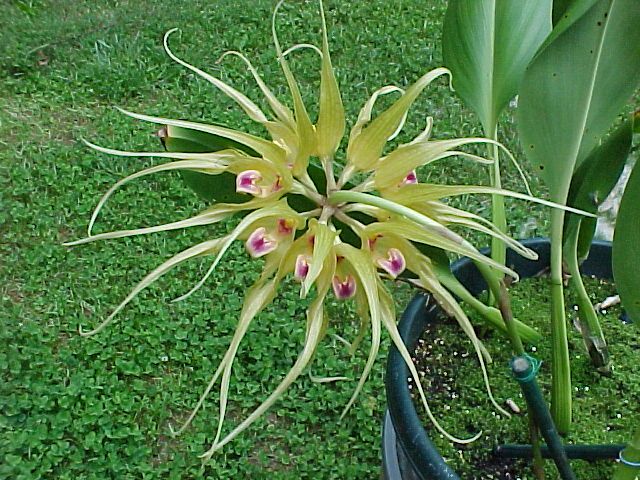 Bulbophyllum ericssonii Kraenzl. 1893 SECTION Beccariana Pfitz. 1889
Photo by © Jannette G. Harris
Photo by © Zulkifli Md Isa and his Flicker Orchid Photo Website




Common Name The Ericsson's Bulbophyllum
Flower Size to 5 1/2" [13.75 cm]
Found in the Malaysian pennisula, Java, Sumatra, Borneo, Moluccas, Sulawesi and New Guinea at elevations around 760 meters as a medium sized, hot growing epiphyte with 8" [20 cm] between each prominently furrowed, terete pseudobulb enveloped basally by 2 sheaths and carrying a single, apical, tough, leathery, narrowed equally to the apex and the base, acute, narrowing below into the elongate petiolate base leaf that blooms in the summer on a 12" [30 cm] long, many flowered inflorescence enveloped by 6 imbricating sheaths and carrying 6 to 8, foul smelling, not wide opening flowers held in a circle.
This species and B binnendijkii are said to be synomonous but there are several differences so I have left them separate for now.
CAUTION!!! Commonly found cited as B virescens in literature and the net, but recent research by J J vermuelen has shown that Kraenzlin's species is actually the same orchid as B virescens and it was published seven years earlier so B ericssonii takes precedence.
Synonyms Bulbophyllum binnendijkii J.J.Sm. 1905; Bulbophyllum virescens J.J. Sm. 1900; Cirrhopetalum leopardinum Teijsm. & Binn. 1862; Bulbophyllum maximum (Ridl.) Ridl. 1907; Bulbophyllum ridleyanum Garay, Hamer & Siegerist 1994; Cirrhopetalum maximum Ridl. 1900 ;
References W3 Tropicos, Kew Monocot list , IPNI ; Orchidaceae of German New Guinea Schlechter 1914/1985; Die Orchideen Schlechter 1915 as B ericssoni; Die Orchideen Schlechter 1915; The Flora of Malaya Vol 1 Holttum 1957 as B maximum drawing fide; Encyclopedia of Cultivated Orchids Hawkes 1965 as B ericssonii; Encyclopedia of Cultivated Orchids Hawkes 1965; Notes on Cirrhopetalum Seidenfaden 1973; Orchids of Penninsular Malaysia and Singapore Seidenfaden & Woods 1992 drawing fide; A Checklist of the Orchids of Borneo JJ Wood & P J Cribb 1994 as B binnendjikii; Bulbophyllums and Their Allies Seigerist 2001; Orchids of Sumatra Comber 2001; Orchids of Sarawak Beeman & Wood Beaman etal 2001 as B binnendjikii; Lindleyana Vol 17 No 1 2002; Malesian Orchid Journal Vol 3 2009 drawing fide; Wild Orchids of the Cameron Highlands REACH 2009 as B virescens photo fide; Malesian Orchid Journal Vol 8 2011 photo fide; Wild Orchids of Penninsular Malaysia Ong, O'Byrne, Yong & Saw 2011 photo fide; Bulbophyllum of Sulawesi Vermeullen & O'Byrne 2011 drawing/photo fide; A to Z of South East Asian Orchid Species Vol 2 O'Byrne 2011 photo fide; AOS Bulletin Vol 82 #12 2013 as B virescens photo fide; Bulbophyllum of Borneo Verm, O'Byrne & Lamb 2015 drawing/photo fide
----------------------------------------------------------------------------------------------------------