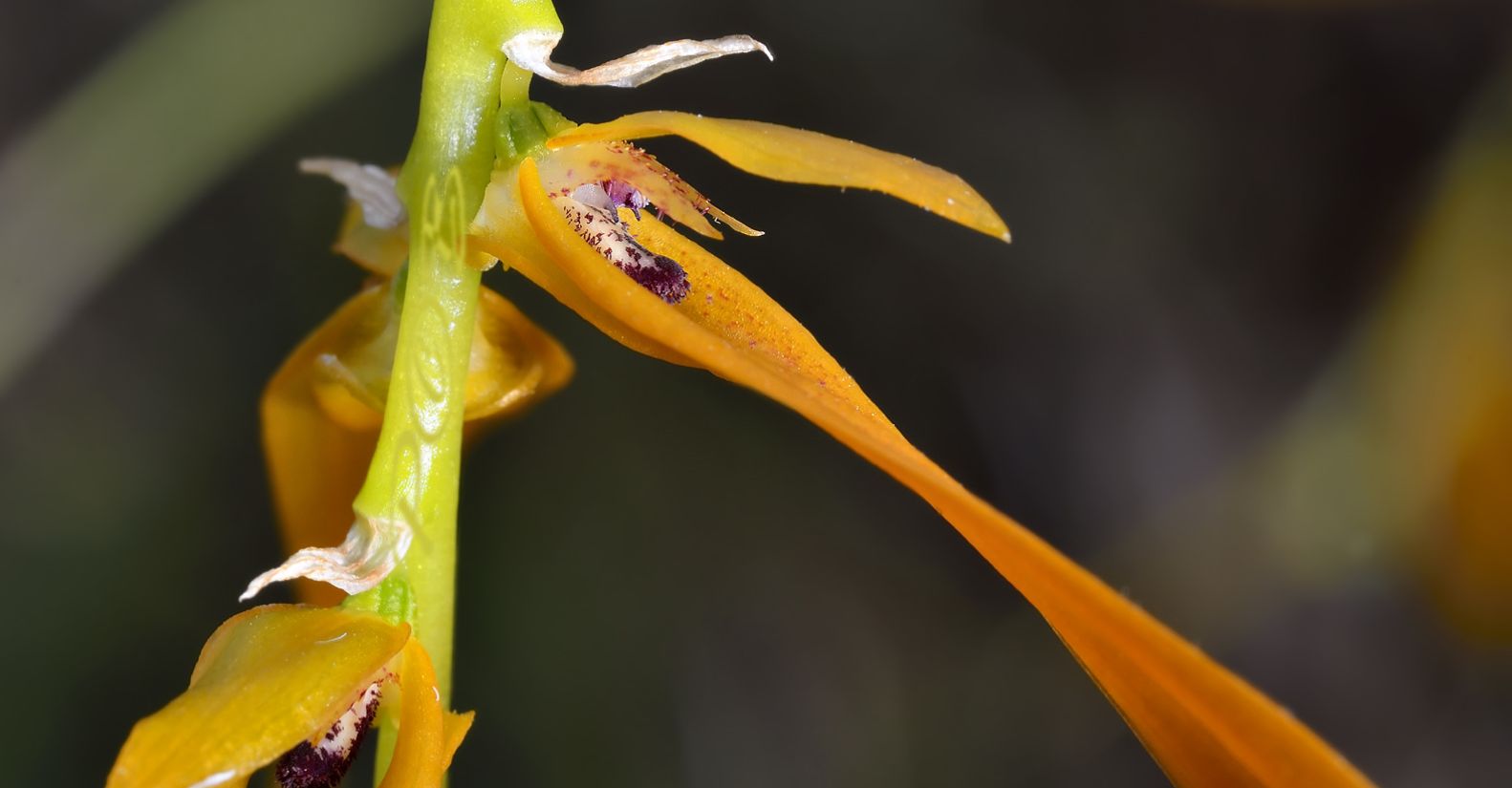 Bulbophyllum wallichii Rchb.f. 1861 SECTION Tripudianthes
Photo By © Pieter C Brouwer and his P Base Orchid Photo Website
Photo courtesy of Andy's Orchids.



TO


Common Name Wallich's Bulbophyllum [English Supervisor of Calcutta Botanical Garden 1800's] - In China Shuang Ye Juan Ban Lan
Flower Size .8 to 2.8" [2 to 7 cm]
Found in Yunnan province of China, Assam India, the eastern Himalayas, Bhutan, Sikkim, Nepal, Myanmar, Thailand and Vietnam on trees in forests at elevations around 1000 to 2500 meters as a mini-miniature to miniature sized, cool to cold growing epiphyte with shortly conical, broad based, rugose at flowering pseudobulbs carrying 2, absent at flowering, apical, oblong to oblong-elliptic, acute to subacute, sessile to shortly petiolate base leaves that blooms in the spring on a lateral, from the pseudobulb, erect, slender, decurved, 3.2 to 5.2" [8 to 13 cm] long, racemose, laxly 4 to 12 flowered inflorescence with 2, tubular basal sheaths and 2, lanceolate, acute upper ones as well as narrowly lanceolate to ovate, acute to acuminate floral bracts and carrying fragrant flowers.
This species, B tripudians and B kanburiense are all related.
Synonyms Bulbophyllum refractoides Seidenf. 1970; Cirrhopetalum wallichii Lindl. 1839; Tripudianthes wallichii (Rchb.f.) Szlach. & Kras 2007
References W3 Tropicos, Kew Monocot list , IPNI ; The Orchids of Sikkim-Himalaya Part 1 King & Pantling 1898 as Cirrhopetalum wallichii drawing not; Notes on Cirrhopetalum Seidenfadden 1973 drawing fide; Indian Orchids Guide to Identification and Culture Vol 2 Pradhan 1979 drawing/photo fide; Dansk Botanisk Arkiv Bind 33 #3 Orchid Genera in Thailand VIII Bulbophyllum Thou Seidenfaden 1979 drawing fide/photo fide; Orchids of Northwest Himalaya Deva & Naithani 1986 drawing fide; Orchids of Kumaun Himalayas Pangtey, Samant and Rawat 1991; Identification of the Orchids [Orchidaceae Juss.] Vietnam Averyanov 1994; Orchids of Nagaland Deorani & Naithani 1995; The Wild Orchids of China Tsi, Chen & Mori 1997 photo fide; Native Orchids of China in Colour Singchi, Zhanhuo and Yibo 1999 photo fide; Orchids Of India II Biodiversity & Status of Bulbophyllum Thou Augustine & Kumar 2001 drawing/photo ok; A field Guide to the Wild Orchids of Thailand Vaddhanaphuti 2001 photo good; Bulbophyllum and Their Allies Seigerist 2001 as Cirrhopetalum wallichii; Orchids of Bhutan Pearce & Cribb 2002; Wild Orchids in Myanamar Vol 2 Tanaka 2004; A field Guide to the Wild Orchids of Thailand Vaddhanaphuti 2005 photo good; 100 Sikkim Himalayan Orchids Pradhan 2005 photo fide; Orchids of India A Glimpse Misra 2007; A Field Guide to the Orchids of China Singchi, Zhongjian, Yibo, Xiaohua and Zhanhuo 2009 photo fide; Flora of China Vol 25 Zhengyi, Raven & Deyuan 2009; Mille et Une Mini Orchideees Roguenant 2009 photo fide; Flora of China Vol 25 Zhengyi, Raven & Deyuan 2010 drawing fide; A Compendium of Miniature Orchid Species Gerritsen and Parsons 2013 photo fide; Orchid Digest Vol 78 #4 2014 photo fide; Wild Orchids of Myanmar Nyan Tun Taunggyi 2014 photo fide; LANKESTERIANA 15(1): 7—50. Jeewan Singh Jalal & J. Jayanthi 2015; Atlas of Native Orchids of China Vol 2 Jin Xiaohua, Li Jianwu and Ye Deping 2019 photo fide;
--------------------------------------------------------------------------------------------------------------------------