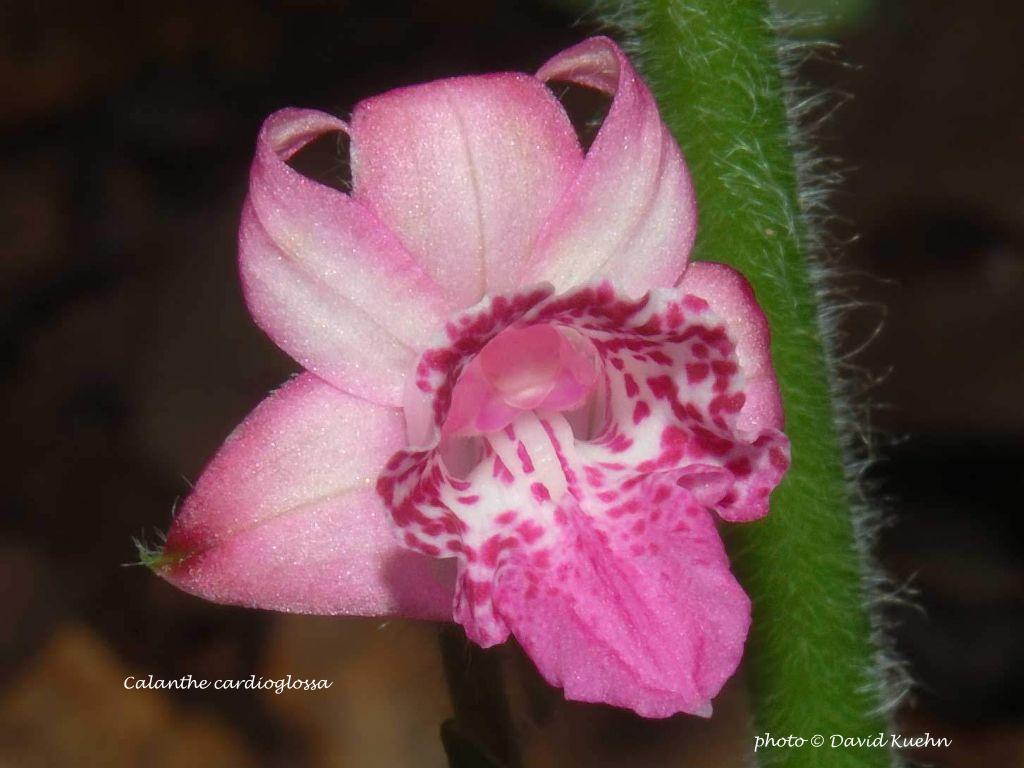 Calanthe cardioglossa Schltr. 1906 SECTION Preptanthe
Photo by © David Kuehn .
Photo by Lourens Grobler.
Bicolor Clone and Others in situ Thailand
Photo courtesy of David Kuehn.



Common Name The Heart-Shaped Lip Calanthe - In Thailand - Ueang Liam
Flower Size .4" [1 cm
Found in Yunnan province of China, Thailand, Laos and Vietnam at elevations of 400 to 1900 meters as a medium sized, hot to cool growing growing terrestrial with ovoid, pyramidical, 5 to 6 ridged [when dry] pseudobulbs carrying 3 apical elliptic-lanceolate, acuminate, petiolate leaves that blooms in the fall on a basal, erect, pubescent, 2 1/2' [75 cm] long, loosely several to many [10 to 15] flowered inflorescence with ovate-lanceolate, narrow floral bracts with 10 to 20, showy flowers.
This species and C succedeana are very similar and differ mostly in that this species has leaves when blooming and has acute sepals and strong keels on the lip.
Synonyms Calanthe biloba auct. non Lindl. 1900; Calanthe cardiochila Kraenzl. 1909; Calanthe fuerstenbergiana Krzl. 1927; Calanthe hosseusiana Kraenzl. 1909
References W3 Tropicos, Kew Monocot list , IPNI ; Die Orchideen Schlechter 1915; The Orchids of Thailand Seidenfaden & Smitinand 1961 drawing/photo fide; The Orchids of Thailand Seidenfaden & Smitinand 1965 corrections; Encyclopedia of Cultivated Orchids Hawkes 1965; Beautiful Thai Orchid Species Kamemoto & Sagarik 1975 photo fide; Dansk Botanisk Arkiv Orchid Genera in Thailand I Calanthe Seidenfadden 1975 drawing/photo fide; Manual of Cultivated Orchids Bechtel, Cribb & Laurent 1982; Die Orchideen Band 3 Sonderabdruck aus Schlechter Brieger, Maatsch and Senghas Liferung #14 820 - 880 1984 photo fide; Thai Orchid Species Rakpaibulsombat 1992 photo fide; The Manual of Cultivated Orchids Bechtel, Cribb and Laurent 1992 drawing fide; Identification of the Orchids [Orchidaceae Juss.] Vietnam Averyanov 1994; Botanica's Orchids Laurel Glen 2001; A Field Guide to the Wild Orchids of Thailand Vaddhanaphuti 2001 photo fide; Wild Orchids in Myanamar Vol 2 Tanaka 2004; A field Guide to the Wild Orchids of Thailand Vaddhanaphuti 2005 photo fide; The Wild Orchids in Yunnan Xu Xiang Ye & Liu 2010 photos fide; The Genus Calanthe Clayton & Cribb 2013 drawing/photo fide; Turczaninowia 16(4):26-46 NEW AND RARE ORCHIDS (ORCHIDACEAE) IN THE FLORA OF CAMBODIA AND LAOS Averyanov 2013 photo fide; Orchid Digest Vol 83 #1 2019 photo fide; Turczaninowia 19 (3): 5–58 L. V. Averyanov, Khang Sinh Nguyen etal 2016 ; Atlas of Native Orchids of China Vol 2 Jin Xiaohua, Li Jianwu and Ye Deping 2019 photo fide;
-------------------------------------------------------------------------------------------------------------------