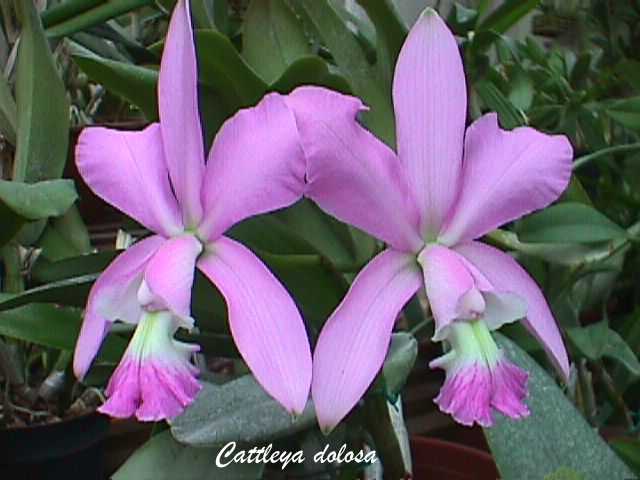 Cattleya x dolosa [Rchb.f] Rchb.f 1876 SUBGENUS Intermedia [Cogn.] Withner 1989 Photo by © Jean Claude George



to


Common Name Dolose Cattleya or the Crafty or Deceitful Cattleya
Flower Size to 5" [to 12.5 cm]
Found on rock outcroppings in south central Brazil near Sao Paulo with fusiform pseudobulbs carrying 2, narrowly elliptic or elliptic oblong, obtuse or rounded apically leaves. It blooms in the spring on a terminal, to 3 5/8" [to 9 cm] single to few flowered inflorescence that has fragrant, heavy-textured flowers.
Often thought to be a natural hybrid between C walkeriana and C loddigesii but it has not been able to be duplicated artificially. The major difference between this species and walkeriana is that the fall blooming inflorescence arises on the apex of a mature pseudobulb while C walkeriana is on a separate immature growth.
Synonyms Cattleya x eximia Barb. Rodr. 1877; Cattleya x obrieniana Rolfe 1889; Cattleya × schroederiana Rchb.f. 1883; Cattleya walkeriana var. dolosa (Rchb.f.) A.H.Kent 1887; Cattleya walkeriana var. schroederiana (Rchb.f.) H.J.Veitch 1887; *Epidendrum x dolosum Rchb.f 1862;
References W3 Tropicos, Kew Monocot list , IPNI ; Orchid Digest No 36 No 1 1972 photo fide; Orchidaceae Brasilienses Pabst & Dungs 1975 drawing ok; Orchidaceae Brasilienses Pabst & Dungs 1975 as C x obrieniana drawing ?; The Catttleya and their Relatives Withner Vol 1 1988 photo fide; Encyclopedia of Cultivated Orchids Hawkes 19865 as C x dolosa; Manual of Orchids Stewart 1995; AOS Bulletin Vol 9 1996 photo; The Brazilian Bifoliate Cattleyas and Their Color Variations Fowlie 1977; AOS Bulletin Vol 75 No 9 2006 photo;
Cattleya dolosa [Rchb.f] Rchb.f 1876 var alba Photos by © Eric Hunt and His Orchid Website.
A white flower variety of the previous species.
--------------------------------------------------------------------------------------------------------------------------