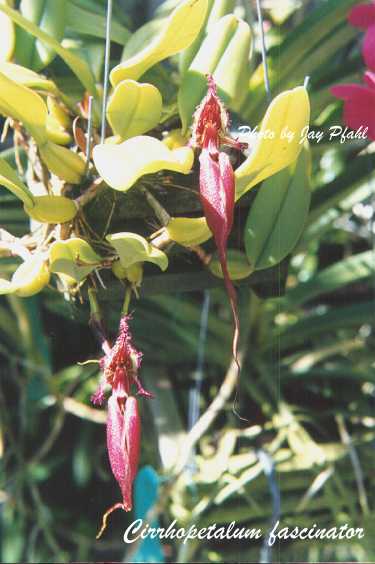 Bulbophyllum putidum [Teijsm. & Binn.]J.J.Sm. 1912 Photo courtesy of Jay Pfahl
Another View Photos courtesy of Bob Fallon Copyright ©, Leslie Garay Archives





and

Common Name The Putrid Mastigion
Flower Size 9" long [15 to 20 cm]
This species has incredible blooms that move, wave, and wiggle, it is found in peninsular Myanmar, Thailand, Laos and Vietnam in primary montane forests at elevations of 1000 to 2000 meters with 3/4 " to 1.2" [2 to 3 cm] between each elliptic, olive green pseudobulb carrying a single, apical oblong-elliptic, sessile leaf that blooms in the summer and fall on a basal, erect, 5.6 " [14 cm] long, 1 to 3 flowered inflorescence with a membraneous, lanceolate floral bract.
It is a warm to cool grower and I have potted them in wood slat baskets with some tree fern. Give it shade, moist conditions, and plenty of air movement. The trick is to let the newest growth be close to the wood basket and the oldest in the center. This way the new growth attaches to the wood and is more likely to bloom.
This species is often mislabeled and sold as Bulbophyllum fascinator and many times plants labeled as Bulbophyllum putidum are actually Bulbophyllum appendiculatum.
Synonyms Bulbophyllum fascinator [Rolfe]Rolfe 1908; Cirrhopetalum fascinator Rolfe 1908; *Cirrhopetalum putidum Teijsm. & Binn. 1862; Cirrhopetalum ornatissimum Auct. non Rchb.f 1898; Mastigion fascinator (Rolfe) Garay, Hamer & Siegerist 1994; Mastigion putidum (Teijsm. & Binn.) Garay, Hamer & Siegerist 1994
References W3 Tropicos, Kew Monocot list , IPNI ; Die Orchideen Schlechter 1915 as Cirrhopetalum fascinator; The Orchids of Thailand Seidenfaden & Smitinand 1959 as Bulbophyllum fascinator; The Orchids of Thailand Seidenfaden & Smitinand 1959 drawing fide; Encyclopedia of Cultivated Orchids Hawkes 1965 as B fascinator; Notes on Cirrhopetalum Seidenfaden 1973 as B fascinatior drawing fide; Orchid Genera in Thailand Vol VIII Bulbophyllum Thou. Seidenfaden 1979 drawing fide; Orchid Digest Vol 44 No 4 1980 as Cirrhopetalum ornattissimum drawing fide; Die Orchideen Band 3 Sonderabdruck aus Schlechter Brieger, Maatsch and Senghas # 40 Bulbophyllinae 1983 photo no = B wendlandianum ; Orchidiana Philipiniana Vol 1 Valmayor 1984; Schlechteriana Vol 2 No 4 1991 photo as C fascinator photo; The Orchids of Penninsular Malaysia and Singapore Wood & Seidenfaden 1992 drawing/photo not both B appendiculatum; Thai Orchid Species Rakpaibulsombat 1992 as Cirrhopetalum fascinator photo fide; A Checklist of the Orchids of Borneo Wood & Cribb 1994 as B putidum; A field Guide to the Wild Orchids of Thailand Vaddhanaphuti 2001 as Mastigion fascinator photo not = B appendiculatum; A field Guide to the Wild Orchids of Thailand Vaddhanaphuti 2001 as Mastigion putidum photo fide; Orchids Of India II Biodiversity & Status of Bulbophyllum Thou Augustine & Kumar 2001 as Mastigion putidum not = B appendiculatum; AOS Bulletin Vol 72 No 11 2003 photo as B fascinator; Australian Orchid Review Vol 68 No 3 2003 photo Bulbophyllum fascinator; Flora Malesiana Orchids of the Philippines Vol I Agoo, Shuiteman and de Vogel 2003 as B putidum; AOS Bulletin Vol 74 No 5 2005 photo as Bulbophyllum fascinator; A field Guide to the Wild Orchids of Thailand Vaddhanaphuti 2005 as Mastigion fascinator photo not = B appendiculatum; A field Guide to the Wild Orchids of Thailand Vaddhanaphuti 2005 as Mastigion putidum photo fide; The Orchids of India A Glimpse Misra 2007 as Mastigion putidum drawing ok; Orchids of India A Glimpse Misra 2007 photo not = B appendiculatum; Mille et Une Mini Orchideees Roguenant 2009 photo not = B appendiculatum; The Orchids of Mount Kinabalu Vol 2 Wood, Beaman, Lamb, Chu Lun and Beaman 2011 as B fascinator photo fide; Wild Orchids of Myanmar Nyan Tun Taunggyi 2014 as B putidum photo not
----------------------------------------------------------------------------------------------------------
------------------------------------------------------------------------------------------