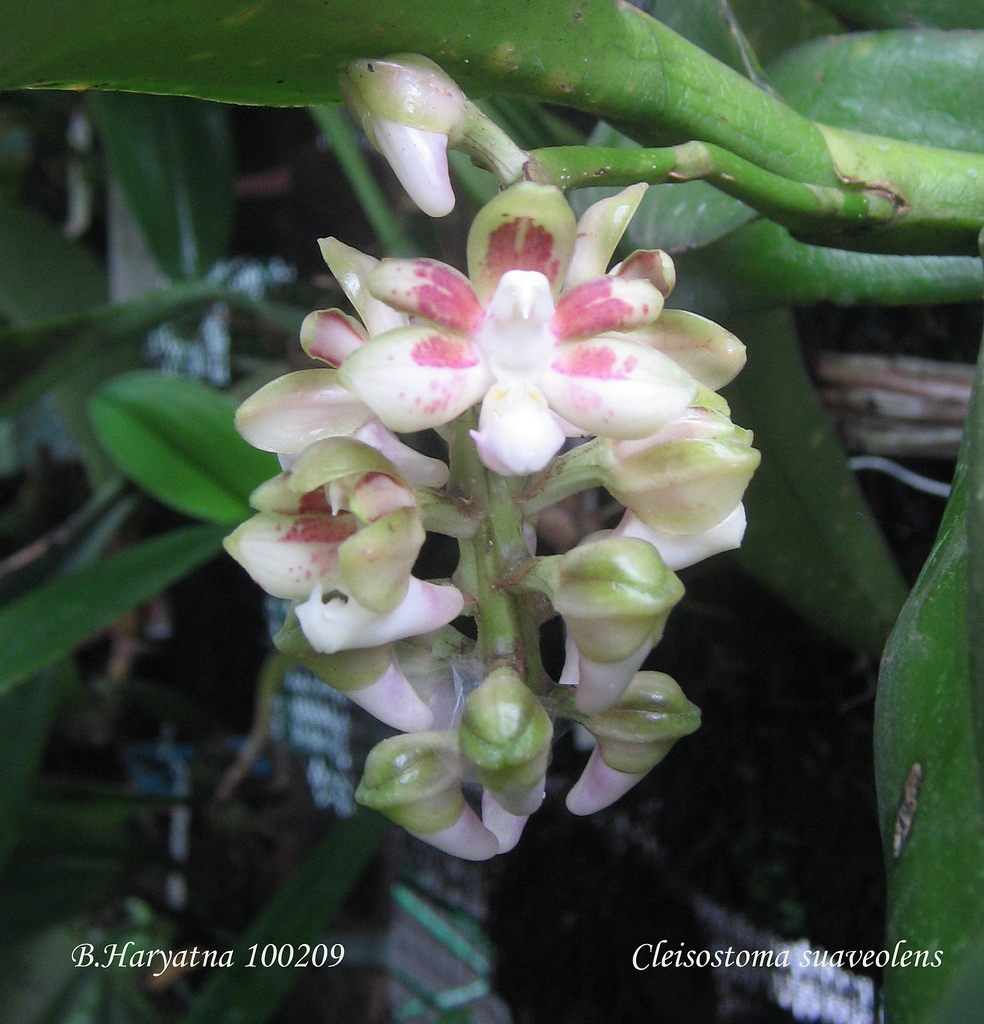 Cleisostoma suaveolens Blume 1825
Photo by © Budi Haryatna
Photo by © Frankie Handoyo ©,




Common Name The Mildly Fragrant Cleisostoma
Flower Size .6" [1.5 cm]
Found in Java, Sumatra, Bali and Borneo in hill forests at elevations around 300 to 520 meters as a medium sized, hot growing epiphyte with a semi-pendulous, elongate stem carrying strap shaped, thick, fleshy, apically obtuse and unequally bilobed leaves that blooms in the spring on a pendulous, shorter than the leaves, 3 to 4" [7 to 10 cm] long, several flowered inflorescence with slightly fragrant flowers.
Very similar to C brachystachys but differs in the lip foldover apex and in the coloration of the tepals as well as C brachystachys has a much rounder fuller spur as well as a short, racemose inflorescence that holds the flowers near the leaves. C suaveolens has thinner, more pointed spur and is a much larger plant with a branched inflorescence that holds the flowers well away from the leaves.
Synonyms Cleisostoma borneense J.J.Wood 1984; Cleisostoma longifolium Teijsm. & Binn. 1853; Sarcanthus robustus O'Brien 1914; Sarcanthus suaveolens [Bl.] Rchb. f. 1857
References W3 Tropicos, Kew Monocot list , IPNI ; Bonplandia Rchb.f 1857 as Sarcanthus suaveolens; Die Orchideen Von Java J.J.SM 1905 as Sarcanthus suaveolens; Die Orchideen Von Java Figuren Atlas J.J.Smith 1908 as Sarcanthus suaveolens drawing fide; Orchids of Java Comber 1990 photo fide; The Plants of Mount Kinabalu Vol 2 Orchids Wood Beaman & Beaman 1993; A Checklist of the Orchids of Borneo Wood & Cribb 1994; Orchids of Sumatra Comber 2001 photo fide; Orchids of Sarawak Beaman, Wood & Beaman etal 2001 photos fide; Orchids of Borneo Wood Vol 4 2003 drawing/photo fide; The Orchids of Mount Kinabalu Vol 2 Wood, Beaman, Lamb, Chu Lun and Beaman 2011 drawing/photo ok;
--------------------------------------------------------------------------------------------------------------------------