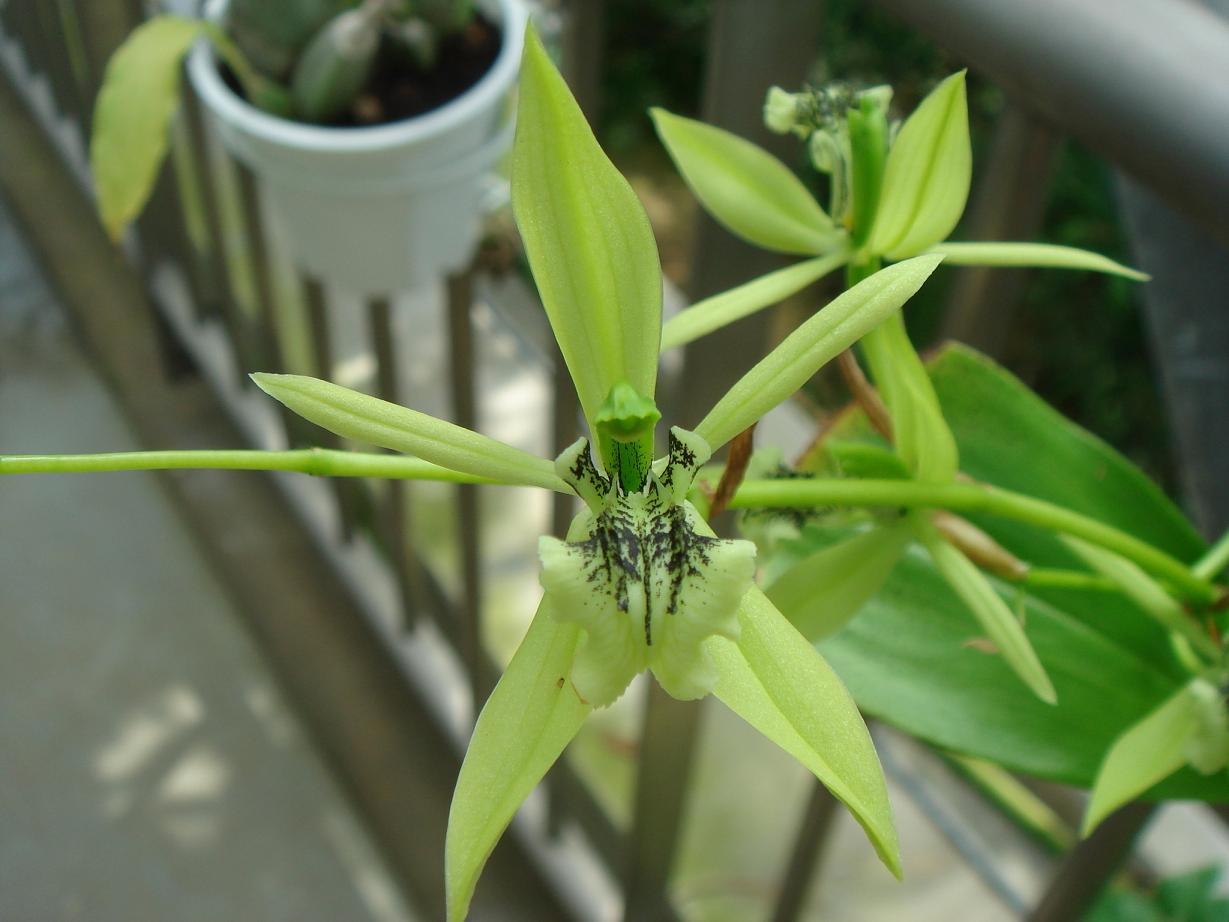 Coelogyne brachyptera Rchb. f. 1881 SECTION Brachypterae D.A.Clayton TYPE for the section
Photo by the Orchid Website
Photo by © Piotr Markiewicz.
Photos by Jay Pfahl.
Another Flower matches Clayton 2002/E & J George 2011





Common Name The Greenish Coelogyne
Flower Size 2 1/2" [6.75 cm]
Found in Myanmar, Thailand, Laos, Cambodia and Vietnam in primary, montane deciduous forests at elevations of 200 to 1500 meters as a just medium sized, hot to cool growing epiphyte with 1" [2.5 cm] betweeen each, very narrowly conical, 4 angled, slightly grooved, pale green pseudobulb enveloped basally by a few scarious bracts and carrying 2, suberect, elliptic to elliptic-lanceolate, subacute, undulate margin, plicate, 7 nerved, gradually narrowing below into the petiolate base leaves that blooms in the spring on a terminal, erect to arcuate, 4 to 7 1/4" [10 to 18 cm] long, racemose, 5 to 7 flowered inflorescence arising on a mature pseudobulb and carrying simultaneously opening, fragrant flowers.
The green fowers above previously were known as C virescens, the red/orange flower photo above is the type color for the species!
SynonymsCoelogyne virescens Rolfe 1908; Pleione brachyptera (Rchb.f.) Kuntze 1891;
References W3 Tropicos, Kew Monocot list , IPNI ; Orchids of Burma Grant 1895 1995; Die Orchideen Schlechter 1915 as C parishii var brachyptera; Encyclopedia of Cultivated Orchids Hawkes 1965 C parishii var brachyptera; Oasis Vol 1 No 4 2000; A field Guide to the Wild Orchids The Orchids of Thailand Seidenfaden & Smitinand 1959 drawing as C virescens photo fide; The Orchids of Thailand Seidenfaden & Smitinand 1965 corrections; Beautiful Thai Orchid Species Kamemoto & Sagarik 1975 as C virescens photo fide; Dansk Botanisk Arkiv Bind 29 N.R. 4 Orchid Genera in Thailand III Seidenfaden 1975 drawing/photo fide; Orchids Travel By Air A Pictoral Safari Mulder, Mulder-Roelfsema and Schuiteman 1990 photo fide; The Manual of Cultivated Orchids Bechtel, Cribb, Launert 1992 DRAWING ok; Identification of the Orchids [Orchidaceae Juss.] Vietnam Averyanov 1994; The Genus Coelogyne A Synopsis, D A Clayton 2002 photo not to the green flowers, fide to the last photo; The Genus Coelogyne A Synopsis, D A Clayton 2002 as C virescens photo fide; Wild Orchids in Myanamar Vol 1 Tanaka 2003; A field Guide to the Wild Orchids of Thailand Vaddhanaphuti 2005 photo hmm; The Wild Orchids of Thailand 2 Vaddhanaphuti 2009 photo fide; Genera Orchidaceaerum Volume 4 Epidendroideae Part 1 Pridgeon, Cribb and Chase 2010; Les Coelogynes E & J George 2011 photo fide; Turczaninowia 16(4):26-46 NEW AND RARE ORCHIDS (ORCHIDACEAE) IN THE FLORA OF CAMBODIA AND LAOS Averyanov 2013 as C virescens photo fide; Wild Orchids of Myanmar Taunggyi 2014 photo fide
--------------------------------------------------------------------------------------------------------------------------