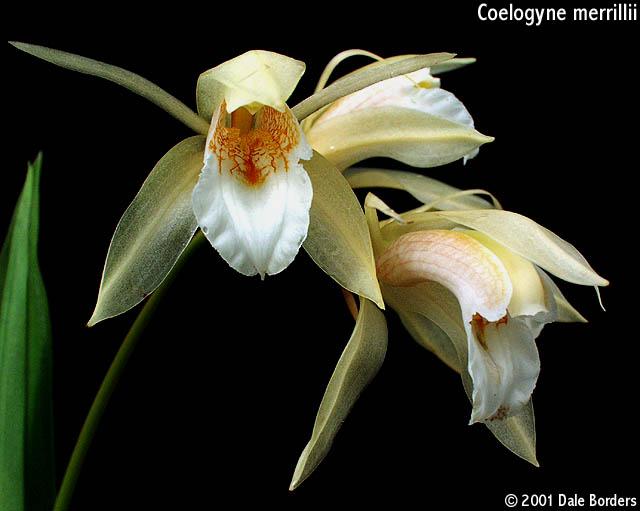 Coelogyne merrillii Ames 1911 SECTION Lentiginosae Pfitzer & Kraenzlin Photo by Dale and Deni Borders.



To


Common Name Merrill's Coelogyne [American Botanist, the Philippines 1900's]
Flower Size 1 1/2 to 2" [3.5 to 5 cm]
A Philippine, lithophytic species from the island of Luzon that is found growing on mossy rocks among leaf litter in upper montane pine forests at elevations of 300 to 2300 meters as a small sized, warm to cool growing epiphyte with ovoid, furrowed pseudobulbs enveloped basally by a few sheaths carrying 2, apical, oblong-lanceolate, acuminate, acute, leathery, plicate, 2 to 5 veined, gradually narrowing below into the elongate, grooved, petiolate base leaves that blooms in the spring on a terminal, 2 to 10" [5 to 25 cm] long, arcuate, few [2 to 4] flowered, 2 winged, racemose inflorescence arising from a new growth, with deciduous floral bracts, carrying 2 to 4, simultaneously opening, very fragrant, long-lasting flowers.
Cool to warm temperatures, semi-shade, air circulation and a treefern mount or pot with tree fern chunks suits this species fine.
References W3 Tropicos, Kew Monocot list , IPNI ; Studies in the Family Orchidaceae Fascile 5 Ames 1915; The Complete Writings on Philippine Orchids Vol 2 Quisumbing 1981 photo good; Orchidiana Philipiniana Vol 1 Valmayor 1984; The Orchids of the Philippines Cootes 2001 photo fide; The Genus Coelogyne A Synopsis, D A Clayton 2002 photo fide; Flora Malesiana Orchids of the Philippines Vol I Agoo, Shuiteman and de Vogel 2003; Australian Orchid Review Vol 69 No 2 2004 photo; Orchid Digest Vol 72 #2 2008 photo fide; Philippine Native Orchid Species Cootes 2011 photo fide; Coelogyne loheri Rolfe 1908
----------------------------------------------------------------------------------------------------------