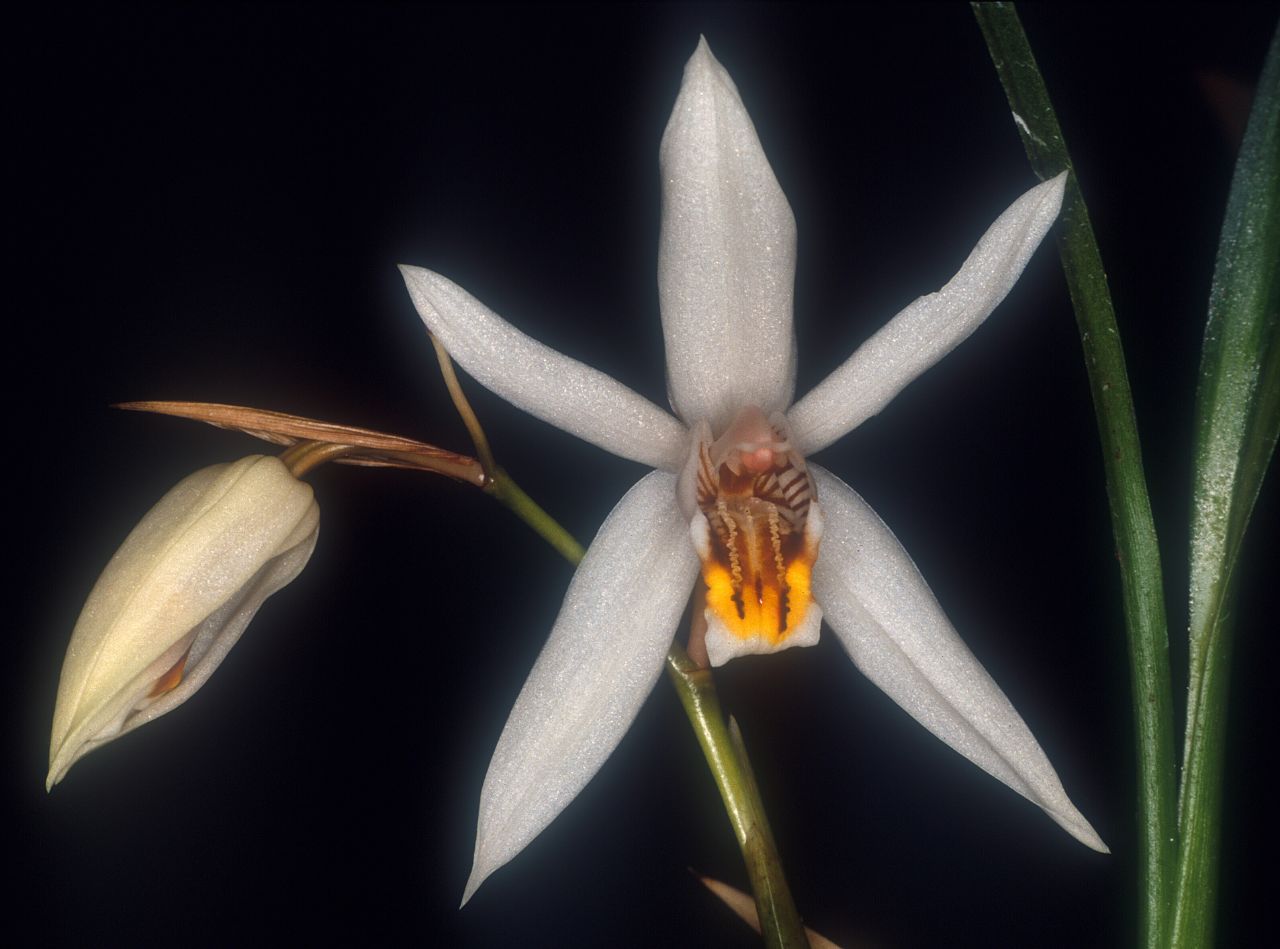 Coelogyne viscosa Rchb. f. 1856 SECTION Flaccidae Lindl.
Photo by © Lourens Grobler
Photo by © Pieter C. Brouwer and his Nature Photo Website
Photos by © Ekkehard Schwadtke and his Lanta Orchid Nursery Photo Page




Common Name The Sticky Coelogyne - In China He Ye Bei Mu Lan
Flower Size 1 3/5" [4 cm]
Found in northeastern India, Myanmar, southern China, Laos, Vietnam, Thailand and penninsular Malaysia at elevations of 700 to 1500 meters in evergreen lowland forests and primary montane forests as a medium sized, warm growing epiphyte or lithophyte with clustered, narrow ovoid or fusiform, grooved, glossy pseudobulbs carrying 2, lanceolate, plicate, finely nerved, acute leaves with a tapering, grooved petiolate base and blooms on an erect, few [2 to 4] flowered, 4 to 6" [10 to 15 cm] long, slender, very slightly fractiflex rachis, racemose inflorescence with deciduous floral bracts and carrying simultaneously opening, fragrant flowers and arising from a newly developing pseudobulb in the winter.
Most authors conclude that this and C graminifolia are the same species.
Synonyms Coelogyne graminifolia Rchb. f. 1874; Pleione graminifolia (C.S.P.Parish & Rchb.f.) Kuntze 1891; Pleione viscosa (Rchb.f.) Kuntze 1891
References W3 Tropicos, Kew Monocot list , IPNI ; *Bonplandia Rchb.f 1856; Die Orchideen Schlechter 1915; Atlas des Orchidees Cultivees Constantin 1920 drawing ok; The Orchids of Thailand Seidenfaden & Smitinand 1959 drawing fide; AOS Bulletin Vol 32 No 5 1963 as C graminifolia; The Orchids of Thailand Seidenfaden & Smitinand 1965 corrections asC graminifolia;AOS Bulletin Vol 32 No 5 1963; Encyclopedia of Cultivated Orchids Hawkes 1965; Dansk Botanisk Arkiv Bind 29 N.R. 4 Orchid Genera in Thailand III Seidenfaden 1975 drawing fide; Indian Orchids, Guide to Identification and Culture vol 2 Pradhan 1979; Die Orchideen 3 Auflage Bd 1 Sonderabdruck aus Schlechter Lieferung 15 881 - 944 Brieger, Maatsch and Senghas 1984 drawing good/photo good; The Orchids of Penninsular Malaysia and Singapore Wood & Seidenfaden 1992 drawing fide/photo no; Thai Orchid Species Rakpaibulsombat 1992 as C graminifolia photo good; The Manual of Cultivated Orchids Bechtel, Cribb, Launert 1992 drawing fide; Identification of the Orchids [Orchidaceae Juss.] Vietnam Averyanov 1994; Orchids of Nagaland Deorani & Naithani 1995 drawing good; ; The Wild Orchids of China Tsi, Chen & Mori 1997; Native Orchids of China in Colour Singchi, Zhanhuo and Yibo 1999 photo fide; A field Guide to the Wild Orchids of Thailand Vaddhanaphuti 2001 photo fide; The Genus Coelogyne A Synopsis, D A Clayton 2002 photo fide; Flora Malesiana Orchids of the Philippines Vol I Agoo, Shuiteman and de Vogel 2003; Australian Orchid Review Vol 69 No 2 2004 photo; A field Guide to the Wild Orchids of Thailand Vaddhanaphuti 2005 photo fide; 100 Sikkim Himalayan Orchids Pradhan 2005 photo fide; Orchids of India A Glimpse Misra 2007; A Field Guide to the Orchids of China Singchi, Zhongjian, Yibo, Xiaohua and Zhanhuo 2009 photo ok; Wild Orchids of the Cameron Highlands REACH 2009 photo fide; Flora of China Vol 25 Zhengyi, Raven & Deyuan 2009; Flora of China Vol 25 Illustrations Zhengyi, Raven & Deyuan 2010 drawing ok; The Wild Orchids in Yunnan Xu Xiang Ye & Liu 2010 photos ok; Les Coelogynes E & J George 2011 photo fide; Turczaninowia 16(4):26-46 NEW AND RARE ORCHIDS (ORCHIDACEAE) IN THE FLORA OF CAMBODIA AND LAOS Averyanov 2013 ; Wild Orchids of Myanmar Taunggyi 2014 photo fide; Turczaninowia 19 (3): 5–58 L. V. Averyanov, Khang Sinh Nguyen etal 2016 ; Atlas of Native Orchids of China Vol 1 Jin Xiaohua, Li Jianwu and Ye Deping 2019 photo hmm;
--------------------------------------------------------------------------------------------------------------------------