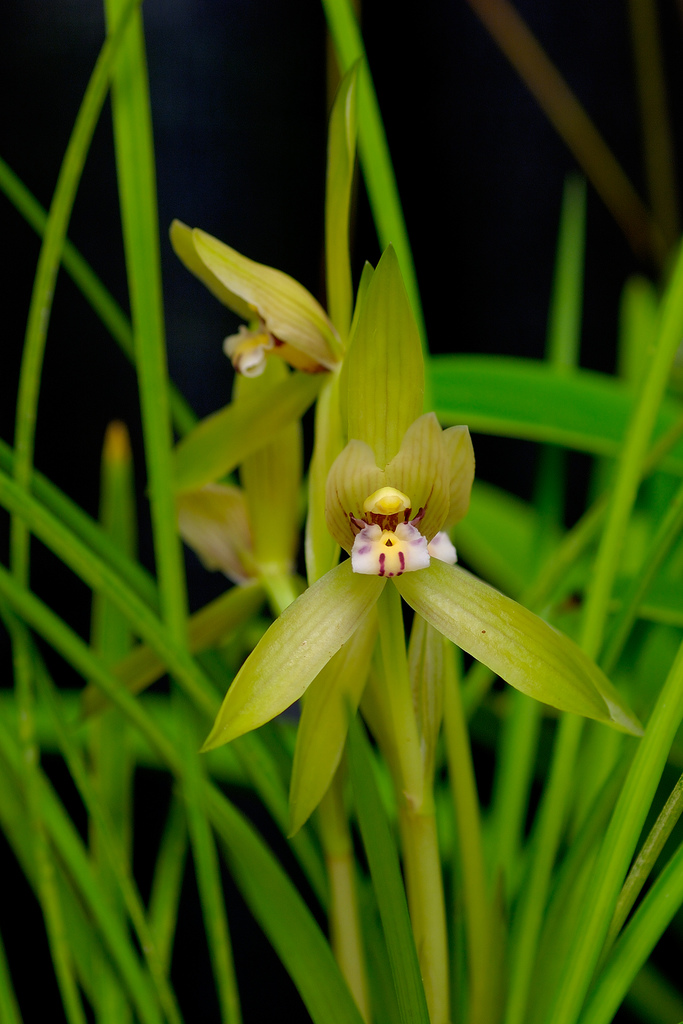 Cymbidium goeringii [Rchb.f]Rchb.f 1864 SECTION Jensoa [Raf.] Schlechter 1924 Photo by © Eric Hunt and His Orchid Website.
Another Color Form Photos by Natsui




To

Common Name Goering's Cymbidium [German Plant Collector in Japan 1800's] - In Japan Shun-ran - In China Chun Lan
Flower Size 2" [5 cm]
A native of northwestern India, Bhutan, China, Taiwan, Ryukyu Islands, Japan and Korea as a smaller, cool growing terrestrial with smaller, ovoid pseudobulbs carrying linear-elliptic, acute, arched leaves with fine toothed margins that blooms in the winter and spring on a basal, erect, basally sheathed, 4" [10 cm] long, solitary to few [1 to 3] flowered, shorter than the leaves inflorescence carrying fragrant jasmine, lily of the valley to lemon scented flowers held low amid the leaves and has been a perrenial favorite of Japanese and Chinese culture for centuries.
Synonyms Cymbidium chuen-lan C.H. Chow; Cymbidium forrestii Rolfe 1913; Cymbidium goeringii var. mackinnonii (Duthie) A.N.Rao 2000; Cymbidium mackinnonii Duthie 1902; Cymbidium pseudovirens Schltr. 1922; Cymbidium tentyozanense Masam. 1935; Cymbidium uniflorum Yen 1964; Cymbidium virens Rchb.f. 1863; Cymbidium virescens Lindl. 1838; Cymbidium yunnanense Schltr. 1919; *Maxillaria goeringii Rchb.f. 1845
References W3 Tropicos, Kew Monocot list , IPNI ; The Orchids of North-Western Himalaya Vol IX Part II Duthie 1906 as C mackinnoni drawing ok; AOS Bulletin Vol 26 No 2 1957 photo as C virescens; AOS Bulletin Vol 26 #2 1957 as C foresttii photo fide; AOS Bulletin Vol 33 NO 5 1964; Encyclopedia of Cultivated Orchids Hawkes 1965 as C forrestii; AOS Bulletin Vol 38 #11 1969 as C virescens; AOS Bulletin Vol 39 No 10 1970 as C virescensphoto fide; Orchids of Southern Ryukyu Islands Garay & Sweet 1974; AOS Bulletin Vol 44 #9 1975 photo fide; Indian Orchids Guide to Identification and Culture Vol 2 Pradhan 1979 as C mackinnoni drawing ok; Orchid Digest Vol 55 No 2 1991 as C virecens photo fide; Orchid Digest Vol 55 No 2 1991 as C forrestii photo fide; Rudolf Schlechter Die Orchideen Band 1B lieferung 25 1520 - 1584 Brieger 1991; AOS Bulletin Vol 61 No 7 1992 photo fide; AOS Bulletin Vol 63 No 3 1994 photo fide; Orchid Digest Vol 58 #2 1994; Orchid Digest Vol 60 #3 1996 as C forrestii photo fide; Orchid Digest Vol 60 #3 1996 photo fide; AOS Bulletin Vol 66 No 11 1997 photo fide; Wild Orchids of China Tsi, Chen Mori 1997; Wild Orchids of China Tsi, Chen Mori 1997 as Cym longibracteatum; Orchid Digest Vol 62 #1 1998 photo fide; Orchids Australia Vol 10 No 5 1998 as C chuen-lan; Orchids Australia Vol 10 No 5 1998 as C gracillimum; Orchids Australia Vol 10 No 5 1998 as C tsukengensis; Orchids Australia Vol 10 No 5 1998; Orchid Australia Vol 11 No 5 1999 photo; AOS Bulletin Vol 68 No 7 1999 photo fide; Native Orchids of China in Colour Singchi, Zhanhuo and Yibo 1999 photo fide; Native Orchids of China in Colour Singchi, Zhanhuo and Yibo 1999 photo fide as C goeryngii var longibracteatum; AOS Bulletin Vol 70 #7 2001 photo fide; Orchids of Bhutan Pearce & Cribb 2002; AOS Bulletin Vol 72 No 7 2003 photo fide; AOS Bulletin Vol 74 No 6 2005 photo fide; AOS Bulletin Vol 74 No 7 2005 photo fide; AOS Bulletin Vol 72 No 9 2003 photo fide; AOS Bulletin Vol 76 No 12 2007 photo fide; Orchids of India A Glimpse Misra 2007; The Genus Cymbidium Du Puy & Cribb 2007 photo/drawing fide; Native Orchids of Shaanxi - Shaanxi Science & Technology Press 2007 photo fide; AOS Bulletin Vol 77 #7 2008 photo fide; Native Orchids From Gaoligongshan Maountains, China Xiaohua, Xiaodong and Xiaochun 2009 photo fide; A Field Guide to the Orchids of China Singchi, Zhongjian, Yibo, Xiaohua and Zhanhuo 2009 photo fide; Flora of China Vol 25 Zhengyi, Raven & Deyuan 2009; Flora of China Illustrations Vol 25 Zhengyi, Raven & Deyuan 2010 drawing fide; The Wild Orchids in Yunnan Xu Xiang Ye & Liu 2010 photos fide; Orchid Digest Vol 76 #3 2012 photo fide; Orchid Digest Vol 80 #2 2016; Orchid Digest Vol 80 #3 2016 photo plant only; AOS Bulletin Vol 85 #4 2016 photo fide; AOS Bulletin Vol 85 #9 2016 photo fide; AOS Bulletin Vol 86 #4 2017 photo fide; AOS Bulletin Supplement Cymbidiums Vol 87 #10 2018 photo fide; Orchid Digest Vol 83 #1 2019 photo fide; AOS Bulletin Vol 88 #7 2019 photo fide; AOS Bulletin Vol 88 #8 2019 photo fide; AOS Bulletin Vol 88 #3 2019 photo fide;
----------------------------------------------------------------------------------------------------------