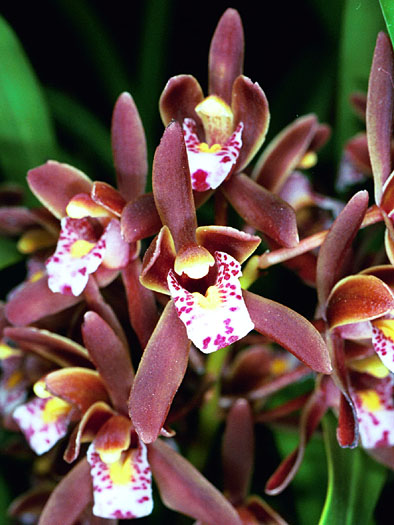 Cymbidium floribundum Lindl. 1833 SUBGENUS Cymbidium SECTION Floribundum Seth & Cribb 1984
Photo courtesy of Eric Hunt
Photo by © Pieter C. Brouwer and his Nature Photo Website




Common Name The Many Flowered, Small Cymbidium - In China Dua Hua Lan
Flower Size 1.2 to 1.6" [3 to 4 cm]
Found in in Yunnan province of southern China, southern Taiwan and in northern Vietnam in primary, broadleaf, evergreen forests in shaded gorges and ridge tops [also naturalized to the warmer parts of Japan] at elevations around 400 to 3300 meters as a small to medium sized, cool to cold growing terrestrial, epiphyte or lithophyte with small, ovoid, slightly bilaterally compressed pseudobulbs enveloped by 5 scarious sheaths and carrying 5 to 6, linear-elliptic, arching, acute, usually oblique apically, articulated to the pseudobulb leaves that blooms in the spring on a robust, suberect, 6 to 10" [15 to 25 cm] long, several to many [6 to 45] flowered inflorescence with 6 to 8, becoming scarious, cylindrical in the lower half, becoming expanded and cymbiform, acute bracts and triangular, short, acute floral bracts and carrying close set, non-scented flowers that turn rosy to red after pollination.
Basically this species and C suavissimum have many similarities but they differ in that this one has small, 1.12" [3.3 cm] long pseudobulbs with green cataphylls and a smaller in length as well as width leaf, a shorter inflorescence with less flowers that are unscented, have no auricle at the column base, with smaller sepals and petals and blooms in the spring.
C suavissimum has larger pseudobulbs to 2.4" [6 cm] long, purple cataphylls, a much longer leaf to 28" [to 70 cm] long, a much wider leaf, a to 20" [50 cm] long inflorescence carrying more flowers [to 50], that are fruit scented, has an auricle at the column base, longer sepals and petals as well as blooming in the summer.
Synonyms Cymbidium chawalongense C.L.Long, H.Li & Z.L.Dao 2003; Cymbidium floribundum f. virescens (Makino) O.Gruss & M.Wolff 2007; Cymbidium floribundum var. pumilum (Rolfe) Y.S. Wu & S.C. Chen 1980; Cymbidium illiberale Hayata 1914; Cymbidium pumilum Rolfe 1907; Cymbidium pumilum f. virescens Makino 1912
References W3 Tropicos, Kew Monocot list , IPNI ; AOS Bulletin Vol 28 No 11 1959 as C pumilum var jitsugetsu; AOS Bulletin Vol 29 #10 1960 as C pumilum photo fide; Encyclopedia of Cultivated Orchids Hawkes 1965 as C pumilum; AOS Bulletin Vol 37 #4 1968 as C pumilum photo fide; AOS Bulletin Vol 38 #11 1969 as C pumilum; AOS Bulletin Vol 47 #11 1978 as C pumilum photo fiode; AOS Bulletin Vol 49 #2 1980 as C pumilum photo fide; Rudolf Schlechter Die Orchideen Band 1B lieferung 25 1520 - 1584 Brieger 1991; The Manual of Cultivated Orchids Bechtel, Cribb, Launert 1992 photo fide; Wild Orchids of China Tsi, Chen Mori 1997; Orchids Australia Vol 10 No 5 1998 as C illiberale; Native Orchids of China in Colour Singchi, Zhanhuo and Yibo 1999 photo fide; Lindleyana Vol 15 No 4 2000; Orchid Australia Vol 13 No 1 2001 photo; The Genus Cymbidium Du Puy & Cribb 2007 photo/drawing fide; Australian Orchid Review Vol 72 No 1 2007 photo; Australian Orchid Review Vol 73 No 2 2008 photo; Native Orchids From Gaoligongshan Maountains, China Xiaohua, Xiaodong and Xiaochun 2009 photo fide; A Field Guide to the Orchids of China Singchi, Zhongjian, Yibo, Xiaohua and Zhanhuo 2009 photo fide; Flora of China Vol 25 Zhengyi, Raven & Deyuan 2009; AOS Bulletin Vol 79 #9 2010 photo fide; Flora of China Vol 25 Illustrations Zhengyi, Raven & Deyuan 2010 drawing ok; The Atlas of Wild Orchids in Hainan Island, China Shenyan and Junmei 2010 photo fide; The Wild Orchids in Yunnan Xu Xiang Ye & Liu 2010 photos fide; Orchid Digest Vol 80 #2 2016; AOS Bulletin Supplement Cymbidiums Vol 87 #10 2018 photo fide; Atlas of Native Orchids of China Vol 2 Jin Xiaohua, Li Jianwu and Ye Deping 2019 photo fide;
Cymbidium floribundum var. pumilum (Rolfe) Y.S. Wu & S.C. Chen 1980
Photo courtesy of © Marius Wasbauer
A color form of the previous species.
Synonyms Cymbidium floribundum f. virescens (Makino) O.Gruss & M.Wolff 2007; *Cymbidium pumilum Rolfe 1907; Cymbidium pumilum f. virescens Makino 1912 AOS Bulletin Vol 28 No 11 1959 photo as C pumilum var jitsugetsu; AOS Bulletin Vol 29 No 11 1960 photo as C pumilum; AOS Bulletin Vol 47 No 11 1978 photo as C pumilum; AOS Bulletin Vol 49 No 2 1980 photo as C pumilum;Orchid Digest Vol 57 #4 1993 drawing fide
----------------------------------------------------------------------------------------------------------
-----------------------------------------------------------------------------------------------------------------------------